For the last few years, I've really wanted to visit the "SoIN" area of Clark and Floyd Counties, along Indiana's bank of the Ohio River. I was so excited when the opportunity arose for my family to visit during Spring Break. Read below to see the nine reasons we would recommend you take the trip too!
1. Hampton Inn Clarksville When we arrived in town, our first stop was our hotel room at the Hampton Inn Clarksville. We wanted to free up some room in the car. It's definitely hard for me to travel lightly with three boys in tow. Our room was nice and clean and the staff was incredibly friendly. Not to mention there are free coffee, tea and hot chocolate available 24 hours a day, plus a complimentary breakfast.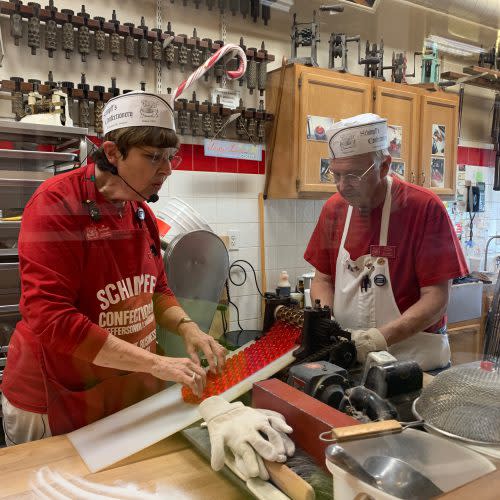 Red Hot demonstration at Schimpff's Confectionary
2. Schimpff's Confectionery After getting settled into the hotel, we set out to explore Jeffersonville. First up, one of the oldest family-operated candy stores in the country, Schimpff's Confectionery, which opened back in 1891. When we walked through the front door, we were greeted with what felt like a sea of pretty much any candy you can imagine. Just a short time later, the owners, Warren Schimpff and his wife, Jill Wagner Schimpff, began their signature Red Hot candy demonstration. The boys and I absolutely loved watching the husband and wife duo share how they make their delicious Red Hots from beginning to end. And let me tell you the best part was tasting a freshly made warm Red Hot. After the demonstration, we walked through their Candy Museum. It was definitely cool to see what candies that we know and love today used to look like years ago.
3. Vintage Fire Museum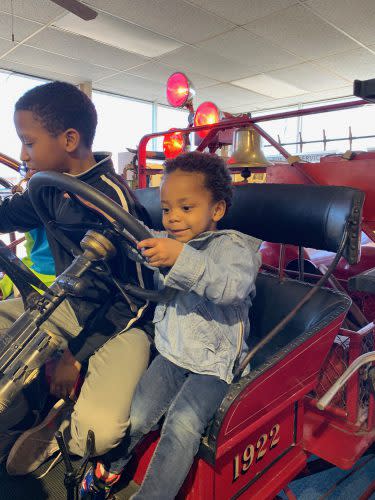 Vintage Fire Museum
Our third stop was just a few short blocks away from Schimpff's, the Vintage Fire Museum. This museum had to be on my to-do list because of my youngest son, Kaleb, who absolutely loves fire trucks. As we pulled up to the museum, you can't miss the vintage fire trucks in the parking lot. Inside, there are quite a few vintage fire trucks, plus firefighting equipment like hand-pumpers and horse-drawn steamers. I was happy to see that there was one truck that the kids could sit in, ring the bell and imagine driving it by taking control of the steering wheel. There was also an area with toy fire trucks. Needless to say, once Kaleb saw them he was a happy camper. I really enjoyed the Women in the Fire Service exhibit towards the back of the museum. It was nice to see and learn about some of the local women firefighters servicing the area.
4. Big Four Pedestrian and Cycling Bridge
The Rucker family on the Big Four Bridge
The last stop of our first day was the Big Four Bridge. Free parking is located not too far from the walkway to the bridge on the Jeffersonville side. As we made our way to the bridge, I was pleasantly surprised to see so many people out walking and enjoying themselves.
I'll warn you that you'll definitely want to put some comfy shoes on because the bridge is 1 mile long. Once we made it to the top, we all were mesmerized by the view of the Ohio River. We must have stopped at least 10 times to take pictures to capture the moment. The boys were rewarded with a huge playground when we made it to the Louisville, Kentucky side. I had to literally pull the boys away from the park to head back to the hotel for the night. As we walked back across the bridge, the sun was starting to set and I just soaked in the beauty. It was a great way to end our first day in southern Indiana.
5. Joe Huber's Family Farm & Restaurant in Starlight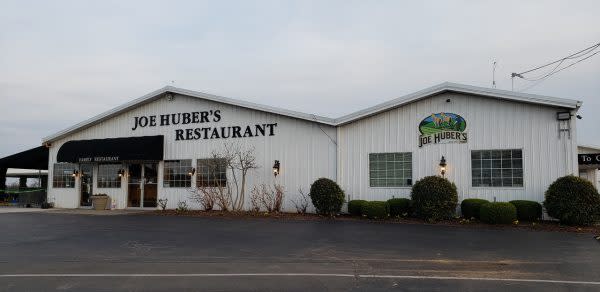 Joe Huber's Family Farm and RestaurantOur last stop of the day, Joe Huber's Family Farm & Restaurant in Starlight. We were seated at a table with a great view of the lake in the back of the restaurant. When I saw fried catfish and chicken and dumplings on the menu, I knew I had to order them. The waitress was very nice and brought out their famous made-from-scratch fried biscuits with apple butter with our drinks. Oh my goodness, those biscuits were amazing! When our food came, I was so excited to taste the catfish, and it truly did not disappoint. The chicken and dumplings and mashed potatoes were delicious too. For a moment, it made me remember the delicious food my grandmother would make when I was little. I watched her make chicken and dumplings from scratch and fry up a few pounds of catfish in no time at all. I miss those days so much. After we ate, the boys couldn't wait to play on the swing set outside and we had to feed the fish in the lake. Yes, I remember doing that with my grandfather when I was young too.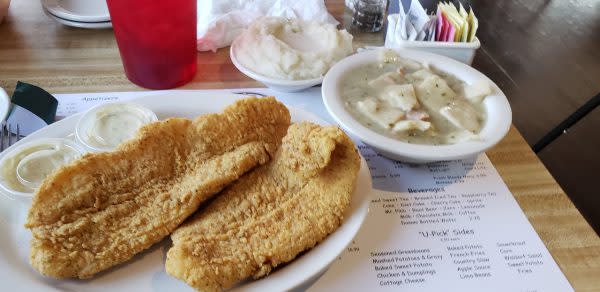 Fried catfish, mashed potatoes and chicken and dumplings
6. The Carnegie Center for Art & History in New Albany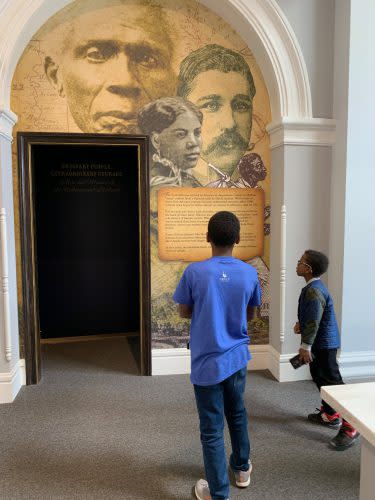 Ordinary People, Extraordinary Courage: Men and Women of the Underground Railroad exhibit.
After enjoying a delicious breakfast at the Hampton Inn, we checked out of our room and headed to New Albany, which is just 15 minutes from where we were staying. Our first stop was The Carnegie Center for Art & History. I was excited to see they had an exhibit titled, Ordinary People, Extraordinary Courage: Men and Women of the Underground Railroad. I think it is extremely important that my children understand their history. I really enjoyed learning about ordinary people from New Albany and how their courage helped change our world for the better.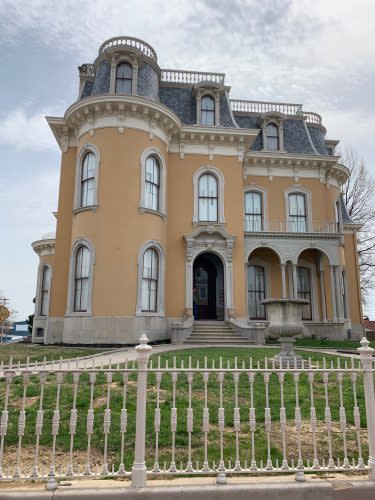 We continued our quest for exploring New Albany by heading to the historic mansion row. We had to stop and marvel at the Culbertson Mansion, which was completed back in 1869. This mansion is open to the public and tours are offered for a small fee. There are 48 mansions on the walking tour. While you aren't allowed inside most of them, there is a pamphlet you can pick up to read the history of each mansion and learn why it is on the list.
8. Shops on Market Street We decided to stop for a snack on Market Street before heading to our next stop. A restaurant called Adrienne & Co. New Albany caught our eye because of the bakery sign in the window. (Yes, my boys and I love sweets.) When we walked in the door we were immediately greeted and were drawn to the cupcakes and donuts in the display area. Jayden and Kaleb selected a vanilla cupcake and Chase and I opted for the cookies n' creme donut. Both were amazing!!!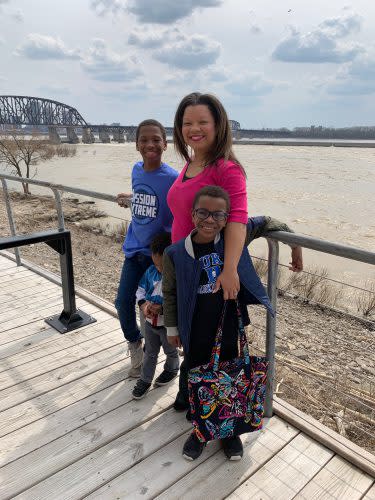 9. Falls of the Ohio State Park in Clarksville The last stop on our to-do list was the Falls of the Ohio State Park and Interpretive Center in Clarksville. I can honestly say this was one of my favorite stops. Not only was it beautiful, but the boys and I learned so much. It's hard to imagine what the world looked like hundreds of million years ago. That's the purpose of the Interpretive Center, to make sure you don't have to imagine anymore. We were lucky to have been given an amazing tour of the center by Dr. Dominique Hansen with the Indiana State Parks. The boys loved all the interactive experiences throughout the center and Jayden and Chase couldn't wait to walk the trail to the Fossil Beds.
If you've never been to Floyd and Clark County in Southern Indiana, I highly encourage you to put "SoIN" on your to-do list. My family and I had a great time, learned a lot and made memories that will last forever.