Just like last month, when I wrote about the Northwestern and Northern Indiana Beer Trail, I decided to create a Southern Indiana Beer Trail as well. There are 14 breweries in the 812 area code, and they're all fairly close to each other.
So I divided our fantasy trip into two full days, starting in Evansville and ending in Bloomington on the first day. From there, we load back into the Beer Trail Limo, with our designated driver at the wheel, and head over to Nashville and the southeast portion of the state for Day 2 of beer sampling, pub grub dining, and as much mayhem as a well-behaved bunch of imaginary tourists can get into.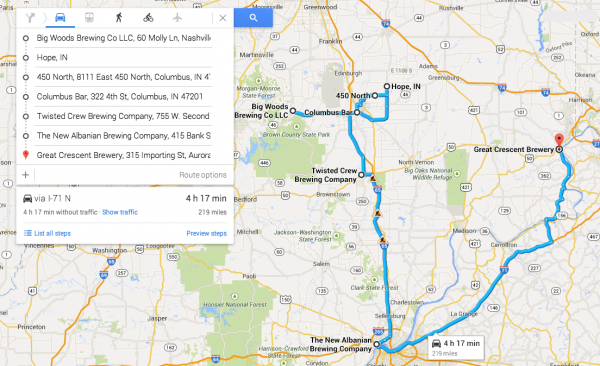 If we hit Nashville right at noon, that's at least late enough to have a lunchtime beer, right?
We're a little spread out, so we're leaving just in time to have lunch and our first beers of the day in Nashville in Brown County. Just hop on SR 45 or 46 and head east (personally, I think 45 is a little more scenic).
Day 2 - Columbus, New Albany
First we're stopping at the Big Woods Brewing Company. They also serve pizza, and even though we had pizza last night, we're getting it again partly to save time, but also because pizza for two meals isn't a problem for most people, especially when beer is involved. Living by the motto Quaff On!, BWBC offers Six Foot Blonde Ale, Busted Knuckle Ale, Hare Trigger IPA, and Hoosier Red Ale. They also have seasonal brews like Yellow Dwarf Wheat and Cross Hare Double IPA. So load up on pizza and try your favorite brews. We have five more to hit before dinner.
Next, we're off to the Hawcreek Brewing Company in the little town of Hope, Indiana, just a few miles northeast of Columbus. Brewing only in 32-gallon batches, which is slightly less than a barrel (43 gallons), HBC is a family-owned nanobrewery. While they may not have bottles of your favorite available, they can fill growlers as needed. Choose from their different brews like Creek Water Cream Ale, Four Founders Wheat, Little Town Brown, Doghouse Pale Ale, and Wicked Black IPA. And depending on when you go, they rotate their taps constantly with different small batch and seasonal beers as well.
Now we head nine miles south and west toward Columbus and the 450 North Brewing Company. While the beers may not be creatively named, the names say it all — American IPA, Belgian Amber Ale, English Brown Ale, and Summer Wheat. They do also serve food, so if you didn't get enough at lunch, there's always a snack to be had, like garlic knots, brick oven pizza, and Belgian chocolate cheesecake.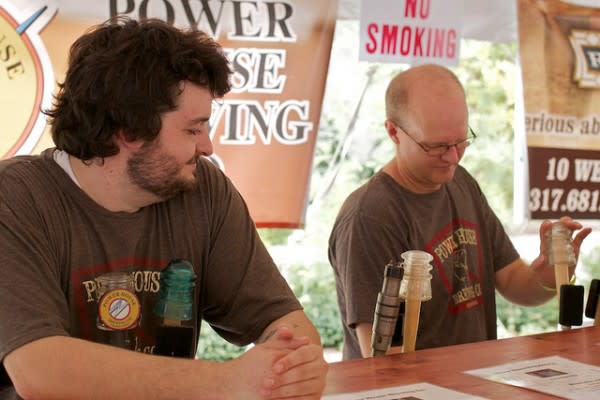 Power House Brewing Company
Down in the heart of Columbus is the Power House Brewing Company at the Columbus Bar. The Columbus Bar is one of Indiana's oldest continually operating bar, and they also serve a really long menu of pub grub for everyone in the family (including "sammiches" and stuff for the kids). They also have a rotating selection of mainstay draft beers you can find in any decent bar, but we're here for their own beers. There's Two Dave's IPAs, Jack The Bum Pale Ale, White River Brown Ale, and Diesel Oil Stout.
We're nearly done. We have a little distance between our last three, so catch up on naps and discuss your purchases.
Next is the Twisted Crew Brewing Company, just 20 miles south of Columbus in Seymour to the first and only microbrewery in Jackson County. For being the only microbrewery in an area, they act like one of the big boys in a saturated area like Northwest Indiana. I count 23 different beers on their website, both seasonal and year-round. There's the Frothy Mothy Dirty Blonde, Black Mamba Cascadian Dark Ale, 3-2-1 Bier de Garde (the French style similar to the Bière de Mars from Bloomington Brewing Company yesterday), Punkin Chucker, and the one I'm looking forward to, the WIT Bier Belgian style ale. But while they may have 23 in their lineup, they only serve 8 at a time. And this is a taproom, so come here for your growlers and bottles; sorry, no food.
Now we climb back into the special Indiana Beer Trail bus and head another 53 miles south to the New Albanian Brewing Company. We first encountered them, sort of, at the Bloomington Brewing Company when the two breweries teamed up to make the FeastMaster 80 Shilling Ale and Feastiality Strong Scotch Ale. The New Albanians are not only heavily involved in their local community, supporting several of the different festivals in the river town, but they put a lot of work into their beers' artwork. (Seriously, check out the artwork.) If they taste half as good as they look, they should be awesome. There's the Black & Bluegrass Ale, the Elector Imperial Red Ale, Abbey's Dubbel, Bonfire of the Valkyries smoked black lager, and the Ancient Rage Aged IPA. Don't forget their Heritage Series beers, Seasonals, and the Session Series.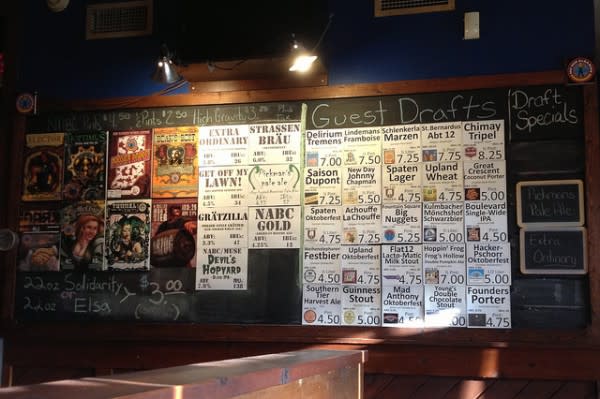 Finally, we'll dip down into Kentucky to take I-71 and a few state roads to get to the Great Crescent Brewery in Aurora, Indiana. It's far enough south and east in Indiana to almost be a suburb of Cincinnati, but this is the Indiana beer trail, and we don't leave a Hoosier beer behind! Not only does GCB have a seasonal Scottish Export waiting just for us, they have the Aurora Lager Dortmunder Export Style, a Coconut Porter, and an American style dark lager, their interpretation of what they have identified as the first commercial beer in Indiana. In fact, it's a suitable style, because we're not too far from Vevay, Indiana, home of the first commercial wineries in the United States. While they may be out of the way, Aurora is doing some new and different things with their beers than we have seen in other microbreweries. Plus, they also serve food, and since it's been a few hours since we last ate, how about a pulled pork or Italian sausage sandwich?
It's late enough that we should just stay the night in Aurora, and then head back to the cars tomorrow. If we leave early enough — but not too early — we can stop at one or two of your new favorites on the way home for a growler or two.
Later this month, we'll try the Central Indiana Beer Trail, which may take as many as four days. We'll keep you posted.
Photo credit: Christopher Murphy (Flickr, Creative Commons) Photo credit: Zepfman.com (Flickr, Creative Commons)