With mild weather and a nip in the air, Fall is the ideal time to get outdoors. Whether you are longing for a peaceful, scenic stroll, a rugged hike for experienced trekkers, or something in between, southern Indiana has an abundance of tours, paths, and trails to suit everyone's skill and energy level. Check out these walking and hiking trails in southern Indiana. 
Southern Indiana Hikes
Hikers have so many choices of strenuous levels among the trails in southern Indiana. For the most experienced hiker seeking a long, rugged backpacking trek, check out the Adventure Hiking Trail (AHT) at the O'Bannon Woods State Park in Harrison County or the even longer Knobstone Trail which starts at Deam Lake State Recreation Area in Clark County, just north of State Road 60.
In Harrison County which lies in the central and extreme southern part of the state, the Adventure Hiking Trail is one of Indiana's longest and most scenic backpacking experiences, with several points of interest along the way. Normally taking 2.5-3 days to complete, there are five overnight shelters available to hikers on a first-come, first-use basis. This trail features a variety of land formations and landmarks including dramatic cliffs, sinkholes, ravines, and old pioneer homesteads. Marked with white and green blazes, this trail is easily navigated; however, good physical condition, plenty of water, and proper equipment are necessities. Day trips are possible at several access points. Contact the park office for more information.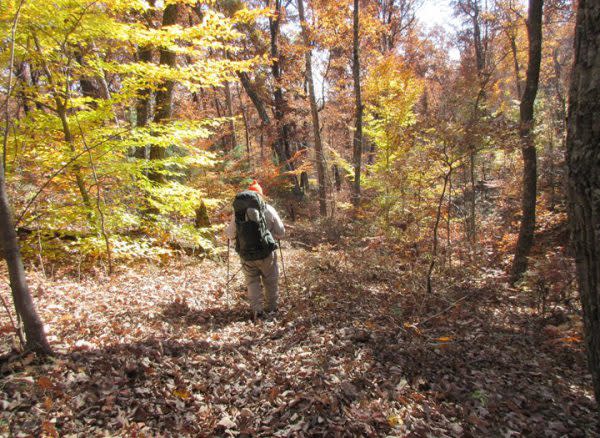 Likewise, The Knobstone Trail is for experienced trekkers in good physical condition. The longest hiking trail in Indiana (41 miles), this trail will challenge stamina, endurance, and physical fitness.  Due to the rugged terrain, advanced hikers train on this trail as they gear up to conquer the Appalachian Trail. At a slower less competitive pace, The Knobstone Trail is a great site to hike, camp, and fish for several days with friends and family – even those of the four-legged variety.
Other Great Fall Hiking Spots: 
For more casual "weekend warrior" hikers, Southern Indiana parks offer trails at an array of skill levels. These parks feature scenic trails that vary from comfortable to vigorous, and from short to multi-mile. Customize your hiking adventure by exploring these southern Indiana hikes.
Spring Mill State Park, Mitchell (South of Bloomington)
Ouabache Trails Park, Vincennes (Southwestern Indiana)
West Boggs Park, Loogootee (East of Vincennes)
Lincoln State Park and Fire Tower, Lincoln City (Close to Santa Claus)
Hoosier National Forest, French Lick
Scales Lake Park, Boonville (East of Evansville)
Ferdinand State Forest, Dubois County (Southwest of French Lick)
Patoka River National Wildlife Refuge, Oakland City (Southwestern Indiana)
Eagle's Bluff Park and Overlook, Cannelton (On the Ohio River)
Southern Indiana Walks
With so many health benefits to walking, why not enjoy your walk to the fullest where the surroundings are sensational? A paved, flat surface with gentle inclines and inspiring sites along the way are just what the doctor ordered. Did you know there is a paved walking path that meanders from downtown French Lick through the grounds of the resort, an expanse of woods and meadows then onward to West Baden? Or have you seen The Christ of Ohio majestic statue? To find it, take a pilgrimage from Troy along the Ohio River and venture up Fulton Hill.  You will find the impressive 19-foot statue in a serene setting among flowers, foliage, and overlooking the river.
Fox Ridge Nature Park, Vincennes (Southwestern Indiana)
The Milwaukee Trail, Bedford (South of Bloomington)
Eastside Park, Washington (East of Vincennes)
Friedman Park, Newburgh (East of Evansville)
Indian Creek Trail, Corydon (South-Central Indiana)
The Parklands of Jasper, (Southwest of French Lick)
Tulip Valley Trail at O'Bannon Woods State Park, Corydon (Central-Southern Indiana)
Southern Indiana Strolls
Sometimes a slow and steady stroll among historic sites, gardens, and nature is good for the soul. In particular, why not take a soulful saunter through the Saint Meinrad Archabbey in Spencer County? One of only two operating archabbeys in the US, over 80 monks live on-site. Guided tours are offered on Saturdays, but visitors can walk through the grounds daily.
For every pace, southern Indiana has a place for you to get a "good stretch of the legs" or a vigorous workout on a rugged trail. Wherever you go, Hoosier Hospitality and spectacular southern Indiana scenery meet you and inspire your journey. With so many options, plan your trip to Southern Indiana now and hike, walk, or stroll.
Find out more about the great outdoors in Southern Indiana by checking out SouthernIndiana.org.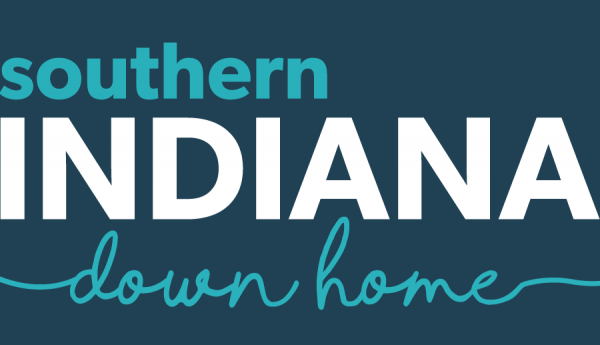 There's a lot going on in Southern Indiana. To keep tabs on all of what the southern part of this great Hoosier state has to offer, subscribe to our e-Newsletter! Monthly e-newsletters feature top-notch events and attractions throughout the region.