Break out your moon boots, find your space helmet, and get ready for lift off! You don't have to leave earth to experience the stars because of these out of this world Indiana space attractions. You will find planetariums that transport you through the universe, one of the largest telescopes in the world, a learning center that allows students to take their own space mission, informative exhibits and more.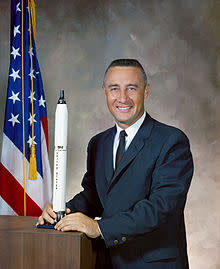 Gus Grissom, the second American man to reach space
In fact, Indiana is chock full of intergalactic history. The second American man to reach space, Gus Grissom, is from Mitchell, IN. Neil Armstrong, the first man to step foot on the moon, attended Purdue University. To see the whole list of Indiana space-themed attractions that we have compiled, keep reading below!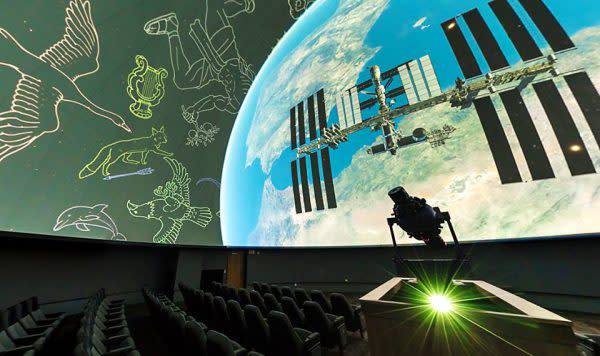 A trip to Muncie will reveal a night sky that you have never seen before! On the campus of Ball State University, the Charles W. Brown Planetarium's 52-foot dome uses state-of-the-art technology to create an unbelievable simulation. Recline in your, land on mars, travel throughout space, and fly by Saturn's rings. The planetarium offers free showings (typically on Fridays) about once a week. You need to become one of the 20,000 annual visitors to the largest planetarium in Indiana!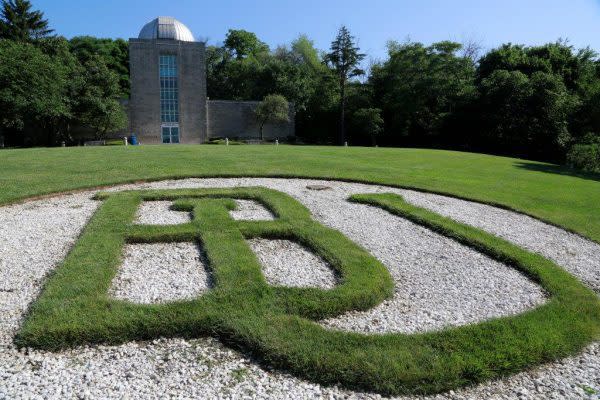 The sky is the limit for Indiana, where you can visit one of the largest public observatories in the entire world! Holcomb Observatory & Planetarium was originally built in 1954, housing a large 38-inch telescope. The observatory was recently renovated due to a $425,000 donation. Holcomb Observatory's original telescope was improved, with its astigmatism removed and a new 12 inch secondary mirror installed.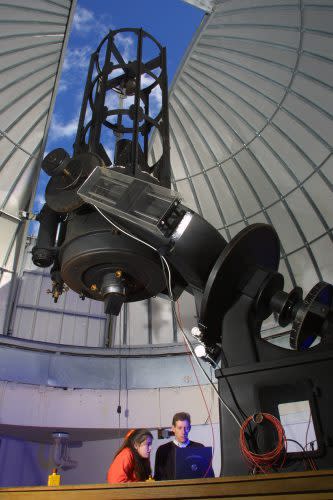 Professor Brian Murphy works with students on the telescope inside the Holcomb Observatory in October 1, 2001. Photo credit: Brent Smith, Butler University
Luckily, you can get a take a peak through Indiana's largest telescope if you take one of their group tours! Available for $7, the tour will also include an immersion experience in the recently upgraded full dome planetarium!  Holcomb Observatory & Planetarium is a special facility, as it is one of the few of its kind to do course work, research, and public outreach in one place.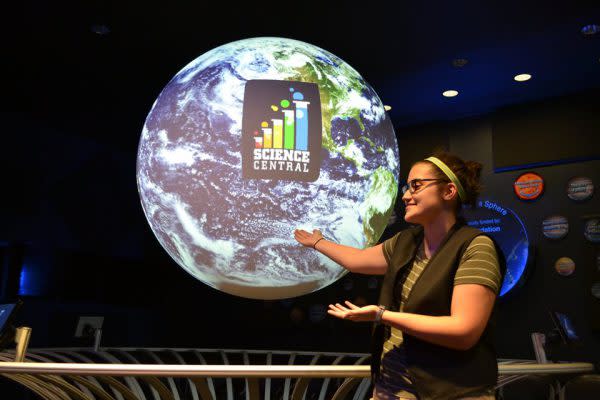 Science Central in Fort Wayne hosts a floating planet! Science On a Sphere, a six foot globe that rotates "mid-air", allows guests to flip a button and see different planets, currents of the oceans, and real time storms throughout the world! The globe was designed by the National Oceanic and Atmospheric Administration to help explain Earth and space science to knowledge-thirsty citizens. The sphere at Science Central is the first and only of its kind in Indiana. You are sure to leave with a new outlook on Earth and space!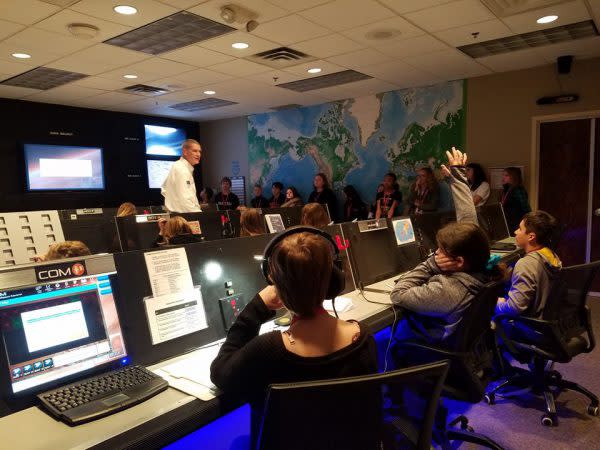 Located in Hammond, The Challenger Learning Center of Northwest Indiana is a STEM education facility meant to inspire an interest and passion for learning! They offer simulated missions for grades 5-8. The simulations are meant to put students in environments where they can learn how NASA prepares astronauts for space. Visitors are partnered up into 8 teams (communications, data, isolation, life support, medical, navigation, probe, and remote). One team member works at mission control while the other is taken to the space station. Throughout the mission, the kids must work to make sure the assignment is a success! They also offer fun and informative public events, such as Valentines Day dates and Earth Day celebrations. On top of that, the Challenger Learning Center hosts a full-dome planetarium with the only "laser" experience in Indiana! Click here for more information about who is eligible for each experience.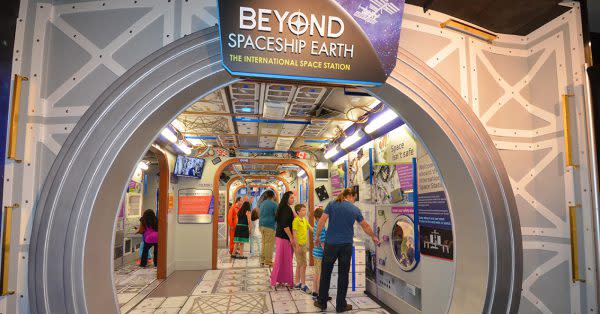 What kid doesn't look up to the sky and wonder what it would like to be an astronaut? At The Children's Museum of Indianapolis, they will be able to bring those dreams to life! Beyond Spaceship Earth is an interactive experience that tells the story of NASA's Project Mercury Program. Kids can learn about the history of NASA, get close to historic astronaut artifacts, and immerse themselves in the life of an astronaut.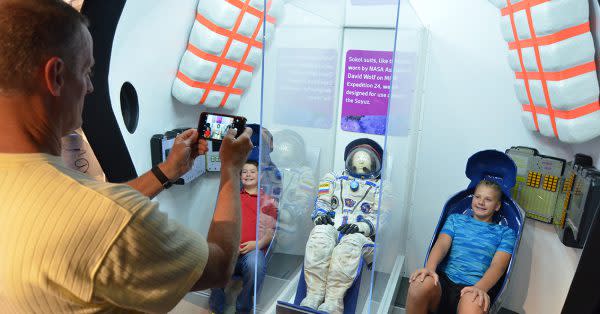 When visitors first walk into Beyond Spaceship Earth, they immediately get to experience the life of a modern day astronaut by monitoring scientific experiments and taking a view of space from inside the International Space Station. Later on in the exhibit, the Astronaut Hall of Fame honors the more than 30 engineers and astronauts who graduated from college in Indiana. Here, visitors can explore the list of Indiana astronauts and view artifacts from space! The third part of the exhibit, The Future is Here - How SciFi Becomes Reality, features an escape pod from Star Trek: Beyond. The multimedia experience explains how science fiction has impacted and inspired technological innovations. Of all of the Indiana space-themed attractions, this might end up being the your child's favorite!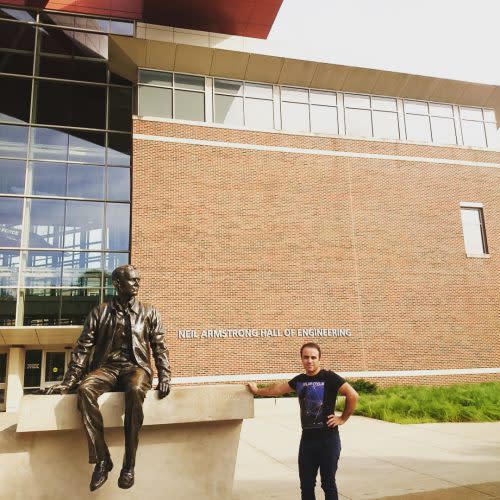 We can't put together a list of Indiana space-themed attractions without including the first man to ever step foot on the moon! Neil Armstrong attended Purdue University in the 1950's pursuing an aeronautical engineering degree. Purdue dedicated the 200,000 square foot Neil Armstrong Hall of Engineering in his honor back in 2007. In front of this incredible building, you will find a bronze college age replica of the "first man". Complete with penny loafers and a windbreaker, the statue is the perfect place to snatch a sweet photo. Chris Fagan, the sculpture's artist, imagined the statue as a place for people to hang out, eat lunch, and dream! It has become tradition for Purdue graduates to line up and snap a photo with the legendary astronaut right after commencement.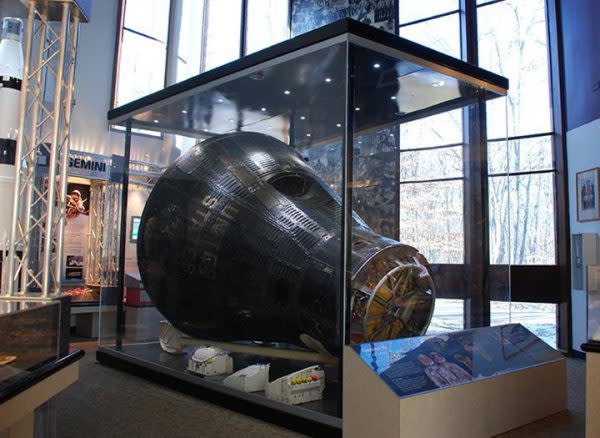 Virgil Grissom, America's second man to reach space in 1961, was born in Mitchell, IN. Grissom attended Mitchell High School and attained a degree in Mechanical Engineering from Purdue University. After flying thousands of hours in the United States Air Force, he was selected to be one of the "Mercury 7", an elite group of astronauts at NASA. He reached space on July 21st, 1961 in the "Liberty Bell 7" capsule and oversaw the first manned mission of the Gemini program. Unfortunately, Grissom was killed during a test of the launch pad for Apollo I. Grissom is a hometown hero of Mitchell, thus prompting the State of Indiana to dedicate a memorial to him at Spring Mill State Park near his birthplace. The Grissom Memorial showcases artifacts from his life, headlined by the Gemini III Space Capsule suspended in the air. Grissom's Mercury spacesuit along with the helmet worn during his Mercury flight are also on display!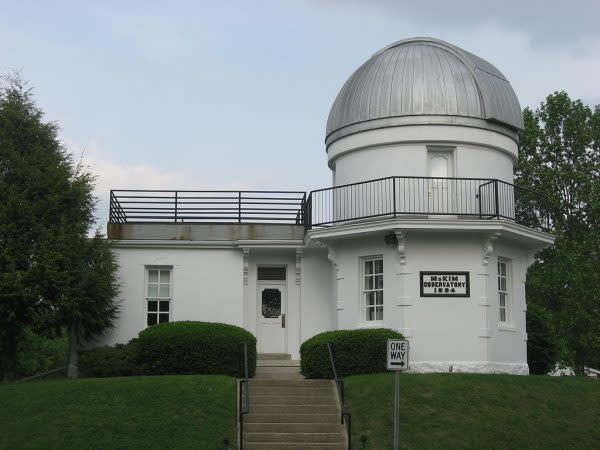 On the campus of DePauw University, you will find an observatory listed on the National Register of Historic Places. McKim Observatory was built in the late 1800' s due to a donation of $10,000 from Ireland native Robert McKim. The observatory is equipped with many of the same equipment it opened with, including a 9.53 inch Clark refracting telescope and a Fauth and Co. meridian circle transit telescope. Although mostly used by university students for astronomy projects, DePauw typically hosts two open houses a year where guests are invited to look deep into the night sky at no charge!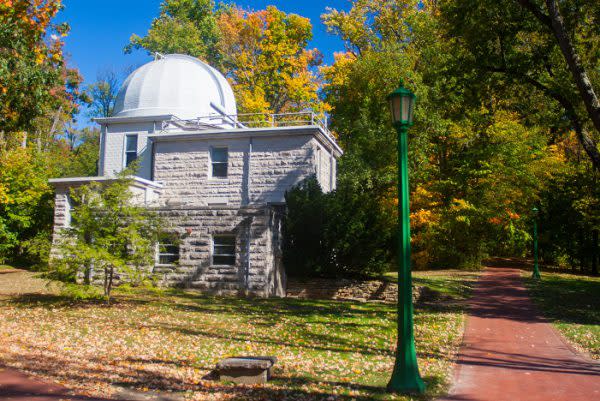 Built in 1900, the observatory was named after Daniel Kirkwood, an astronomer and IU professor of math. The facility contains a 12-inch refractor telescope and other astronomical equipment. Viewing is available every clear Wednesday when classes are in session. No reservations are necessary.