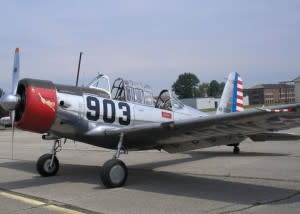 My family is centered on aviation. Two members are involved with the Air Force and the rest of us have internalized much information about planes from them.
So when we have an opportunity to attend an air show, we do it! I found a schedule of Hoosier air shows for 2015 and we've already plotted which ones we can attend.
Air shows are great family events. They are usually free because the promoters want kids to develop an interest in aviation. The exhibits are always awesome! Whether it is military heritage planes or copters or other types of aircraft, they are unique and different. What's also nice is that air shows are often fundraisers. They may also have booths to promote worthy causes like Honor Flight for Northeast Indiana and other groups that take military veterans to Washington DC for free.
Hints for attending an air show:
Take sun protection. Caps, sunscreen and plenty of water are all necessary since you'll walk around on hot surfaces much of the day. Food vendors are usually available at well-sized events.
Attend early for strategic parking.
Handicap accessibility can be limited.
Some air shows do not have rain dates. Check their websites for current weather conditions in the area.
This is a round-up of information about Hoosier air shows available yet this year. Select one that fits your schedule and plan to attend!
**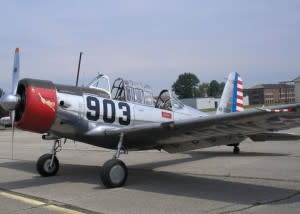 5th Annual Gus Fly-In Air Show
To benefit Down's Syndrome in Indiana
Grissom Air Reserve Base Approx. 10 miles south of Peru, Indiana on US Highway 31.
Saturday, June 20
8am-1pm
$5 donation for breakfast or lunch
26 military aircraft including D21 drone
Exhibit hall
Flight simulator
&&&&&&&&&&&&&&&&&&&&&&&&&&&&&&&&&&&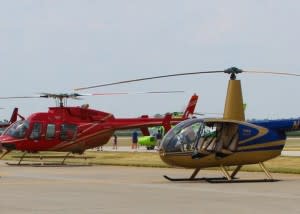 4th annual Goshen Rotors 'n Ribs
Goshen Municipal Airport
17229 CR 42
574.238.1000
Largest gathering of copters in the nation.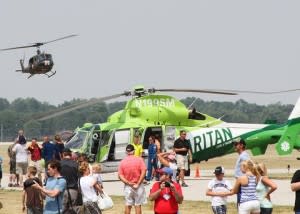 Displays and seminars representing the helicopter and aviation community.
Ribs cooked by Tony's Restaurant from Findlay, Ohio.
June 26-27, 2015
Parade of copters on Friday night
A run/walk at 8am on Saturday to benefit the Elkhart County 4H Aerospace Club.
Gates open to the public at 10am.
Rib tent opens at 11am.
All-copter air show opens at 1pm.
This event is free. Friday is for pilots only, while Saturday is open to the public with family-friendly activities
**
Evansville Freedom Festival Air Show
Evansville Regional Airport
June 26-28
**
Marquette Park
July 10-12
**
Kokomo Municipal Airport
July 18
**
Air Show of Warsaw and EAA Fly-In
Warsaw Municipal Airport
August 14-15
**
Marion Municipal Airport
September 05
**
Elkhart Warbird Gathering
Elkhart Municipal Airport
October 3-4
For more information about air shows throughout the nation go to
http://www.milavia.net/airshows/calendar/showdates-2015-north_america.html