"It's good to be an Astronaut."
Who among us hasn't thought that at least once in their life? Others took that thought to the next level and wanted to actually become one. But few has the physical and/or mental abilities to actually pull it off.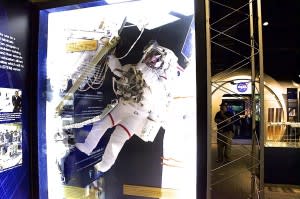 An astronaut floats high above the ISS
Hollywood's portrayal of astronauts as flashy jet pilots who wanted to leave the bondage of earth is cool but inaccurate. And this traveling exhibition does an amazing job educating the public of the down-to-earth contributions space programs of the world have given us from the epicenter of space exploration today: the International Space Station.
NASA's Destination Station, a traveling multimedia exhibition designed to highlight how the International Space Station (ISS) came to be, what life is like on board and how it is being used to conduct science.
The exhibition, hosted by the Indiana State Museum, will be on view through June 29 and include public programming.
"We are excited to work with NASA during their outreach campaign in central Indiana," said Indiana State Museum Chief Curator of Science and Technology and Curator of Biology Damon Lowe. "NASA has created this amazing new platform that will expose, inspire and educate our youth about the important work behind and on board their orbiting outpost."
The traveling exhibit features hands-on activities, imagery and audio and visual technology to connect visitors with their place in space, communicating the real and potential impact of the space station on everyday lives.
This friday is International Space Station Day and the museum will be featuring NASA's Driven to Explore mobile exhibit including a lunar touchstone, 10 a.m. to 5 p.m. [wheelchair accessible]. All Destination Station exhibit-related programming is free with museum admission.
For more information about Destination Station, please visit www.nasa.gov/destinationstation.