April 1 Election Fast Approaching
Story, Indiana—They may not have much in the way of government, no mayor, town counsel, or any kind of government (they only have 13 full-time residents, after all), but little Story, Indiana understands how government works.
So every year, they elect the Village Idiot on April 1, when the town's population may triple to 40 people or more. It's a tradition they've held since the Clinton Administration.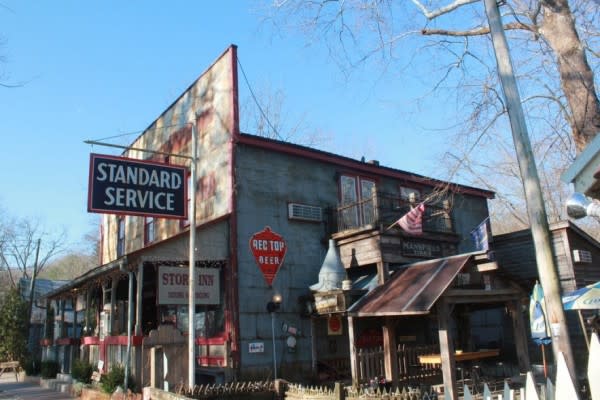 The Story Inn in little Story, Indiana, 13 miles south of Nashville.Interested voters can get a ballot from the bartender, and vote for one of the following candidates. And in the true Chicago voting tradition, voters are urged to vote early and vote often.
A Story bartender who set her own hair on fire as she was attempting to tame her coiffure with hairspray. (The unfortunate incident did not persuade her to give up smoking.)
A tavern regular who somehow managed to run over her own foot while driving her own truck.
A Story employee who, while learning to hunt with a bow and arrow, brought down his own Chevy Cavalier.
A bar patron (with an engineering degree from Purdue, no less) who filled a kiddie pool on the wood deck behind his house. The weight of the water (8.3 lbs./gallon x 1000) caused the deck to separate from his house and collapse into a heap of twisted lumber.
A Story Inn server who attempted to verify the authenticity of a Story Inn gift certificate by repeatedly calling the Story Inn from the Story Inn's front desk. She could not understand why the other line kept ringing when she called out.
A wine dinner guest who drank the dump bucket on a bet from his wife.
A bar patron who mistakenly took his dog's mange medicine; his wife claims it fixed a weak patch on his beard.
A newly married couple who stepped out of their cottage to cool off after a dip in the hot tub. When they discovered that the door had locked behind them, she sent her husband to the front desk to get a new key, at the peak of the dinner rush, clad only in a bath towel.
A frequent guest who proved herself worthy of her blond hair by embarking on a cross-country road trip, leaving her sandwiches on the roof of the car.
A musician who hit a cow on his way to perform at the Story Inn. (The cow was unharmed. However, his Honda Civic needed a new side mirror.)
For more information, contact Rick Hofstetter at (812) 988-2273 or visit the Story Inn website at www.storyinn.com.