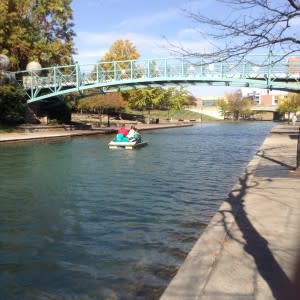 We all know our warm fall days are limited. I encourage you before the jam-packed holiday season is upon us to visit a calm, cozy outdoor locale in downtown Indianapolis that is away from the hustle and bustle of city traffic.
Downtowners will already know about the beauty and peacefulness of the Central Canal that stretches along the White River, but it was a new, marvelous find for us out-of-towners.
I get ahead of myself. As a military family, we try to visit as many memorials and museums as possible. Wanting to visit the USS Indianapolis Memorial in our state capital, we ventured through the mid-section of downtown to the 400 block of West Ohio Street. What we found along the way amazed and delighted us.
On a mid-weekday we had no problem parking along the street close to the canal. Payment for parking was done with a credit card in a machine for about $1/hour. We paid for two hours, just to make sure we didn't have to rush.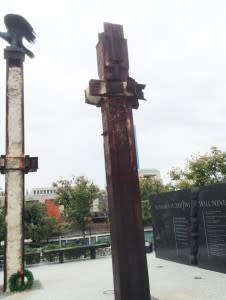 Wide steps and an attractive landscape led us to an unexpectedly sobering sight— Project 9/11 Indianapolis.
Situated next to Indianapolis Fire Station 13 at 421 West Ohio Street, it is a permanent memorial dedicated to those killed in the September 11, 2001, attacks. The memorial was established in 2010 by local firefighters, some of whom were some of the first rescue teams to help at the actual catastrophe in 2001.
I commend these people for that act and this memorial which has as a focal point two 11,000-pound beams from the Twin Towers. Behind the beams stands a pair of six-foot tall black granite walls inscribed with remembrances of the terrible events of September 11, 2001, in New York City; Washington DC and Shanksville PA. Perched atop one of the beams is a bronze, life-size sculpture of an American bald eagle.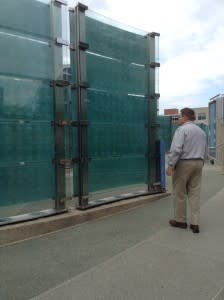 After spending several minutes there, we moved along the paved path to the Congressional Medal of Honor Memorial, situated in the White River State Park. The Indianapolis Zoo, State Museum, NCAA Hall of Champions, Indiana State Museum, Victory Field and Eiteljorg Museum are also located inside the park.
I loved the fact that the paved walk around the canal is much lower than the street, thus preventing us from seeing/hearing traffic. This enabled us to spend several minutes at the Medal of Honor memorial in peace, while looking for the few names we knew would be listed – Sam Davis of Indiana who was awarded the honor for service in Vietnam and Sergeant Alvin York for service in WWI.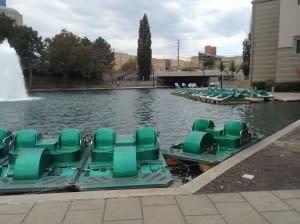 We then walked along the canal and wished we had time for a paddleboat ride. It's not too late to rent paddle boats by the hour on the canal, as well as gondolas by Old World Gondoliers (317.340.2489), but hurry. Their seasons end soon.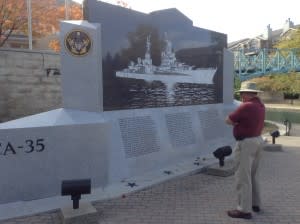 We chose to drove the mile or so to the north end of the canal and the last of our canal-related military sites – the USS Indianapolis Memorial. After hearing a USS Indianapolis survivor, Richard Thelen from Michigan, tell his story last summer at the Auburn Military History Museum, we wanted to look at this display.
There was an attractive stone shaped into that of a ship like the Indianapolis with names of the ship's company and one passenger who made up her final crew etched into it. Hundreds of seamen perished when attacked by a Japanese sub in July 1945. I've heard a movie is being made about the naval catastrophe.
Bench seating was scattered along the canal by the display and we sat long enough to appreciate the weather and the military service of every other soldier who has served our country.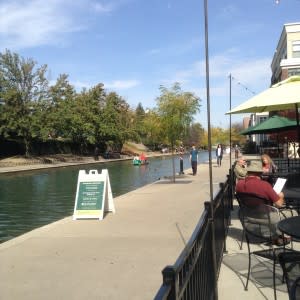 Needing a break, we found a charming café along the canal at the Cosmopolitan Apartment Building —Fresco Italian Café on the Canal, 310 W Michigan Street, 317.797.9185. They have a full selection of food items, including an Italian beef sandwich.
Not wanting a heavy lunch, John purchased a pizzelle --two small waffle-like cookies sandwiched between a swipe of Nutella and ground pistachios. Yum! Just the right amount of sweetness! It was a perfect end to a perfectly warm, sunny fall day along the canal.
What is your perfect downtown fall escape place?