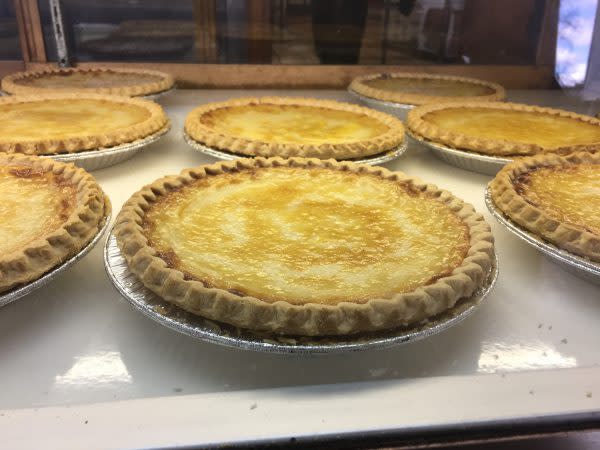 Many of us have had a chance to hone in on our baking and cooking skills recently. While you're channeling your inner Martha Stewart, bring some of Indiana's incredible culinary heritage to your home by trying a hand at this sugar cream pie recipe! Afterward, indulge in pie heaven by taking a foodie road trip on the Indiana Foodways Alliance "Hoosier Pie" Trail. 
While there is no one set origin of Indiana's unofficial pie, the dish is said to have been popularized by the Amish and Shaker communities in Indiana during the 19th century when they were running low on supplies. It was known as "Desperation Pie" because its ingredients could be found in almost any pantry, making it easy to make at any time throughout the year.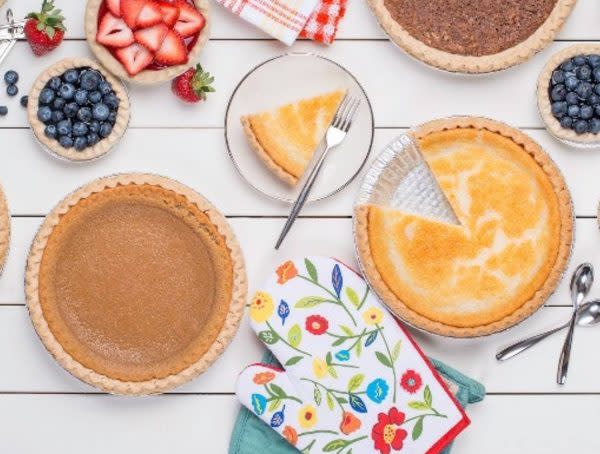 Credit: Wicks Pie Company
With a family recipe that dates back to their family farm in the 1800s, Wick's Pies in Winchester began to popularize sugar cream pie in the mid-1900s commercially. Starting out delivering the pies in a 1934 Buick Sedan, Duane Wickersham quickly outgrew his capacity and had to purchase a new manufacturing facility in the 1960s. Wick's Pies now produces thousands of pies every single day using the same ingredients his family did two centuries ago. You can purchase cases of their amazing sugar cream pie online here. 
Many restaurants and bakeries throughout Indiana have perfected the "Hoosier Pie." Can you do the same?
Sugar Cream Pie Recipe
Created by: Indiana Foodways Alliance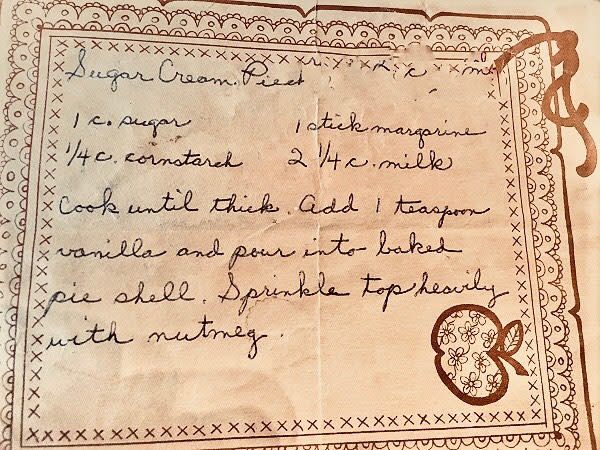 Ingredients for the crust:
1 3/4 cups of flour 1/2 tsp of salt 1/3 cup of butter 2/3 cup of vegetable shortening 1/4 cup of water 1 tsp vanilla
Directions for the crust:
Preheat oven to 350

°.

Add and mix the flour, butter, and vegetable shortening in your desired bowl.
Add the salt and water to the mixture until dough forms.
Roll the dough out on a cutting board.
Refrigerate dough for at least 90 minutes.
Roll out dough into a round.
Refrigerate the crust until it is firm.
Add the vanilla into the baked pie shell.
Ingredients for the filling:
1 cup of sugar ¼ cup of cornstarch 2¼ cup of milk 1 stick of margarine (you can also substitute with butter) 1 tsp of vanilla 1 tsp of nutmeg
Directions for the filling:
Begin to make the filling by adding sugar, margarine/butter, cornstarch, and milk into a saucepan. Whisk until thoroughly blended.
Cook over medium heat until thick.
Add vanilla to the mixture.

Preheat the oven to 350°.

Pour the mixture into the chilled pie crust.
Sprinkle nutmeg on top.
Bake at 350

°

until the crust browns. The pie will set up upon cooling.
Substitutes: Butter for margarine and half & half for milk.
Tip: If you don't want to make a pie crust from scratch, Wick's Pies crusts are available in a store near you. Click here to find the closest available retailer.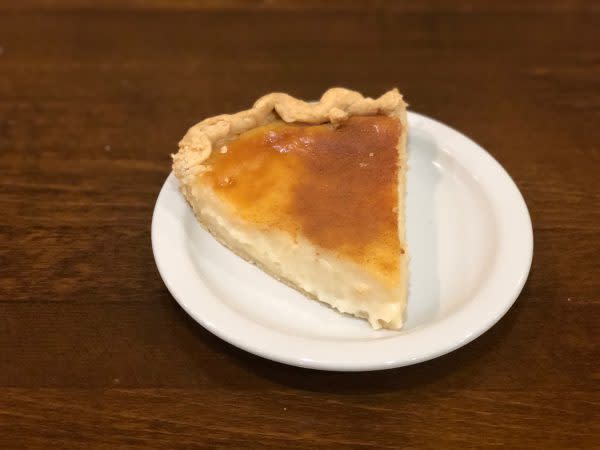 Credit: Bluebird Restaurant in Morristown
Now, it's time to start baking! Take this recipe and enjoy a little bit of Indiana history from the comfort of your own home. When the time is right, head out and support the small businesses around Indiana that have flawlessly recreated their version of the sugar cream pie.