August is festival time along the Ohio River in Madison and Vevay. These two river towns play host to amazing festivals in August, which feature great food, music and summer fun.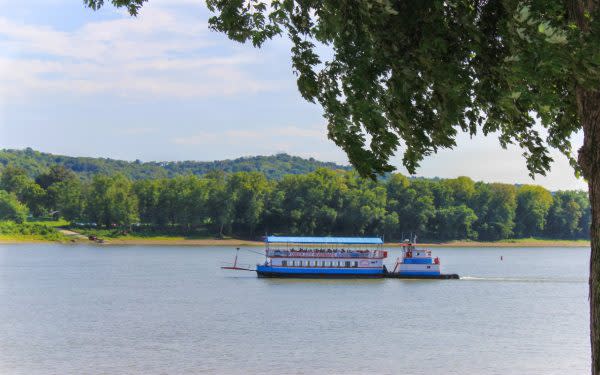 Start with Madison Ribberfest BBQ & Blues, August 18 & 19, 2017 in Madison. Then take a week to recover (or stay for the week – there are lots of fun things to do) and head to the Swiss Wine Festival in Vevay, August 24-27, 2017.
This is not a choice, they're both award winning crowd favorites, each with its own distinct vibe. You'll want to do both!
Madison Ribberfest BBQ & Blues - August 18 & 19, 2017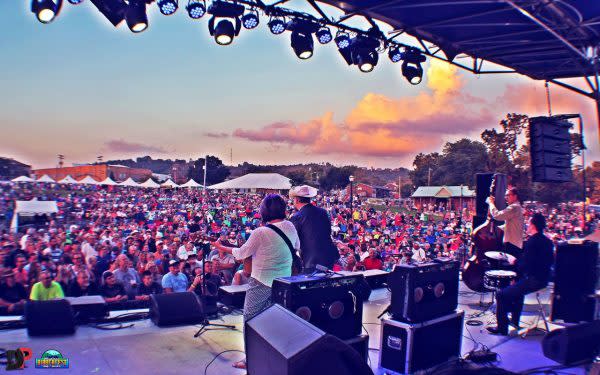 Great Performers!
The smoky aroma of barbeque has drifted over Madison signaling the start of Madison Ribberfest Barbeque & Blues for 16 years and it's still a fan favorite (2016 Award Winner, Best of Indiana – Best Music Festival). Madison Ribberfest takes center stage along Madison's beautiful riverfront on August 18 & 19, 2017.
If you're a Blues lover, this is definitely the place to be: 9 world class Blues performers in 2 days! Gates open at 5pm on Friday and the music kicks off at 6 with Jason Ricci and The Bad Kind followed by Ana Popovic and ending with headliner Delbert McClinton. On Saturday, music starts with the Bob Lafary Trio at 11:30am, then Toad Strangler, The Claudettes, Dwayne Dopsie and The Zydeco Hell Raisers, The Legendary Downchild Blues Band– the real life inspiration for Ackroyd & Belushi's, The Blues Brothers and headliner Los Lobos closes out the festival.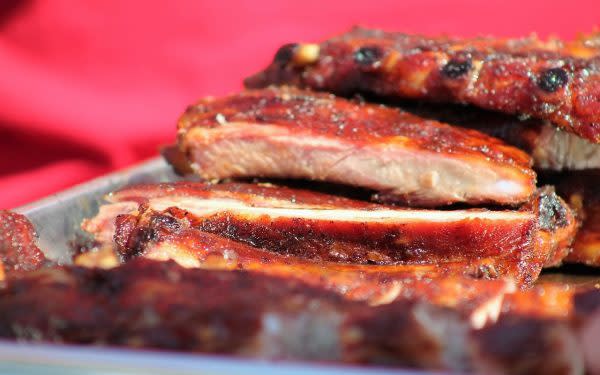 Delicious BBQ
About the BBQ - There are 65 Kansas City Barbeque Society competitors lining the streets on the west side of the gates. They're the ones with those impressive big rigs that you see on TV. If you are interested in competitive BBQ, check them out – you might get some insider tips!
On the east side of the gates, the Backyard BBQ Blast competitors set up and cook all day on Friday. There are about 60 of them, all amateurs, hoping to bring home the gold! These BBQers have a lot of fun (it's a lively spot) and love to talk about BBQ – you might even talk them into a taste.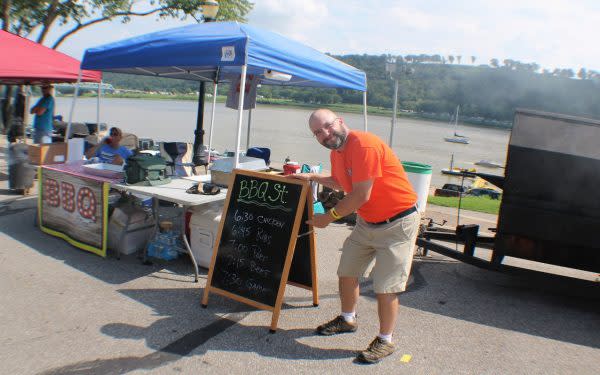 Back Yard Blast
Got a child prodigy BBQer? Enroll them in the Kidz Q on Saturday. Ribberfest provides the meat and charcoal grills. Parents can cheer on their young chefs but it's kids only for the preparation, cooking and presentation, please!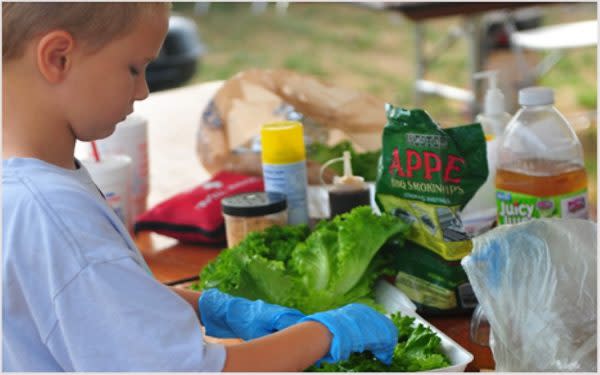 Kidz Q
If you're looking to indulge your taste for BBQ, you'll find a variety of vendors inside the gate – some are KCBS competitors.
There's more: Pig Toss Corn Hole Competition, 5K Walk/Run/Bike, Zipline (signup for the free ride drawing), Riverboat Cruises ($5 discount with your Ribberfest wristband), Beer Tent (includes craft beers & local wines), The Piglet Pen (inflatables, games, magic show) and 10 yummy food vendors.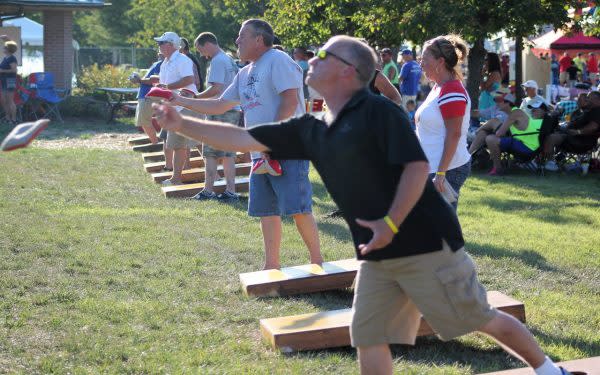 Pig Toss
ANN'S TIPS: Order your wristbands online early for discounts while supplies last. Online & phone orders are Will Call.
It's street parking so get there early. There is a designated handicap parking area at the corner of Vaughn & Jefferson Streets: drop off at West Street Gate and catch a ride back on a golf cart.
Bring lawn chairs! Check the does & don'ts – no pets, umbrellas or canopies and…
Riverboat Cruises are available to the public – not just Ribberfest wristband holders. If you're just visiting and not attending the event, you can still take a cruise. Departs from the boat landing at the bottom of West Street.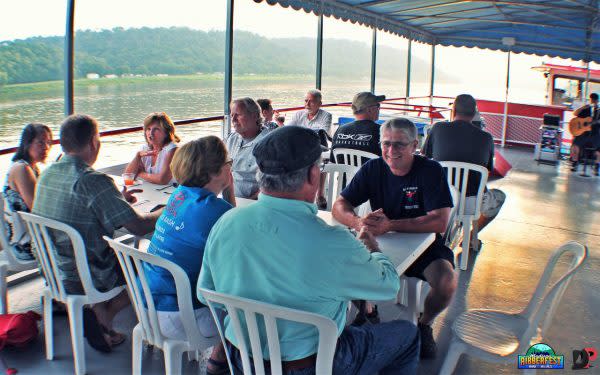 Enjoy a Cruise
Photos courtesy of Madison Ribberfest.
Swiss Wine Festival - August 24-27, 2017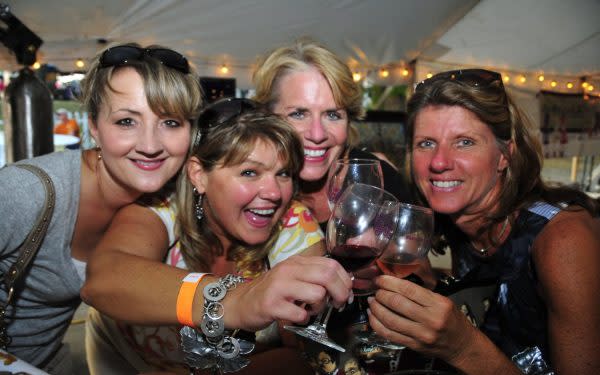 Have Some Fun!
In Switzerland County, August has been Swiss Wine Festival time (Top 10 Event in Indiana by Top Events USA) for the past 45 years and it takes the whole county to put on this huge 4 day event. Gates open on Thursday evening, August 24, 2017 and the fun continues through Sunday August 27, 2017.
The festival is held on the banks of the Ohio River at Paul Ogle Riverfront Park in Vevay. There is truly something for everyone at the Swiss Wine Festival: games/contests for the athletes; amusement rides/special characters/entertainment for the young ones; wine/craft beer/spirits for the adults; evening boat rides for the romantic; arts/crafts/flea market for the shoppers; continuous entertainment on 2 stages/great food (voted #4 Best Food Festival in Indiana) for everyone.
I talked to an old friend (Swiss Wine Festival Director Kirk Works) and got all the info about what's new for 2017. The big news is…..The Charlie Daniels Band is headlining on Friday night AND it's free with your Friday festival admission!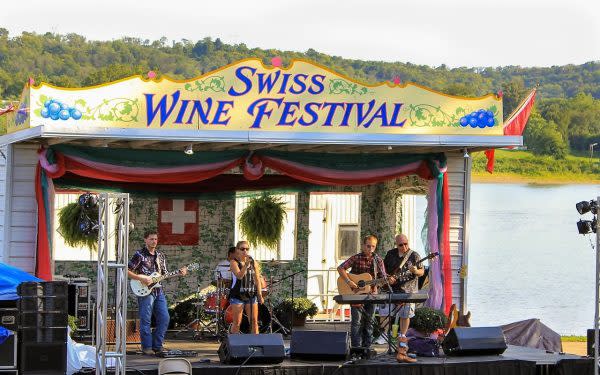 Continuous Entertainment
Also new, more than 30 craft beers and 20 plus spirits for tasting. Don't worry; The Wine Tasting Pavilion will still offer over 100 of Indiana's finest wines, Peacetree Mountain Truffles and, for the first time, Fair Oaks Farm will be bringing their Indiana cheeses.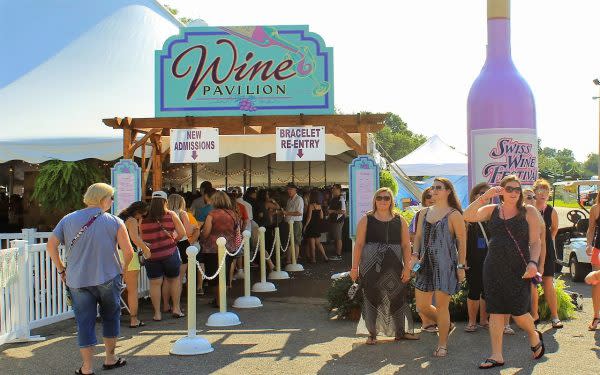 Taste Them All!
Kids will love the new Petting Zoo & Pony Rides and the special kids' area with a Glow, Foam & Paint Party, Bubble Party and Electronic Dance Music – all with DJ included. There are new Knocker Balls to try, too. More new: Military Boat Rides, Wild West Show, 19th Century Trades (blacksmith, broom making, basket making) Demonstrations and Escape Tent (Hope you can solve the clues to get out!).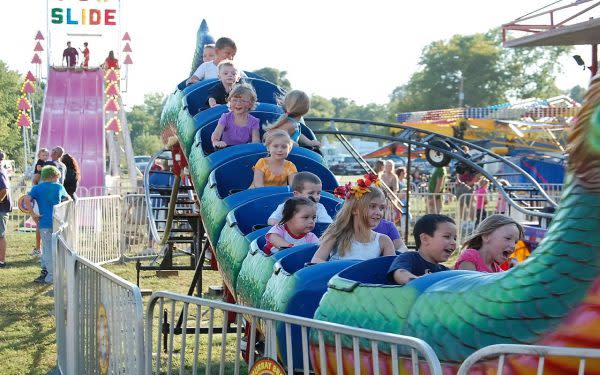 Fun For the Whole Family!
You'll still enjoy all the things that you love at the Swiss Wine Festival: 70+ arts/craft/flea market vendors, 25 food booths, amusement rides – watch for wristband specials, 2 stages with non-stop entertainment, the Grand Festival Parade on Saturday morning, Beer Garden, Grape Stomp (harder than it looks), Little Swiss Polka Dancers (too cute!), 5K walk/run, Poker Run, fireworks and Riverboat Cruises – dinner & sightseeing.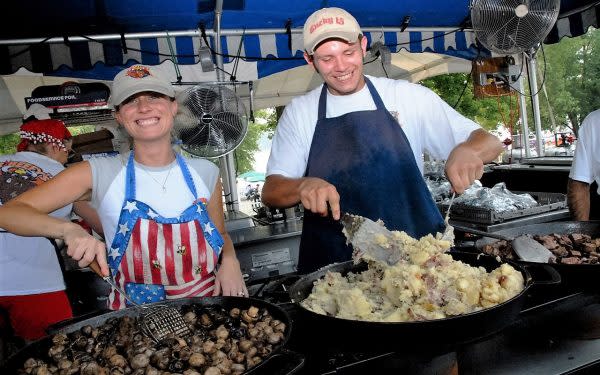 Lots of Choices!
ANN'S TIPS: There's plenty of parking on the festival grounds or in town (a trolley will bring you to the gate).
Check the schedule for days & times of the events especially if you're interested in a specific event.
Get your tickets at the gate – includes parking.
Call 1-800-435-5688 to reserve your Riverboat Cruise tickets – dinner cruises require advance tickets. Check the deadline! You can purchases cruise tickets at the Information Booth during the festival.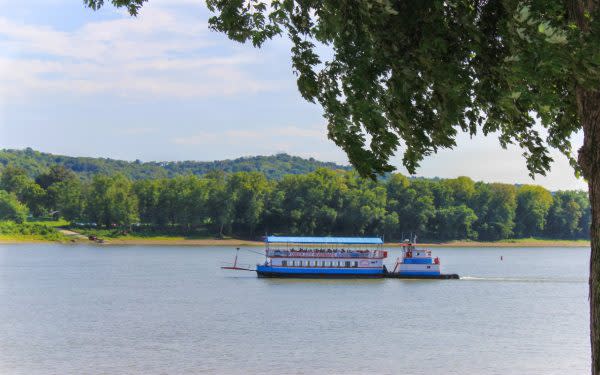 Cruisin' on a lazy Afternoon
Photos courtesy of Swiss Wine Festival.
Find places to stay, things to do in Madison & Vevay.
Find more of Indiana's great Events & Festivals. Like to see more about southeast Indiana? Check out this Trip Idea.