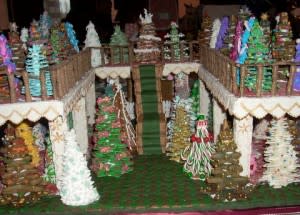 Embassy Theatre's Festival of Trees made edible!
I'm not a terribly crafty person so I admire people who are talented at making intriguing items with their hands. I love the Festival of Gingerbread at the Fort Wayne History Center for that reason. I can't imagine creating any of the dozens of structures on display from log cabins to castles made from gingerbread and other edible treats. The time and cost involved must be exorbitant!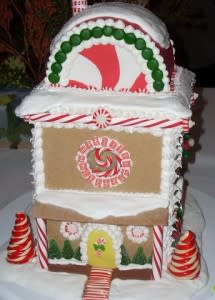 I love this rounded candy roof!
I take photos of many of the houses for two reasons -- I tell myself I'll make one of my own some day. The latter is unlikely but it's a nice thought. In reality, I'd probably break several pieces of gingerbread in frustration in the process!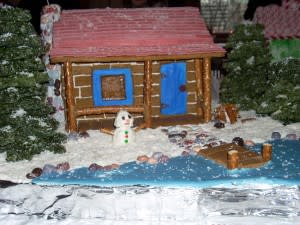 Log cabin made of pretzels looks cozy! For now, I'm leaving it to the experts.
Many houses are made by children's groups like Girl Scouts, school classes and church youth groups. It's great to think of all of them working together on these projects and not playing on electronic devices. There are also some houses made by professional cake decorators.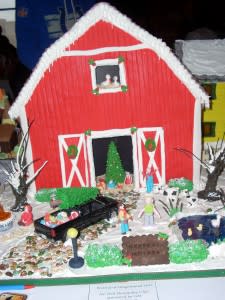 This barn looks festive! The creativity of how they use a myriad of food items like candy, licorice, fruit roll ups, gum and pretzels amazes me.
This year's Festival of Gingerbread dates are November 28 - December 14, 2014.
An elephant house!
The History Center is available for touring during the festival so take advantage of the opportunity to learn more about Fort Wayne's past.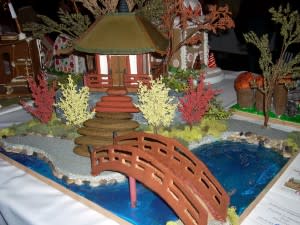 A pagoda looks restive. Special events take place during the Festival of Gingerbread:
Wednesday, November 26, 5-9:00 PM Visit Santa Claus in the Orientation Room during Lighting Night, $3 per person
Saturday, November 29th, 1-3:00 PM Create Your Own Ornament, $1 plus regular museum admission
Sunday, November 30th, 1-3:00 PM Holidays around the World, $1 plus regular museum admission
Tuesday, December 2nd, 5-9:00 PM AEP Indiana Michigan Power Free Night Free Book Giveaway by Women United
Saturday, December 6th, 1-3 PM Visit Santa Claus at the History Center
Sunday, December 7th, 1-3:00 PM Storytelling with Real Men Read
Saturday, December 13th, 1-4:00 PM 'Science of Sugary Structures' program, presented by Science Central
Sunday, December 14th, 1-4:00PM Cookie Decorating Party, $1 plus regular museum admission
The Gingerbread Festival is a perfect low-cost, low-stress multi-generational family event. Maybe after seeing all of the beautiful structures you'll be inspired to create your own family gingerbread house! For me, I'm sticking with a ready-made kit.
Museum Hours: Monday through Thursday, 9 a.m.-5 p.m. Friday, 9 a.m.-8 p.m. Saturday, 9 a.m.-5 p.m. Sunday, Noon-5 p.m.
Admission Fees: Adults (19-58)--$6.00 Seniors (59+)--$4.00 Students (3-18)--$4.00 Ages 2 & under--free Free to History Center Members
The History Center 302 East Berry St Fort Wayne 260.426.2882 www.fwhistorycenter.com
The End **