August in southern Indiana means it's nearly time for the Swiss Wine Festival in Switzerland County. As a way to honor their Swiss roots, Vevay, Indiana, hosts the festival at Paul Ogle Riverfront Park right along the Ohio River.
It's a four-day festival of food, music, games, festivities, and of course, wine.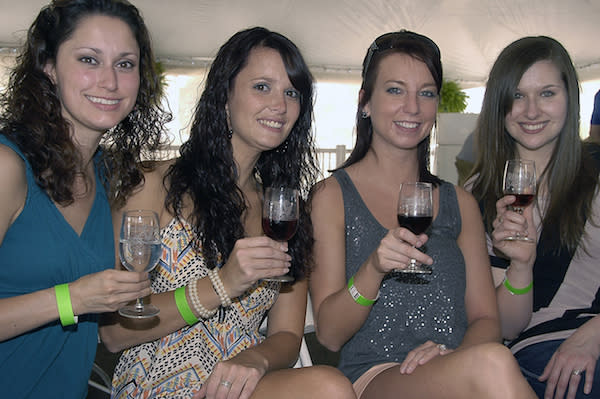 Enjoying the Wine Tasting Pavilion at the Swiss Wine Festival.
It's been called the Fourth Best Food Festival in Indiana by our very own Best of Indiana list.
If you've been to the Swiss Wine Festival before, you know what to expect, and it's all still there. For those of you driving west from Cincinnati, north from Louisville, or south from Indianapolis, you'll find the Wine Tasting Pavilion, Midwest Championship Grape Stomp (I won in 2011!), arts & crafts, the Grand Festival Parade, riverboat cruises, beer garden, 5K river run/walk, poker runs, a cornhole tournament, cheerleading competition, and live entertainment. There's even a midway by Burton Bros. Amusement. We rode it a few years ago, and my son managed to get sick after one of the rides!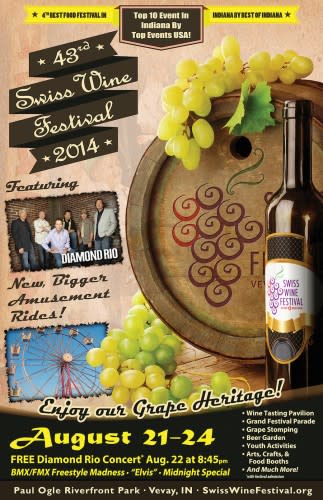 Click the photo for a larger version.Twelve Indiana wineries will offer samples of their award-winning wines. Novice wine lovers and the experienced connoisseurs can enjoy samples or purchase wine by the glass or bottle from Buck Creek, Carousel, Cedar Creek, Ertel Cellars, French Lick, Harmony, Indiana Creek, Lanthier, The Ridge Winery, Traders Point, Windy Knoll and Winzerwald. Entrance into the wine pavilion is $15 per person and includes a souvenir wine glass and wine sampling opportunities. A beer garden is also available.
So, not only will you get to sample our state's wine heritage, you can support local businesses as well with your purchase.
This year's entertainment headliner, Diamond Rio, will perform Friday, August 22 at 8:45pm. The event is free with a $5 gate admission (i.e. you pay to get into the whole festival; the concert itself is free), and don't forget your lawn chairs. There's even an autograph session afterwards.
Additional musical performances include Midnight Special, DiamondBack, After Midnight, Gringo Starz, Ken & Mary Turbo Accordions Express, CEF Michael, Madison Community Band, The True Voice of "Elvis", MonkeyBone/Pinch-n-Roll, and the SKALLYWAGS.
Upholding a Swiss Wine Festival tradition, gates will open on Thursday, August 21 at 5:00 p.m. with the Little Swiss Polka Dancers performing at 6:00 p.m. Festivities begin on Saturday morning at 10:00 a.m. with the Grand Festival Parade in downtown Vevay.
You can download a brochure from the Swiss Wine Festival website. There's no cost for Thursday's events — tickets or parking. Tickets on Friday and Saturday are $5 for adults, $3 for kids 5 – 12, and kids under 5 are free. Tickets on Sunday are $4 for adults, $2 for kids 5 – 12, and free for kids under 5.
Festival times are Thursday, August 21 from 5-10 p.m.; Friday, August 22 from 3 p.m.-2 a.m.; Saturday, August 23 from 10:30 a.m.-2 a.m.; and Sunday, August 24 from 10:30 a.m.-6:30 p.m. There is a small parking charge near the festival grounds and limited free parking in downtown Vevay.
The Wine Pavilion is closed on Thursday, but is open Friday, 3-10 p.m., Saturday, 11a.m.-10 p.m., and Sunday noon-5:00 p.m. The $15 per person admission fee includes wine sampling opportunities and a souvenir wine glass. The Beer Garden opens Thursday for Happy Hour from 5:00-10 p.m. and will reopen Friday from 3:00 p.m.-2 a.m.; Saturday 11 a.m.-2 a.m.; and Sunday, 11 a.m.-6 p.m.
For more information, call (812) 427-9463 or e-mail info@swisswinefestival.org. Make reservations for riverboat cruises at 800-435-5688.
Find information on hotels, local businesses, and restaurants at switzcotourism.com or by calling Switzerland County Tourism at (812) 427-3237.