Studies show that playing a musical instrument can lead to improved focus, better emotional control and sharper mental function in both children and adults. If you've trying to get your kids interested in picking up a violin or a saxophone, central Indiana concert halls and symphony orchestras are on your side, striving to make music more appealing to the younger masses through experiential family programming and events.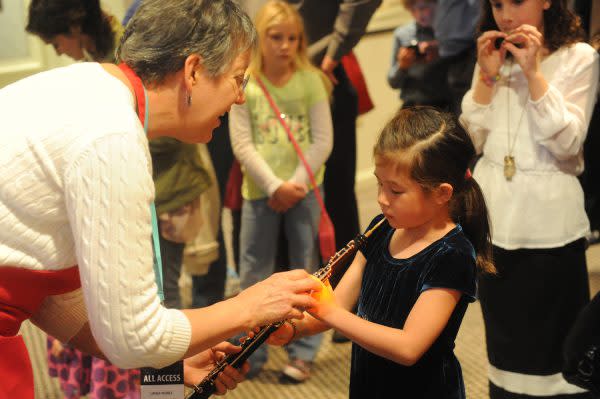 Attendees get to test out instruments for themselves before ISO's SymFUNy Sundays concerts. Courtesy of Indianapolis Symphony Orchestra
The Indianapolis Symphony Orchestra hosts four themed "SymFUNy Sundays" each year to introduce children ages 4 to 12 and their family members to classical music in a fun, exciting format. Activities in the lobby prior to an hour-long concert give guests the chance to engage in games and crafts, and the musicians themselves are on hand to demonstrate how to play their instruments, even letting aspiring performers test them out. The next upcoming event is "When Inspiration Strikes" Sunday, April 29 at 3 p.m., a journey into nature, art and adventure that includes music by Aaron Copland, Beethoven and John Williams. The ISO also hosts a free Teddy Bear series for younger kids that travels between local library branches. For dates, tickets and more information, visit indianapolissymphony.org.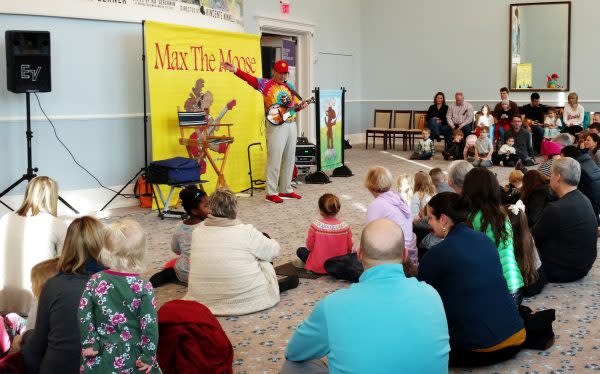 Guests get a fun music lesson at The Center for the Performing Arts' Peanut Butter & Jams events. Courtesy of The Center for the Performing Arts.
In Carmel, The Center for the Performing Arts is home to the monthly Saturday morning Peanut Butter & Jam series geared for kids ages 1 to 7 and their caregivers. Each event focuses on a different type of instrument or musical genre and gives attendees the chance to join in by singing, playing and dancing along. The Jungle Jams summer music camp (this year, July 9 to 13) accommodates 4 and 5 year olds, while high school and college students can sign up for summer Opera Camp at the Tarkington (June 18 to 22), or get a taste of music and culture that includes concert tickets, a tour of the Palladium, dinner and a meet and greet with the performers through the KAR Front Seat offerings. For more information, visit thecenterfortheperformingarts.org.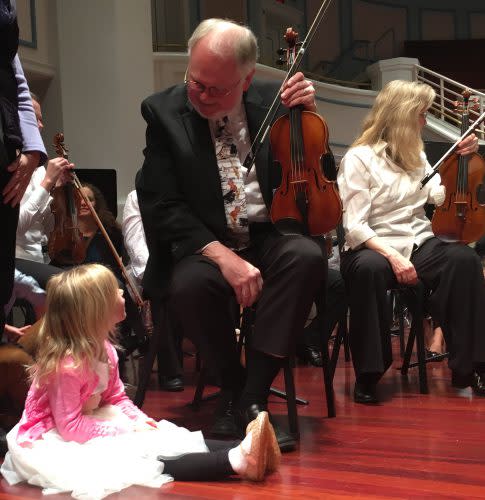 Kids get to join the musicians on stage during the Carmel Symphony Orchestra's annual Family Fun! concert. Courtesy Patricia Pickett.
Once a year, the Carmel Symphony Orchestra hosts a Sunday afternoon Family Fun! Concert for kids ages 3 to 14 that incorporates popular movie themes and some of classical music's most recognizable "greatest hits." In addition to an interactive instrument "petting zoo" after the concert, kids even get invited to join the musicians on stage during part of the performance.
Testing out a flugelhorn at the Carmel Symphony Orchestra's annual Family Fun! concert. Courtesy Amy Lynch
And the North Central High School Symphony Orchestra gets into the mix as well with its annual "Tootsie Pops" concert in early spring, treating visitors to an instrument petting zoo, craft and activities before and after a live student performance.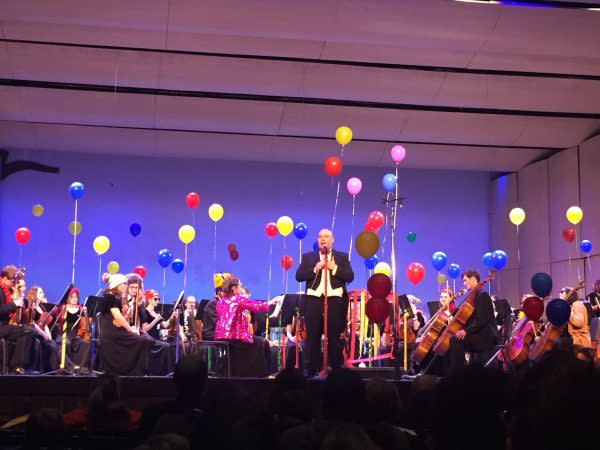 North Central High School's annual Tootsie Pops concert. Courtesy Amy Lynch