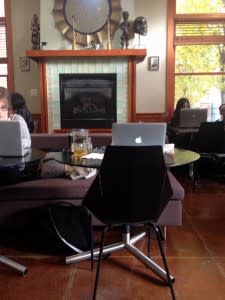 Tea's Me is a clever name for a café that not only serves hot and cold tea but also an assortment of café-style food.  Located closer to downtown, on the corner of 22nd street and North Talbot Street, it is the perfect spot to hang out with friends, meet-up for tea (or coffee!) and to escape the Butler Bubble for a couple hours.
Walking into the café you can tell right away that it has a very relaxed atmosphere.  A wood-burning fireplace sits on one end while a small flat screen sits on the other. Long, short and even round tables scatter the seating area with a matching variety of chairs. With my time at the café, I sat at a small round table in the center of it all, catching small snippets of others conversations while working on some homework.
After already being a difficult costumer and ordering an iced green-tea lemonade extra sweet, the extremely kind barista not only brought me my drink to my table but made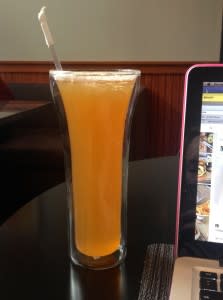 sure to casually check back and make sure I was enjoying my tea, which was absolutely delicious! On other tables sat actual tea-pots over small warmers to keep the tea warm. These pots were clear and you could even make out the herbs that went into them.
Being a creature of habit, I always order some sort of sweet green tea. However, after seeing all of the possibilities and getting acquainted with my surroundings, after a little more research, I definitely plan to return and try something new!