What do you do with a free Saturday in Indianapolis with two teens who have seen it all and aren't easily impressed? Well, we consulted VisitIndy to help plan our recent last-minute trip to guide us to some of the city's top places. Our day included lunch at a historic downtown delicatessen, duck pin bowling and rounded out with dinner at the restaurant voted #1 in 2018 for Best Pizza. The day was a smash hit! Make sure you add one of these stops to your next Indy visit!
Shapiro's Deli Downtown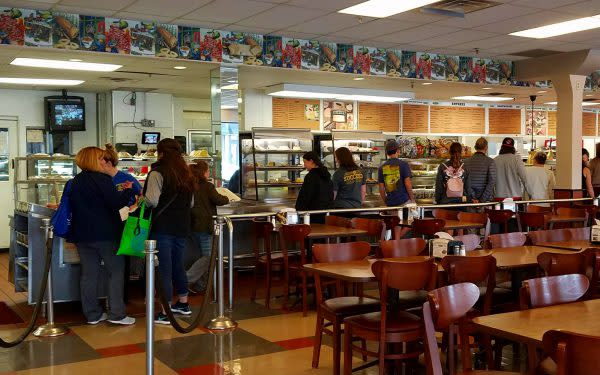 With past titles from USA Today for being one of the ten best Jewish Deli's in the country, this is an Indy staple that is a all-around winner. Consult the website for Shapiro's Delicatessen and you'll see multiple locations, but to have the best and most meaningful experience, you must head to their downtown location. Shapiro's opened its doors in the Circle City over 110 years ago and they settled right in the working class neighborhood just south of downtown Indy. The deli is known for it's sandwiches piled high with pastrami and corned beef and my teens were super excited to test out their eating skills.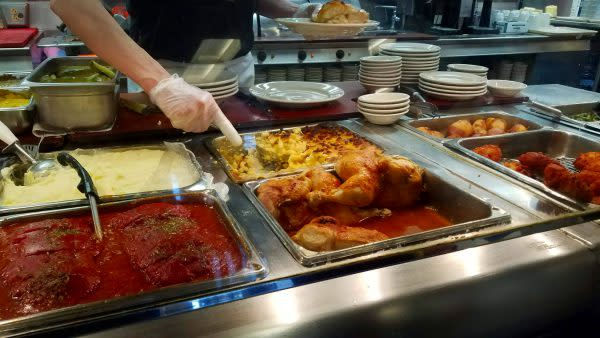 We arrived just ahead of the weekend lunch crowds and hopped into the cafeteria-style line with several other out-of-towners  - all of us quickly trying to decide on our orders as we approached the part in the line where you order entrees. There's a large selection of items to choose from including matzo ball soup, fried chicken, meatloaf, roast beef manhatten and a list of sandwiches including their popular corned beef, pastrami, turkey etc. The kids and I decided to heap our plate with as many favorites as we could carry so that we could try a little of everything including their famous corned beef on rye.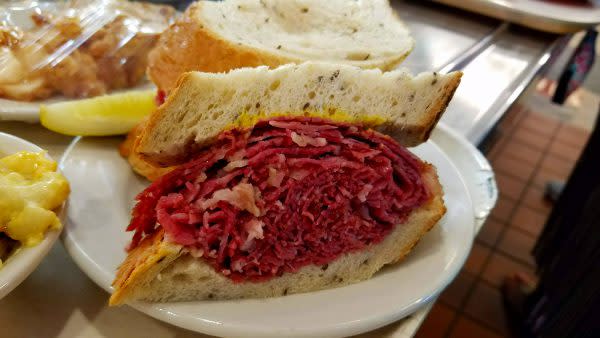 So how was the food? The stand out for sure was their legendary corned beef sandwich that my son quickly named as one of the best he's ever had. This sandwich is HUGE! I'm not sure how a normal person could finish the entire sandwich, but the countless folks around me who were attempting to tackle it appeared to be quite determined to get the job done. The mac and cheese is another winner, it's hard to follow a sandwich that great, but it truly is a meal all by itself. You owe it to yourself to get dessert at Shapiro's. The desserts are all fresh and include pies, cakes, eclairs, cookies and bars. We shared a slice of their apple pie and we found ourselves fighting for the last few bites, even with full stomachs.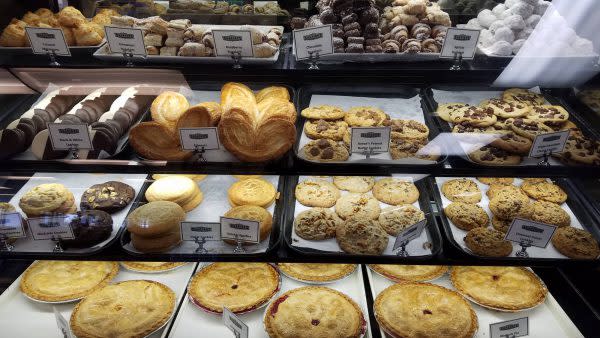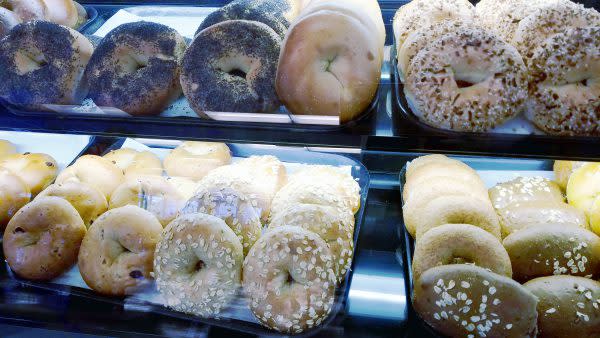 In case you don't have time to dine in or if you were so impressed you want some to take home, there's an entire side of the restaurant devoted to carry out items. The cases are filled with bagels, specialty meats and mouth-watering desserts. I highly encourage you to load up because a day without Shapiro's would be just too hard to bear. Shapiro's Delicatessen 808 S. Meridian St., Indianapolis, 317-631-4041 Monday-Sunday: 6:30 AM - 8:00 PM
Duck Pin Bowling - Fountain Square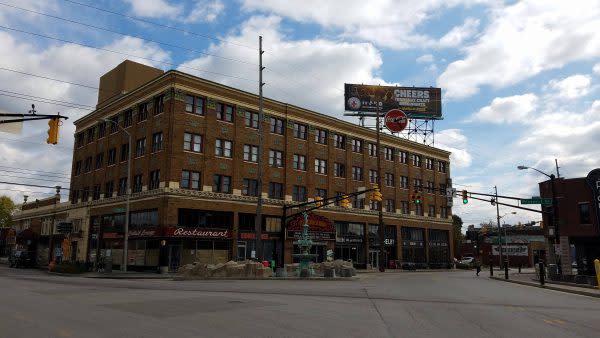 Take the short drive from Indy's downtown to the Fountain Square Cultural District,  this hip, historical area features the Midwest's only duckpin bowling alley, Action Duckpin Bowl & Atomic Duckpin Bowling. Built in the late 1920's, the Fountain Square Recreation building originally housed a bowling alley on the fourth floor. A renovation of those lanes in the 90's yielded Action Duckpin Bowl with 8 lanes and includes the Atomic Duckpin Bowling in the basement level that is decorated in a 50's vintage style. We reserved our lane in the basement level and my teens were absolutely won over by it's retro charm.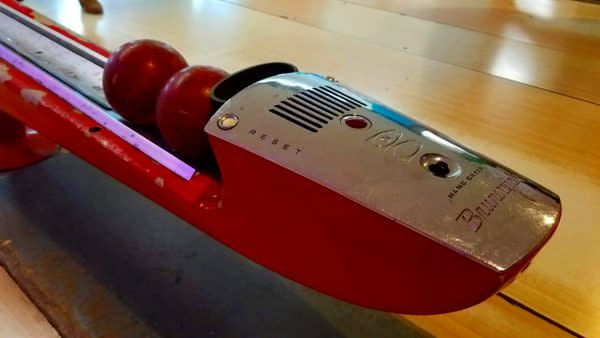 If you haven't played duck pin bowling, it's played fairly similarly to regular bowling, except for the balls, which are much smaller and have no holes for your fingers. The smaller size definitely levels the playing field for all participants, meaning your kids are going to love that parents do not have much of an advantage here. Knock over the pins and it's fun to watch them reset with strings instead of the usual electronic mechanisms of modern bowling alleys. We felt transported to a time of poodle skirts and soda shops.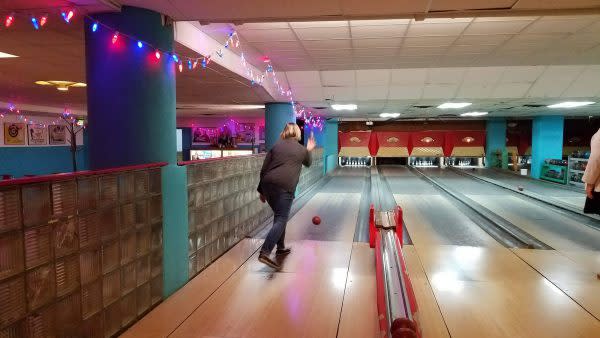 On a Saturday afternoon the alleys were filled with families, groups of friends and dates enjoying this bonding activity. The game is quite entertaining and we did our share of laughing and competitive banter. Based on the steady stream of customers, I would say reservations are a must to guarantee that you can get on a lane. An hour of play was plenty of time for our party of three.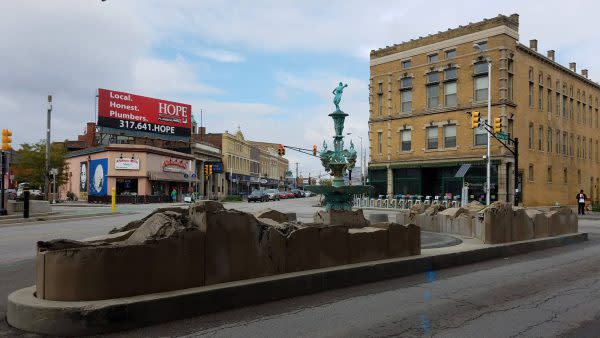 We took some time after playing to walk up the street and check out the Fountain Square area. There's a number of bars and shops that would warrant an evening visit for the adults on another day and you can check out a listing of things to do at Visit Indy's website. Action Duckpin Bowl & Atomic Bowl Duckpin, 1105 Prospect St., Fountain Square Theatre Building, 317-686-6006 Mon.-Sat., 11 AM-close; Sun., 1-6 PM.
Jockamo Upper Crust Pizza
Our day included a ton of shopping and eventually we built up quite an appetite. So, after an action-packed day we once again consulted Visit Indy for their top 25 list of best restaurants and Jockamo Upper Crust Pizza was our next pick. Jockamo was voted best Pizza in Indy in 2018 so we set our GPS for Indy's Fort Harrison State Park area for some of the best pizza around! This location is bright and modern and was filled with families on the day of our visit. (Also, see older blog "Five Best Pizzas in Indianapolis")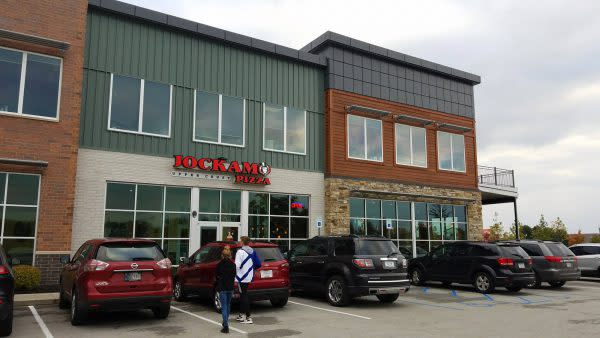 We started the meal off with breadsticks and one of their signature dipping sauces, the creamy parmesan. It was a nice upgrade from traditional pizza or nacho cheese and I highly recommend it. You'll love their creative selection of signature pizzas including the GP featuring Thai peanut sauce, italian beef, fresh jalapeño, diced pickle, cheddar and bacon or their Slaughterhouse Five an inventive mix of meat pizza with pepperoni, ham, sausage, bacon and the addition of italian beef.
My teens and I landed on two separate 10" pizzas: pepperoni and a vegetarian version of their chicken pesto pizza.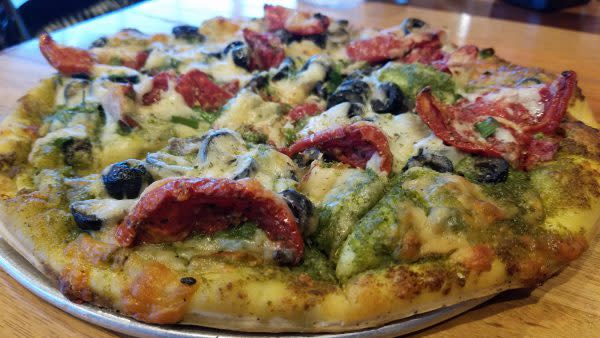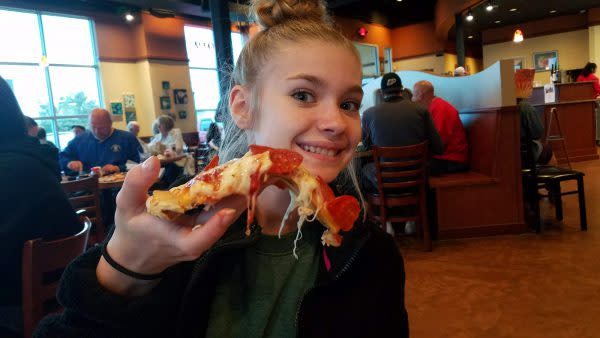 Both pizzas were fantastic and well worthy of their top title. Jockamo makes a variety of pizzas, salads and an equally creative list of sandwiches including the Reubano, a pretzel bun topped with Nueske's honey baked ham. pepperoni, pulled pork, and sauerkraut with swiss cheese. Adults will also be happy to know that Jockamo also has a line of "Hangover" pizzas that are topped with eggs and a combination of breakfast toppings to help ease into to the day after a night on the town.  Jockamo Upper Crust Pizza 9165 Otis Avenue, (317)986-4545  Sunday - Thursday 11 AM - 9:30 PM and Friday, Saturday 11 AM - 10:30 PM. (There are multiple locations, see their website for details.)
Indianapolis Day Trip
The best part about visiting Indianapolis is the amount of variety it offers. From major attractions to a casual day exploring the neighborhoods, there are endless variations on a day out with your teens. By doing just a little homework in advance, you are sure to find new stops and old favorites that will delight even the pickiest of crews. Explore other Central Indiana adventures at Visit Indiana's Trip Ideas page.