Tell City is one of those little towns nestled along the Ohio River, about halfway between Evansville and Louisville. And like its fellow river city to the east, Vevay, Tell City has its roots in the Swiss settlers who came to this part of Indiana.
To commemorate their earliest settlers, the people of Tell City held their first Schweizer Fest (Swiss Festival) in 1958, to honor their centennial anniversary of the city. They had such a good time, the Tell City Historical Society decided to do it every year.
That brings us to today, 55 years later, and the Tell City Schweizer Fest has become one of the longest running community festivals in Indiana. And with good reason — the entire city gets involved. Civic groups, clubs, and businesses all work together to make the festival a grand success.
And by looking at the festival schedule, I can tell it's not quite the same as other community festivals, which makes it all the more interesting. You can see the entire schedule here, but here are some of the highlights that really caught my attention.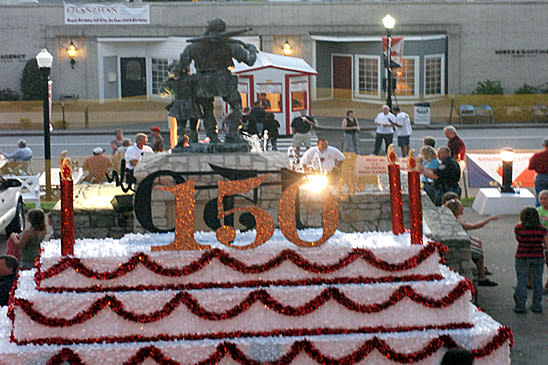 Schweizer Fest parade
The Festival actually runs from August 7 – 10, but on the 3rd they're already getting the ball rolling with some events. Sort of like the preliminary events before the actual Olympics start.
On Saturday, August 3rd, there's an archery contest. I have never seen an archery contest at a community festival, so they already get big points for that one.
Monday, August 5th has the Princess and Prince pageants. The princes and princesses will be crowned and reign over the Festival, plus they'll appear in the parade on Wednesday. (I don't know if this actually gets them anything. Maybe cutsies in the food tent lines.)
On Tuesday, it's the 39th annual Old-Timers Baseball Game, for active and inactive players over the age of 40. In other words, if you were 1 year old or older the first time they held this game, you can play.
There's a kaffee klatch on the 7th. Seriously, a kaffee klatch. That's basically German for "sit around and drink coffee and gab," but when you say it in German/Swiss, it sounds so much cooler. I only see kaffee klatches at a local coffee shop here in Indianapolis, so the fact that they're having one to celebrate their Swiss heritage is interesting.
There's also a fitness competition that starts on Wednesday and ends on Sunday. The contestants do get a break (although that would be an interesting competition to watch if they didn't). This is an all-around fitness competition, with weight lifting, calisthenics, jumps, and other ghastly sounding events. The entire competition goes for 6 heats, and concludes on Sunday. Prizes will be given to the winners, or survivors, whoever there are more of.
There are also guided walking tours, a bicycle tour, a 3-on-3 basketball tournament, and a 6 mile and 2 mile run. None of this namby-pamby 5K and 1 mile crap. The people of Tell City are strong, hearty people. This is a 10K (10 kilometers is 6.2 miles) and 2 mile not-so-fun run! There's also a kid's run, which apparently I'm too old for. (Having made jokes about all that, I do appreciate the fact that there are a lot of fitness-related activities here, which is something you don't see at other festivals.)
They're also celebrating Dot Kessner of Kessner Furniture for her 40 years of community service. It's nice to see that they're making it part of the event itself. Dot Kessner must be some kind of awesome.
There will also be hands-on robotics activities for kids (I'm guessing the kids' hands, not the robots' hands). You expect to see this kind of thing at Purdue University, not in Perry County.
There's a wine garden. Since there are already so many wineries around southern Indiana, thanks to the fertile soil and Swiss vintners who came to the area in the 19th century, you can't go wrong with a wine garden.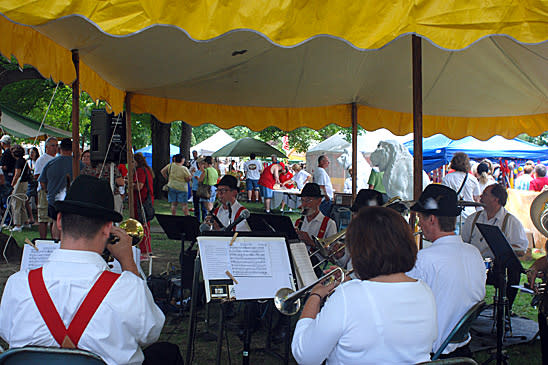 Schweizer Fest bandI've been to a lot of community festivals over the years, and written about a lot more. I have to say that Tell City has some of the more interesting and unusual activities and events I've seen, and it's pretty cool.
While every festival has a car show and a pageant and music every night (they just aren't festivals without them), only Tell City is celebrating the body, the mind, the heart, and their heritage. Show me another festival that has an archery tournament, robotics demonstrations, fitness competition, and a koffee klatch, and you'll find me there too.
Congratulations on 55 years, Tell City Schweizer Fest!