Ladies and gentlemen, start your fryers!
Okay, I may be off by a couple of months, but I'm excited for a break in the weather, for two reasons.
One, the Indianapolis 500 is coming up in May — 86 days from today, in fact — and that always means the start of the summer for me.
The second reason is that Greensburg Indiana, in Decatur County, is having their first ever Tenderloin Throwdown, to find THE VERY BEST tenderloin sandwich in all of Indiana.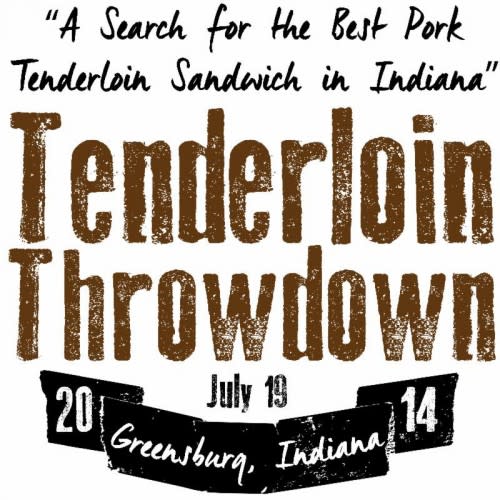 This is a big, big deal, folks. The pork tenderloin is Indiana's official state sandwich.
Yes, we have a state sandwich. We also have a state pie (Wick's Sugar Cream), and a state drink (water, which I think is a little too wishy-washy, pardon the pun).
So for Greensburg to offer to find the best version of the state sandwich, well, that's going to be a mighty important contest.
Each participating team will line up around the Decatur County Courthouse — the very seat of justice in Decatur County! — and cook their sandwich, which will be entered in one or more of four categories:
Best Breaded Tenderloin
Best Grilled Tenderloin
Most Creative Tenderloin
People's Choice
The winner will receive a prize package (value yet unannounced), and bragging rights. Which, in this state, is saying quite a lot.
Registration costs $50 for Decatur County residents, and $75 for out of county residents. You also need to purchase a temporary food service permit from the Decatur County Health Department.
This is important! Now while restaurant owners may be tempted to dismiss this as a small-town food contest, don't. Your very reputation as a tenderloin purveyor is at stake here. There are plenty of people and websites devoted to finding The. Very. Best tenderloin sandwich in Indiana, and they visit restaurants all over the state and even the country to find them. (Here's one Facebook page. And another. And a blog post from VisitIndy. And a contest held by WRTV. And an entire website.)
I mention all this because tenderloins are serious business in the Hoosier state. If you own a restaurant, or have a killer recipe for breaded tenderloins, you need to be in this contest. This is going to be for bragging rights for the entire state, for the entire year.
Think about what that could mean for some restaurant, to be able to say you've got the best tenderloin in Indiana. Or for some private citizen who said she beat every restaurant in the state, and that her tenderloin is the best there is.
For entry forms and additional information, contact Sarah Robinson at Mainstreet Greensburg at 812.222.0037, or email her at executivedirector [at] mainstreetgreensburg [dot] com.