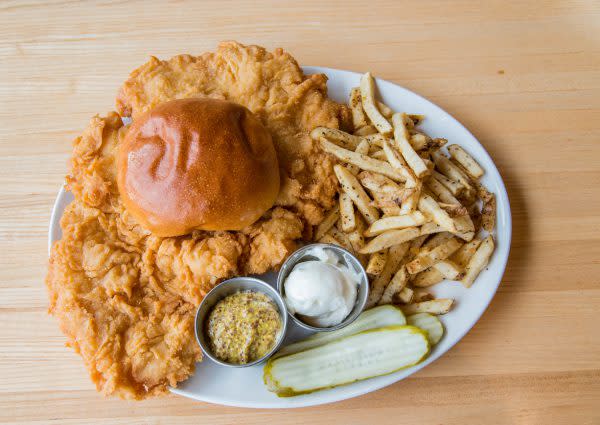 It's the 10th anniversary of Tenderloin Tuesdays and to celebrate this beloved, mouthwatering summer tradition in Hamilton County, we're rolling out all the stops.
More than 20 participating restaurants are offering one of two Tenderloin Tuesday™ discounts: a tenderloin meal (fries and drink included) for $10 or two tenderloins for $10.
Yes, you read that correctly. For just $10, you can feast in all of this breaded deliciousness.
This savory, large-scale sandwich first made its way into Indiana history when Nick Freienstein added a pork tenderloin sandwich to the menu at Nick's Kitchen in Huntington, Indiana way back in 1908. Breaded in cracker crumbs and soaked in buttermilk, his recipe is still popular today. Today, restaurants all over Indiana have their own varieties of the famous sandwich, including over 50 restaurants along the Original Tenderloin Trail™ in Hamilton County, Indiana.
Each restaurant puts their own spin on the classic. One variation includes Upland Brewery's vegetarian-friendly seitan tenderloin sandwich, made with the high-protein cooked wheat gluten. Another option is Woodys Library Restaurant's kettle chip-crusted tenderloin, cooked to crispy perfection. If you're skeptical of committing to a full-size tenderloin (who can blame you - after all, they're bigger than the plate they're served on), head to divvy and get yourself some slider-sized tasty tenderloin.
If you're feeling committed and want to really hop on the tenderloin train, print off a Tenderloin Trail™ passport here and get to eatin'! Take your passport into any Tenderloin Trail™ restaurant, have them sign it or mark it yourself (honor system) and mail it to us to claim your very own Tenderloin Tuesday t-shirt, while supplies last. Show off your tenderloin love to the world. Can it get much better than that?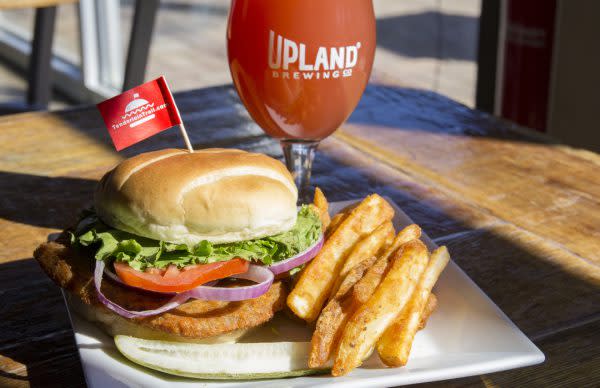 Tenderloin Tuesdays™ begins the first Tuesday of July and will run throughout the month. Here is a list of the 20+ participating eateries:
Aspen Creek Grill Barley Island Brewing Company Brunchies Burgerhaus Copper Still Kitchen & Bar C.R. Heroes Family Pub Combine Café at Reynolds Farm Equipment Courtney's Kitchen divvy Dooley O'Tooles Erika's Place Cicero Erika's Place Westfield Four Day Ray Brewing Foxgardin Family Grindstone Public House Jim Dandy Restaurant Muldoon's Pebble Brook Grill Rosie's Place Carmel Rosie's Place Noblesville Sahm's Restaurant (116th & Allisonville) The Pint Room Upland Carmel Tap House Woodys Library Restaurant
Get out there and get to tasting all the tenderloins Hamilton County has to offer. Share your photos by using #TenderloinTuesday on Facebook, Twitter and Instagram.
Post written by Allie Moffett