THIS IS A GUEST BLOG WRITTEN BY WENDY BLAKE, EXECUTIVE DIRECTOR OF MAIN STREET GREENSBURG.
If you're from Indiana you've read your breaded tenderloin sized share of articles about this amazing sandwich.  I'm guessing each one makes your mouth water immensely, so much so you find yourself indulging in one of these at your favorite spot within a week.  You are probably also aware of the story that the sandwich got its start at Nick's Kitchen in northern Indiana.  A true Hoosier can name some of the regulars that top the list for the best.  Here's one that regularly makes it on the list: Storie's Restaurant.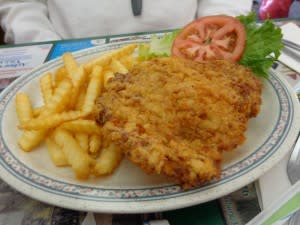 Perhaps you've even found yourself in an argument over who has the best.  Well in Greensburg, Indiana they feel it is worth an official competition.  In 2014 they hosted the inaugural Tenderloin Throwdown, and as their logo states it's "A search for the best Pork Tenderloin Sandwich in Indiana."  Wait, rewind-- that said best PORK TENDERLOIN sandwich… what happened to our beloved BREADED tenderloin?  Well, organizers of the event expanded the competition to include the categories of: grilled, creative, people's choice, and of course, breaded.  Just look at this pair of judges-- what a rough job they had!  All of these articles and the event has me wondering, why hasn't the breaded pork tenderloin been named our state sandwich yet?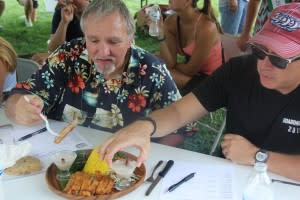 Beyond the competition itself, I found people drawing with chalk on the sidewalk!  These were not your typical stick figures-- these folks have talent.  Look at this 3D building; it was fun to watch people walk around it as if there truly was a hole in the ground.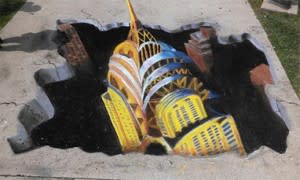 I've watched the event grow & evolve, and the slate of activities available at this year's event on June 25th have me ready to return.  Organizers tell me this year the chalk artists, live musicians, and vendors will be back, but that they are adding a "pig themed" play by the local theatre group, new activities for the kids, and their own take on the popular wine & canvas outings: tenderloin & canvas.  Okay so that last one is my bad joke, but you and your friends can sit down and paint with an instructor at the event this year.  If you can't eat your tenderloin and paint at the same time, they will also have Indiana craft breweries and wineries at the event.  For those that are worried about having enough room for the tenderloins and drinks the local YMCA is hosting a bike ride in the morning.  Pedal your way through the beautiful countryside of Decatur County, and then finish downtown in perfect time for the Tenderloin Throwdown.
As a Hoosier and lover of the pork tenderloin sandwich, you have to put this one on your bucket list.  While you're there don't forget another item frequently found on the bucket list of tourists passing through the area: a picture of the courthouse tree.  All of this action takes place in the downtown square which puts you literally under the famous tree that has been growing out of Decatur County's courthouse since the 1870s.  This picture includes the tree and is from the Tenderloin Throwdown facebook page; the caption reads: "The dawn of a beautiful day for the Tenderloin Throwdown. It is so peaceful with all of the morning birds singing. That's all about to change in a few hours to a fun & exciting day."  One event volunteer must have been pretty excited about being up early.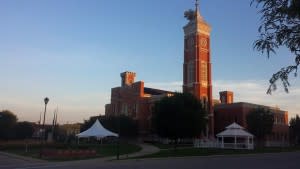 The Tenderloin Throwdown takes place in Greensburg, Indiana on Saturday June 25, 2016 from 10am to 4pm.
For more information about the event contact event organizers, Main Street Greensburg, at 812-222-0037 or execdirector@mainstreetgreensburg.com.  Information & details are also available on their Facebook page.