From dining in a stable to tastings in a newly opened winery, my friend and I had an amazing time exploring Terre Haute. The city is just a quick hour's drive from the Indianapolis airport area on I-70 and home to a slew of activities that create a delightful girls day out.
We arrived in Terre Haute in the late morning and decided to start our exploration at the Clabber Girl Museum and Bake Shop Cafe (900 Wabash Avenue, Terre Haute). The Bake Shop Cafe is just inside the main doors so we stopped in to look at their souvenir Clabber Girl items and then ordered a light lunch. The menu includes sandwiches, soups, biscuits, entrees and plenty of desserts. The cafe was bright and cozy so we settled in with our bowls of chili and took in the downtown sights before checking out the museum.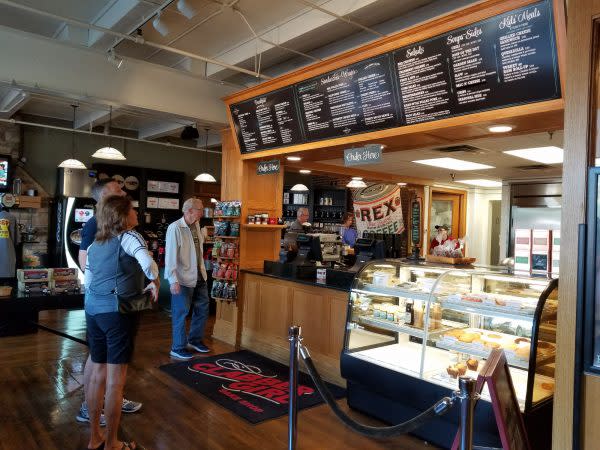 The Clabber Girl Museum is free to explore on your own although groups larger than 10 people are urged to schedule a guided tour. There were two of us that day so we set out on our own to wander the exhibits. What you will find is that they weave a tale of the Hulman family's local contributions, entrepreneurial achievements that span across the globe as well as their eventual purchase of the Indianapolis Motor Speedway and the development of the Indy Car Series. Who knew that baking powder and the Indianpolis 500 were so closely linked! The Hulman's are an important part of Indiana history and visiting the museum is a MUST DO while in Terre Haute.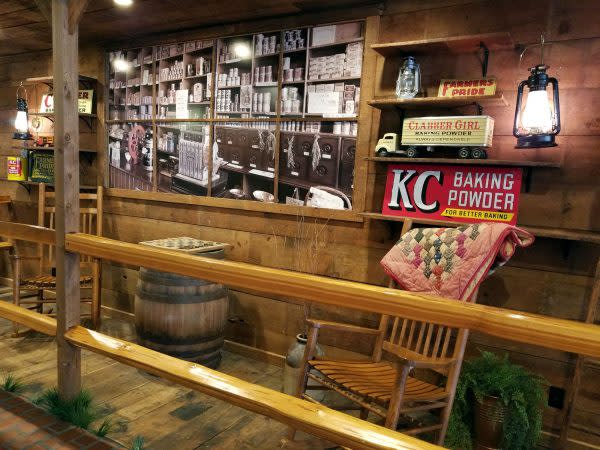 Next on our agenda was the Swope Art Museum (25 South 7th Street, Terre Haute) just around the block from the Clabber Girl Museum. There's no cost to visit the museum, but donations are accepted. The museum was made possible by Sheldon Swope, who bequeathed a significant portion of his estate to the establishment of an art museum. It opened in 1942 with national attention and in 2010 it appeared in a list in USA Today of Ten Great Places to See Art in Smaller Cities.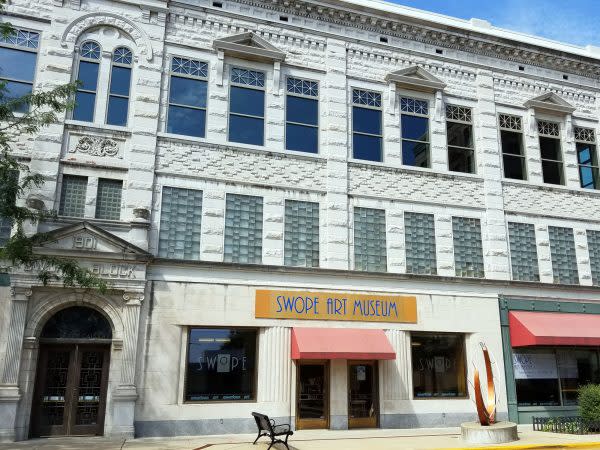 The galleries contain nearly 2,500 pieces of artwork that date from the 1900's to modern works. We were very impressed with the paintings, sculptures and other works on paper and they are known best for their American Scene Paintings from the 30's and 40's including works by Thomas Hart Benton, Charles Burchfield, John Steuart Curry, Edward Hopper, Reginald Marsh, and Grant Wood. Make sure you head to the galleries on the second floor and you will also see an original Andy Warhol.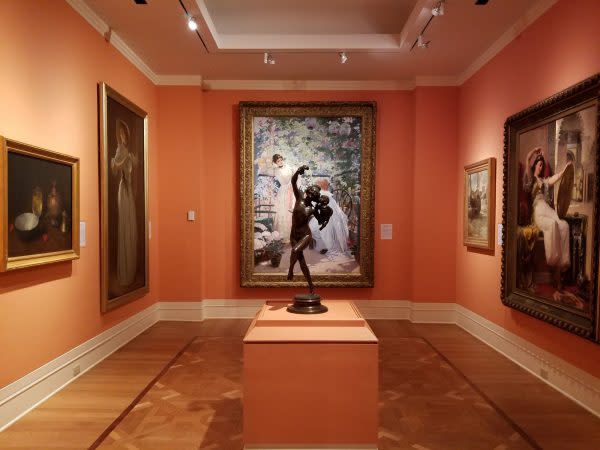 When doing a girls days out, you have to add an element of spontaneity to the day's activities. As we were leaving the downtown and headed to our next stop, we spotted the gorgeous Vigo County Courthouse. In feeling the urgency to stop and take a photo, our car just happened to stop at the Grand Traverse Pie Company. So here's the courthouse...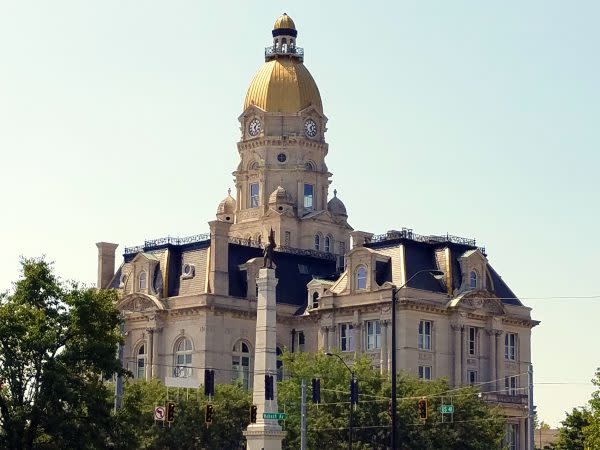 The building is breathtaking! While it wasn't on our official agenda for the day, we couldn't help but notice this opulent building that their county government calls home. The building was built in 1884 and was made from Indiana Limestone and features a two ton bell in the tower.
So on to the pie. I typically don't include "chain" restaurants on my blogs, but since this is the only Grand Traverse Pie Company location in Indiana, I am breaking my rule.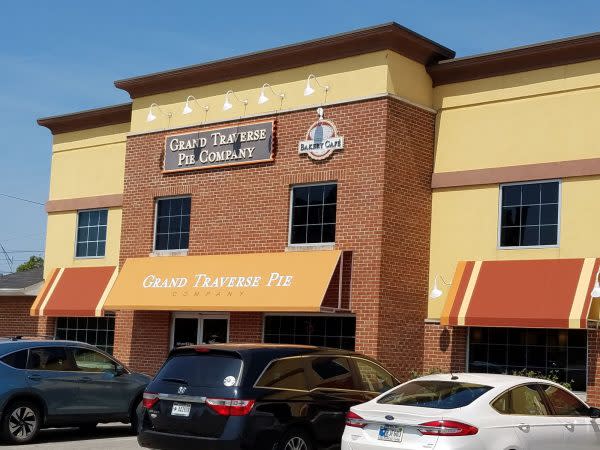 The Grand Traverse Pie Company is as much a restaurant as a place for pie, but having already dined at the Clabber Girl Cafe, we were ready for dessert. The pies are plentiful and they had a long list of pies available on the day of our visit. We sampled both the apple crumb pie and lemon meringue and both were exquisite. I'm not sure that they are planning any additional Indiana locations, but this one is worth the trip.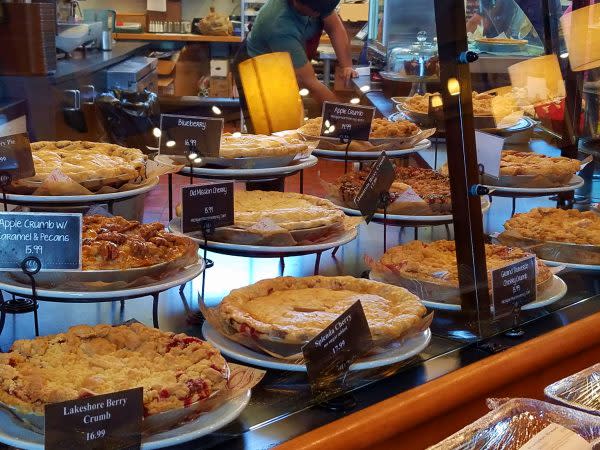 From the downtown, we headed north to the new Sycamore Winery (1320 Durkees Ferry Road, West Terre Haute). It took us maybe 20 minutes to reach the winery so it's convenient to include a stop during your visit to the area. The winery just opened in June of 2017 but the crowds definintely show they are already gaining quite a following.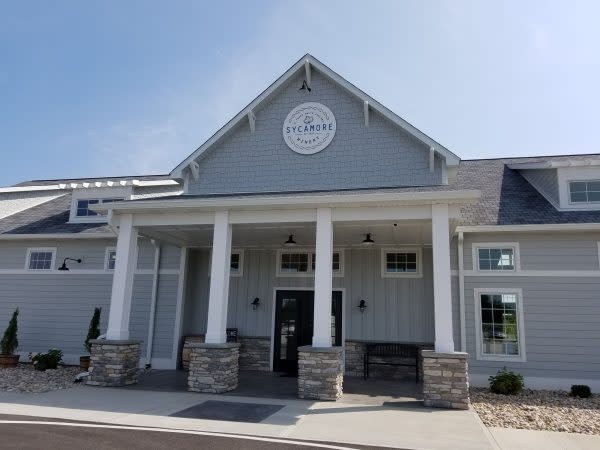 The tasting room is bright with high ceilings and a great view of the rolling hillside and scenic pond in the back. What's nice about Sycamore is that you can sample wines AND craft beers from the onsite Big Leaf Brewing Company. They also have wine slushies, wine-infused cakes (oh yeah) and impressive meat, cheese and fruit platters if you need something to munch on while sipping. There's a nice sized patio if you want to grab a drink and head outside to enjoy the view.
From the winery we headed back into town to grab dinner at Stables Steakhouse (939 Poplar St, Terre Haute). One of the main reasons for our visit to Terre Haute was to check out this fine dining restaurant that is housed in an old stable. First of all, this place is gorgeous and I fell in love with it the moment I stepped inside. The tables are housed inside of elegantly reconstructed horse stalls and each also is accompanied by a photo of a horse that graced the space in the past. The overall feeling is intimate and extremely classy. There are tables not enclosed if you are a tad bit on the claustrophobic side.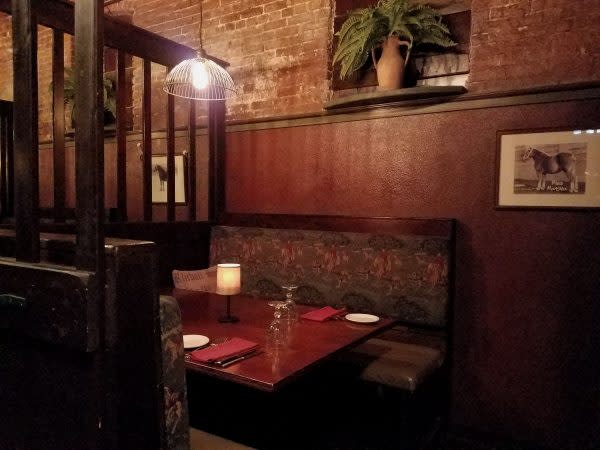 The menu is filled with steakhouse favorites including cowboy ribeyes, bone-in filets and prime rib on the weekends, all prepared your favorite way. Or choose from their seafood selections including scallops, salmon, jumbo shrimp or add a lobster tail to any of your entrees. We were so stuffed from our day of exploring that shamefully we only had enough room for appetizers. We shared delicious crab cakes and black and blue beef tenderloin and both were outstanding.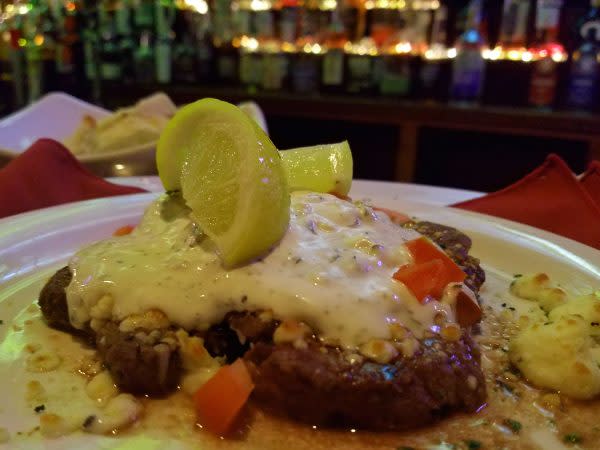 I would most highly recommend this treasure of a restaurant not only for the amazing atmosphere but also for the food. They attract diners from across the region and many come from out-of-state to experience this dining experience. Stables Steakhouse is definitely high end so choose wisely if you prefer a more budget-friendly establishment. But from what we tried, it was definitely worth the price.
Overall, I have to say that Terre Haute does offer up a solid girls day out. Having made the trip from Indianapolis, we were quite surprised at how short the drive was and felt a little slighted that we hadn't visited in the past. We were able to easily plan our day of fun by accessing the Terre Haute Convention and Visitor Bureau. For our next visit, we are considering their Rivers and Roads Artisan Trail which offers a Terre Haute tour and a covered bridge tour. They are also welcoming a new winery, WaterTower Estates, which could easily be added to a day of fun.