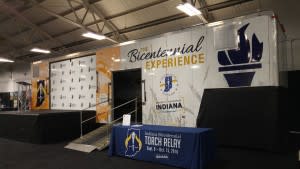 Do you know Indiana's tie to North America's longest underground river, the Empire State Building, space travel and a popular gum that doubles your chewing pleasure? You can find out the answers to these questions and more in The Bicentennial Experience, a high-tech mobile museum that tells the story of Indiana's natural wonders, legendary figures and far reaching impact. The Indiana Office of Tourism Development (IOTD) unveiled its newest tourism tool at the Indiana State Fair's Visit Indiana Bicentennial Pavilion on Friday. The mobile museum will travel the route of the Indiana Bicentennial Torch Relay, making stops in select counties during the relay.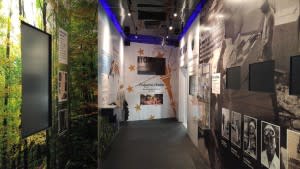 The Bicentennial Experience was first conceptualized over three years ago by IOTD as part of its Bicentennial Torch Relay planning.  The following partners have since played an integral role in the design and construction of the unit: Water's Edge Consulting, Indy Racing Experience, Maribeth Smith & Associates, Inc., Sensory Technologies and Sport Graphics.
"Every thought, every detail about this mobile unit was deliberate," said Mark Newman, IOTD Executive Director. "Through the power of images, artifacts, film and interactive tools, this exhibit flows seamlessly from start to finish to paint a beautiful portrait of Indiana. I hope people walk away from it feeling proud to be a Hoosier."
Tricia O'Connor of Waters Edge Consulting is the Experience's designer. She echoed Newman's sentiments. "We wanted Hoosiers to walk away with reminders about our great state and a sense of pride for who we are and where we are going," O'Connor said. "The driving emotion behind the exhibit's development was pride."
The self-contained traveling museum will visit communities across the state making stops in many of the places on the bicentennial torch relay route.
Click here for the tour schedule.
Inside The Bicentennial Experience are 6 different exhibits areas.
From Indiana's stunning landscapes and waterways, to its most precious natural resources, visitors will encounter some of the state's most prolific assets in Indiana Treasures. An interactive touchscreen invites them to dig deeper into Indiana's environments.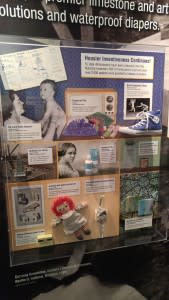 Also, visitors can learn about the people who put Indiana on the map in the Indiana Leads exhibit.
Indiana Grows will bring to life Indiana's unmatched agricultural heritage.  It will also heighten every visitor's sense of smell with a mystery scent station featuring Indiana produce.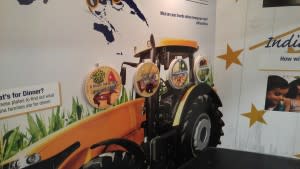 Hoosiers are born makers and doers. In Indiana Inspires, visitors will meet notable Hoosiers through a visual touch screen database.
Indiana Innovates is an artifact display case that shows items invented by Hoosiers, made by people from Indiana or built with Indiana products.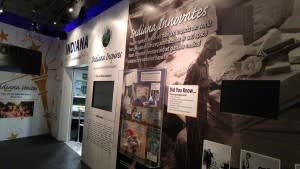 Indiana Unites is the finale. The last experience is a powerful video showcasing Indiana's virtues and illustrating Hoosiers coming together during this time of celebration.
The Bicentennial Experience will be on display every day during the Indiana State Fair.