16th Street and Georgetown Road. This intersection in the western Indianapolis suburb of Speedway, Indiana is known internationally as the location of the Indianapolis Motor Speedway, the home of the fastest cars and most dedicated race fans in the world.
Now what about 10th Street and Lynhurst Drive? This intersection, mere blocks south of the mecca of automobile racing, deserves a similar kind of international fame, albeit for a different reason.
At this location sits none other than Mug n Bun. What is Mug n Bun you ask? Mug n Bun is none other than a 50 year old Indianapolis classic; it is a full service drive in restaurant. Yes, you actually can eat in your car!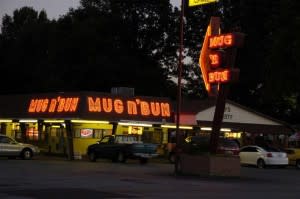 For those hotter days, the drive in offers plenty of outside tables for customers wanting to enjoy the dine in experience, and if you're really not interested in sweating it out, an indoor dining location is available for customers.
But enough about where you can eat; for me, and for most who visit the drive in, it's about WHAT you can eat.
Although the name of the restaurant, Mug n Bun, might seem to offer some initial suggestions as to what to order, deciding what to drink out of your frosted mug and what to eat on your toasted sesame seed bun might prove to be a bit of a challenge, due to the extensive menu.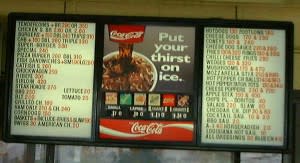 The Mug n Bun food menu boasts over 40 sandwich choices, including everything from their famous breaded tenderloin to pulled pork to pizza burgers to grilled cheese.
Their 27 sides range from the expected (fries and onion rings) to the slightly exotic (hot pepper cheese balls, breaded mushrooms, and my personal favorite, fried mac & cheese wedges.)
After conquering the food menu, the drink menu is another matter. Coke products (add extra flavoring!), root beer, malts, floats, shakes and milk threaten to bombard visitors' taste buds, should they ever be able to make a decision.
For first timers, I suggest ordering a mug full of the drive-in's famous root beer, although you can't go wrong with a thick, creamy peanut butter milkshake.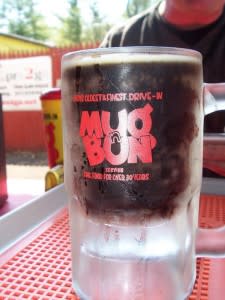 As for the food, I've been coming to the drive-in ever since I was young, so I'm lucky enough to say I've been able to sample a good majority of the menu items, give or take a few.
E    Everything is so good, I almost feel bad recommending what to try, but I'll give it my best shot:
I promise you won't go hungry if you order the breaded tenderloin. If you can finish it, I'll be thoroughly impressed.
Tread lightly when ordering a double cheeseburger, they mean double. There's even an extra piece of bread between the two juicy patties! I order mine with lettuce, onion, pickles and American cheese.
If you're considering adding chili or cheese to your fries, just do it. You won't regret it.
Trust me when I tell you, you can split a regular order of onion rings with at least one other person. Whatever you do, don't order the family size portion, or you'll have leftovers until you decide to visit again. (Then again, that may not be a bad thing.
Whether you take my advice or not, I promise you won't regret making a trip out to Speedway, Indiana to eat at Mug n Bun drive-in. Whatever you decide to order, you will not be disappointed.
Ladies and Gentlemen, start your eating.