The Indiana State Fair. If you know me at all, you will know that I'm crazy about the state fair. I typically visit multiple times a year, I search for all the new and exciting things to do, I faithfully take the free shuttle and I LOVE discount days.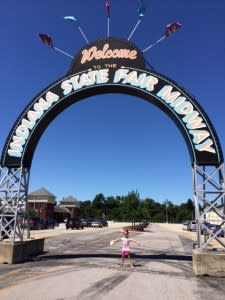 So, in preparation for the first day (Friday, August 7), here are my tips for planning your visit.
Check out the discounted admission days. They aren't going to be offered on the weekends (but that's okay, the crowds are lighter week days) and they are easily laid out on the Indiana State Fair's website, but here are my favorites:
Pick up your Indy Star paper on Monday, August 10 for a FREE ticket valid on Wednesday, August 12.
Springleaf Financial $2 Tuesday - best deal of the fair. Not only can you get in for $2 with this voucher, but food vendors offer $2 deals and ALL rides are $2.
AAA day - are you a member? Get in free on Thursday, August 20 with your AAA card.
Can't go during the week? Purchase your advance ticket for $8 (they are $12 at the gate) by ordering online before Thursday, August 6.
Next - take time to peruse the Indiana State Fair website and see all the events that are going on. If you are able get a program ahead of time make sure you take note of the FREE activities going on throughout the fair grounds.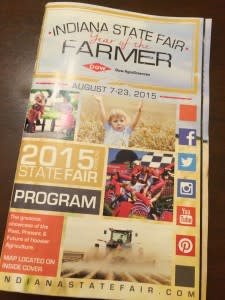 Plan ahead to make sure you see the event/shows that are new this year:
Knights of Valor (August 13 and 14)
Great American Wild West Show (August 16 and 17)
The Stars of Peking Acrobats (daily)
Xpogo (daily)
Indiana Bicentennial Train (daily)
My other quick tips?
The free shuttle from Glendale is dreamy. Running daily from 10am-11:45pm every 20 minutes its a no brainer (for other parking tips visit the fair's site).
Harvest Pavilion - renamed this year and just north of the gazebo it will be full of new and exciting exhibits - including the move of canstruction.
Ag/Hort Building - one of my favorites will house the cheese sculpture this year!
Need to cool off and want to be amazed at what kids can do? Don't miss the 4H Exhibit Hall.
Stay tuned for more posts on how you can enjoy the Indiana State Fair. For now, visit the fair's website for more information.