When it comes to quick eats in Central Indiana, there's no better destination to cure your appetite faster than Broad Ripple Village. Whichever direction you choose to enter from, North, South, East or West, this mecca of food and drink will have your stomach giving you a hard time when it comes to making the final decision at the counter!  By now you've probably had your fix of blogs, articles and even fellow tourists giving you the ins and outs of Broad Ripple, but what many fail to mention are the hidden gems of this food metropolis are right outside the main stretch.
Here's your guide to the three foods Broad Ripple is famous for, and the off the beaten path spots to grab them!
1. Pizza: The staple food every stretch of bars and restaurants are known for. Lucky for you Broad Ripple is no different! Lining the stretch are your basic pizza staples of Indiana, Marcos and Hot Box. If a quick slice of pepperoni and bread sticks cures what ails you, then take your pick of the two. However, if you're looking for a pizza joint that puts a spin on your average slice, Bazbeaux is the place you want to be. Tucked away behind the strip this joint offers delectable pies such as the Mexican pizza with fresh chorizo and avocado and a house specialty pizza alla Quattro formaggio featuring four different types of cheeses! Happy eating!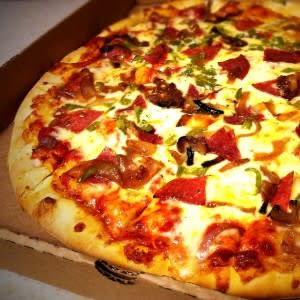 Quit trying to eat the screen! We have two more delicious places to cover!
2. Bagels: Not your average food staple for a bar and restaurant hot spot, but then again Broad Ripple isn't your average bar and restaurant hot spot! While Broad Ripple Bagel Deli isn't exactly hidden away, no blog is complete without a shout out to Bagel Deli. With a menu taking up an entire wall with bagel sandwiches like the Skeep, a turkey classic with avocado, bacon, chipotle cream cheese and even honey mustard dressing, this wall of fame tackles even the most extreme hungers.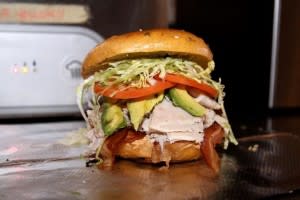 Who said a bagel can't be a full meal?
3. The Big Kahuna of great eats is just a drive down the strip. Many believe the tell tale sign that Broad Ripple has ended is when the line of bars and restaurants end, but that simply isn't true! Boogie Burger sits 2 minutes outside the strip and always has its doors open for burger enthusiasts. With a menu featuring their most popular rendition of the American classic, their Wild Wild West burger is piled high with cheddar cheese, hickory smoked bacon and onion rings. Forget ketchup and mustard, this baby is topped with BBQ sauce! Not sold yet? Don't worry if burgers aren't your thing. The menu offers other delectable sandwiches like my personal favorite, the Breaded Bird. (pay the extra .50 cents to get it buffalo style…you won't regret it.) While you're there, take the time to soak in the atmosphere of this trendy burger shack that looks like it should reside inside a comic book! The best part about this spot is the price. Both of the above sandwiches are under eight bucks, leaving you with a full stomach and full wallet. Enjoy! P.s. It wouldn't be the worst thing if you were to sink your teeth into their Ranch Bacon Fries either!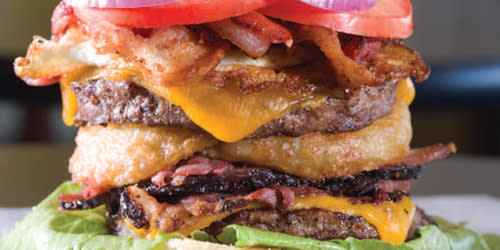 Behold...Boogie Burger's spin on the American classic cheeseburger. Drooling yet?
So when you're hitting the streets in Broad Ripple Village and your stomach starts calling the shots, be sure and stop by one of these places to get an authentic taste that will fill you up right while keeping your wallet full too!
Images Courtesy of Google Images