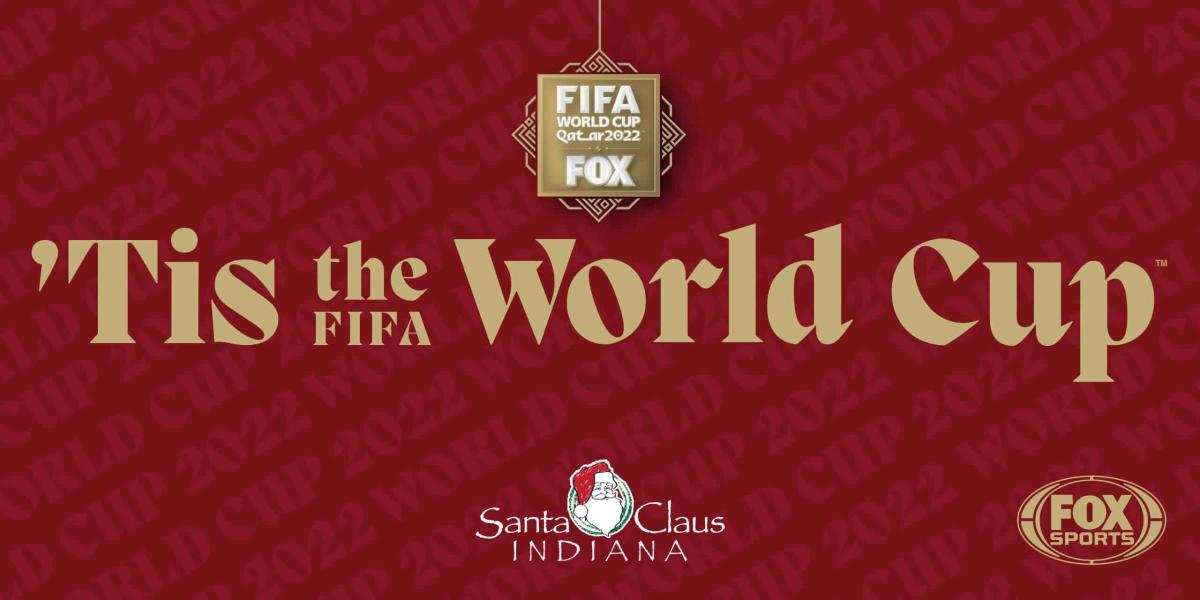 This article first appeared in Santaclausind.org, written by Karen. 
In Santa Claus, Indiana, 'tis the season for… soccer? Well, it is this year, as FOX Sports brings a (World) cup of Christmas cheer to town with viewing parties at two popular local restaurants.   
The 2022 FIFA World Cup kicks off on November 20 and concludes on December 18, which means, for the first time, it falls smack dab during the holiday season. Getting in the Christmas spirit, FOX Sports reached out to the Spencer County Visitors Bureau in Santa Claus, Indiana, to brainstorm ways the network and town could work together to celebrate the massively popular soccer event during the holidays. 
The result of those conversations? Viewing parties for Team USA's match-up with England on Friday, November 25, aka Black Friday… plus lots of fun-filled activities involving a donation to our local high school soccer teams, Cleatus, the FOX Sports mascot, and even Santa himself! 
To make it extra official, the town of Santa Claus even issued a proclamation that Friday, November 25, be known as 'Tis the World Cup Day! 
WATCH THE WORLD CUP IN SANTA CLAUS, INDIANA 
In partnership with FOX Sports and the Visitors Bureau, Frosty's Fun Center, and Santa Claus Brewing Co., will host simultaneous viewing parties on Black Friday. 
The owners of both restaurants have been enthusiastic participants in the planning of this unique event. Vince with Santa Claus Brewing Co. and Brooke with Frosty's Fun Center has been involved in meetings with FOX and the Visitors Bureau from the very beginning. 
And both Vince and Brooke have made significant commitments—from curating special menu offerings to investing in new TVs for the best possible viewing experience.  
SO, WHAT'S ON THE SCHEDULE? 
⚽ Watch the USA/England match 
⚽ Raffles, door prizes, and giveaways from FOX Sports, the Visitors Bureau, and the restaurants 
⚽ Enjoy food and drink specials, including themed offerings 
⚽ Photo ops with Santa and FOX Sports mascot, Cleatus  
⚽ One-on-one match between Santa and Cleatus at 12:15 pm CT 
⚽ Meet local soccer players and coaches 
⚽ TV crew from a local FOX affiliate will be filming 
The viewing parties will kick off at each restaurant at noon CT, with the USA/England match beginning at 1:00 pm CT.  
For more information, see the Facebook events for Santa Claus Brewing Co. and Frosty's Fun Center (coming soon).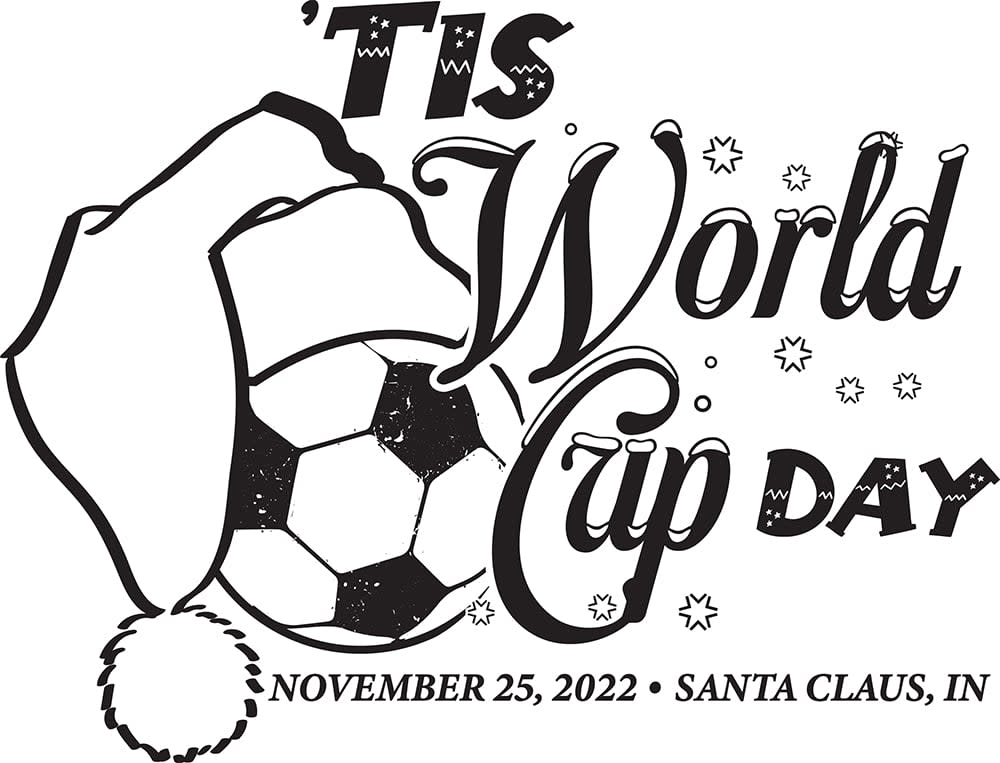 GRAB THE BEST SEAT IN THE HOUSE 
On the day of the viewing party, you'll have two great choices of where to watch! 
Frosty's Fun Center offers fresh-baked pizzas, sandwiches, salads, ice cream, and more, plus an arcade area with popular games. Beer will be available on the day of the viewing party. 
Santa Claus Brewing Co. features a selection of local craft beers alongside a menu of burgers, pizza, wings, and more. Growlers and other merchandise are available to commemorate your visit. For the viewing party, the brewery will offer food specials and a couple of darker beers, including an English brown and an English chocolate ale. 
KICK OFF THE HOLIDAY SEASON 
Thanksgiving weekend is often considered the unofficial kickoff of the holiday season in Santa Claus, Indiana. And with the World Cup viewing parties, the town is "kicking off" things in an extra-special way! 
Make it a weekend getaway with $10 off any room type per night at Santa's Lodge from November 24 – 27, 2022. Just mention "World Cup" when you call (812) 937-1902 to make your reservation. 
Want to work on your Christmas shopping while you're here? Small Business Saturday falls over the Thanksgiving weekend, and this area has plenty of places to Christmas shop 'til you drop. 
Plus, check out other festive events happening over the holiday weekend, including the Live Reindeer Exhibit at Santa's TOYS, Chestnuts Roasting on an Open Fire at Santa's Candy Castle, and the Santa Claus Land of Lights.