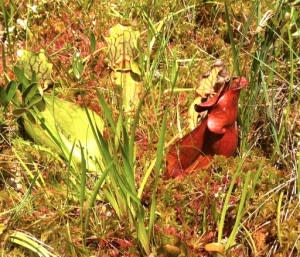 I saw insect eating plants while touring Pinhook.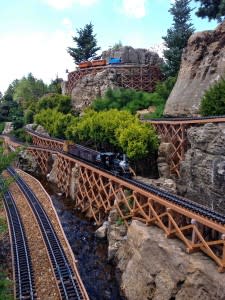 Taltree Arboretum's Railway Garden is amazing, and the arboretum is a relaxing place to spend the day.
By Alex Gumm, Indiana Dunes Tourism
After blogging recently about some of the great places to visit on the Beyond the Beach Discovery Trail in Northwest Indiana, I decided to spend a few more days visiting and writing about other interesting sites along the trail. The trail features 60 natural, historical and cultural sites across three regions. Previously, I blogged about the Dunes Region and today I'm sharing my experiences in the Moraine Region...
Pinhook Bog After my recent adventure to Pinhook Bog, I can now check two things off my bucket list: walking across water and visiting Indiana's only true bog! Tucked along a small county road in LaPorte, this bog is truly a diamond in the rough. Arriving at the trailhead, I was amazed by the number of people who had come to see the bog. The parking lot was packed! I made my way over to where two park rangers were explaining the features of Pinhook, and then I set off to explore.  It's nearly a half-mile hike to the entrance of the bog, but it's well worth the effort. A floating boardwalk stretches through Pinhook Bog, and from it you can see insect-eating plants like the round-leafed sundew and pitcher plant, tamaracks, blueberry bushes and sphagnum moss, all of which can survive in the highly acidic and nutrient-poor bog water. I loved feeling the bog water sway beneath me as I moved across the boardwalk, while eating a handful of fresh blueberries and listening to nature. Keep in mind that Pinhook is only open to the public during scheduled open houses with park service rangers.  These tours typically occur 1-3 p.m. Sundays. For tour details, call the Indiana Dunes National Lakeshore at 219-395-1885.
Taltree Arboretum & Gardens I was extremely pleased with my visit to Taltree Arboretum & Gardens in Valparaiso. This secluded 360-acre reserve offers a variety of woody plant collections, formal gardens, woodlands, wetlands and prairies. Visitors can explore Taltree's diverse landscape by traveling along nearly four miles of trails. I chose to hike the Bluebird Trail. Given it was ridiculously hot outside and I didn't think to bring water, trekking along on the longest trail wasn't my smartest decision. But even drenched in sweat, it was still a lot of fun. The Outdoor Learning and Adventure Garden was a great stop along the path. While the garden isn't entirely developed yet, the area that is completed houses chickens, goats, numerous plants and musical instruments for children to play with. Taltree's Window on the Wetland Pergola is a perfect spot for nature-lovers.  Around this restored savanna wetland, you can see birds, fish, amphibians, reptiles and insects, as well as natural grass and wildflowers! My favorite part was watching two trumpeter swans wobble around the wetland. At the end of my hike, I stopped in at the Railway Garden & Depot. I would recommend that train enthusiasts definitely add this garden to their list of must-sees.  It's amazing the amount of detail put into this model railway— complete with mountains, tunnels, bridges and dwarf conifers and plants. It's an awesome way to display our nation's railway history! There's so much to see at Taltree, I'd suggest packing a lunch and spending a good chunk of the day discovering the land. Plus, you can always plop down under a shady tree if you need a break. There's a $10 entrance fee at Taltree Arboretum & Gardens. However, several discounts are available and it's definitely worth the expense.
Porter County Museum of History From the moment I parked in front of the Porter County Museum of History, I was hooked.  Included in the National Register of Historic Places, this former sheriff residence and Porter County Jail are historic all on their own, without even considering the variety of historical artifacts that fill the museum! Each room in this museum highlights a certain topic or time period. There's a room on World War II and one on the Wild West, as well as a Lake Michigan room, a Porter County room and a handful of others. The museum's newest exhibit, the Central Stories Project, highlights some interesting history regarding Downtown Valparaiso.  For instance, I had no idea Valparaiso was home to an ever-growing women's club in the early 1900's.  Or that Central Elementary School stands where the city's first high school was originally built. In the room dedicated to Lake Michigan, I read the story of two Michigan City residents who completed a three-month, 1,200-mile trip around Lake Michigan in an 11-foot dugout canoe. The pictures and map showcased their journey so vividly that I felt as though I was on the water with them. Before leaving the museum, I went inside the original Porter County Jail. This was by far my favorite part of the building. I loved reading the old jail house rules and seeing the jail cells. Just feeling the weight of the jail doors was impressive. Make sure to check out the mastodon bones exhibit in one of the jail cells. The Porter County Museum is open from 9 a.m. until 5 p.m. Wednesday through Saturday, and there's no admission fee. Tours are available upon request.
Broken Wagon Bison Farm Home to over 100 American bison, Broken Wagon Bison Farm provides an experience like no other.  Visitors of the farm can see bison and buy a range of bison products, including roasts and steaks, sausage, patties and jerky.  Located on 160 acres west of Valparaiso, this family farm also offers a selection of bison leather goods, bison hides, as well as one-of-a kind jewelry and purses in their store. I likely would have driven right past Broken Wagon Bison Farm had it not been for the herd of massive, brown bison roaming through the front pasture upon my arrival.  Take my word, it's hard to miss this iconic American prairie species. First, I headed into the shop, where I found they have quite the selection of bison merchandise. Whether its bison meat, jewelry, soap, wallets, gloves, purses, dishes, or other bison related items, they likely have it.  I really enjoyed feeling the bison hides, seeing their skulls and hearing stories about these animals. Of course, I couldn't leave the shop without trying some bison for myself so I bought a piece of jerky for the road. I've never been a huge jerky lover, but I did enjoy the mix of flavors in the bison jerky. I'll definitely be going back for some more bison meat in the future. By the time I went back outside, the bison had relocated to right behind the shop. It was surreal to see these animals up so close. Each of the bison was unique. Some had a majority of their fur, while others had shed most it. Some of the bison were quite large and a rich dark brown, while others were a bit lighter and still growing, especially the calves! Honestly, no description does justice to just how remarkable these bison were to see in person. Groups can arrange to tour the farm and see the bison, or individuals and families can join the set tours 11 a.m. and 2 p.m. Saturdays from June to September.  These tours include an information session with video along with a ride on the bison tour wagon. The owners of Broken Wagon Bison Farm were so welcoming and knowledgeable. I recommend the next time you have free time on a Saturday to stop in and experience all that the farm has to offer.  You're sure to learn a lot! As I wrapped up my journey through the Moraine Region, I couldn't help but feel a sense of accomplishment after exploring so many unique natural, historical and cultural places along the Beyond the Beach Discovery Trail. Through my adventures, I've learned about several places in Indiana Dunes Country that I had no knowledge of before this summer. I'm excited to get out and see what else these regions have to offer. Eventually, I hope to visit all the sites along the Beyond the Beach Discovery Trail. Unfortunately my time interning at Indiana Dunes Tourism is coming to a close. Therefore, I'm out of time to blog about the third region of the Beyond the Beach Discovery Trial – the Kankakee Region. But I definitely plan to check out Dunn's Bridge and the Jasper-Pulaski Fish and Wildlife Area in the weeks to come and would recommend you to do the same. For up-to-date, interactive information about the Beyond the Beach region, visit the Beyond the Beach Discovery Trail website.