Weber Grill in downtown Indianapolis has a man's vibe to it. The rich wood walls, the dusky lighting, and the smell of meat that has been carved by large knives cooking on grill — definite man candy. The only thing missing is a bunch of big screen TVs showing nothing but sports, and it's a Guy's dream.
Except this isn't a place for Guys, Dudes, or Frat Boys. It's a place for Gentlemen. If you want sports on TV, go eat chicken wings. This is a place for serious Men eating serious food.
That's not to say women aren't welcome. Au contraire. They're very welcome. Revered, even. So don't get the idea that this is a men's club with a few women. I think the women outnumbered the men this Saturday night.
The Weber Grill is about the experience of enjoying meat cooked by one of earth's four elements, fire. Rather than fancy sauces, fusion of two foodie cultures, or a lot of fancy folderol, the Weber Grill does steak, chicken, and fish cooked nearly anyway you like it. The reason for the decor is to reinforce how seriously they take their food. Everything is simple and elegant, whether it's the food or the ambiance.
I was able to dine at the Weber Grill in December with my wife Toni, as we were trying to find cool things to do downtown in Indianapolis during winter. Our goal was to find things that you could do outside of Valentine's Day as a couple. However, it was also our 20th anniversary, so it's hard to think of non-romantic things to do when you're celebrating a major milestone like that.
We started out in the bar for a little bit, enjoying one of the different local beers they carry. We chatted with the barman for several minutes about the weather, the Colts, and anything else we felt like. He was outgoing and friendly, and I almost forgot that we were there to work and enjoy each other's company, because we were having such a good time.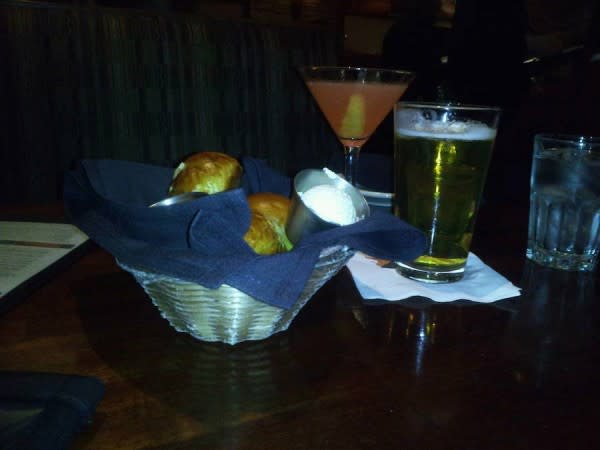 The pretzel bread alone is worth the visit.
When you go to the Weber Grill, you're going to be enticed with the pretzel bread. It's an easy trap to fall into. And if this were a fancy meat buffet, like the Brazilian steakhouse down the street, I'd tell you to watch out, because the pretzel bread is a meal in itself. Throw in a beer and an appetizer, and you're set for the day. Still, we had to restrain ourselves, because we werethere for the meal, and not the bread.
We started off with the crab cakes, which is a favorite for both of us. Crab cakes at other restaurants tend to be rather small, but these were big and firm, and the smoked corn with tomato bean salsa added a perfect finish to the crab.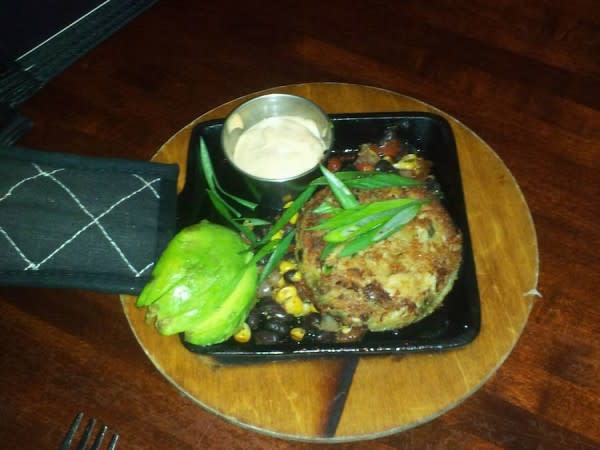 The tomato and bean salsa, combined with the smoked corn, made a flavorful addition to the fresh crab cakes.
For dinner, we decided to stick with the one thing the Weber Grill is known for: steak.
Toni had the bone-in ribeye with garlic mashed potatoes — a rare treat in itself, because there aren't many places around Indianapolis that serve bone-in ribeye. If you love ribeye, but have never had bone-in, it's a treat to behold and be had. It's truly my favorite steak in all the world, but I decided to forgo it this time around.
While the ribeye is my favorite steak, it's the kind we usually get when we grill steaks at home. I thought that for a little variety, I would try something a little different and ordered the New York Strip, also with roasted garlic mashed potatoes. Since I typically don't get a New York Strip, I thought it would be a good idea to have it done properly.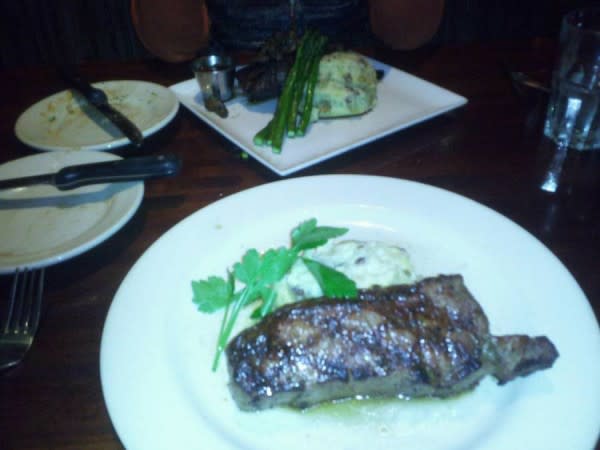 That's my New York Strip and Toni's Bone-In Ribeye in the back. My apologies for the quality of the photo. I have two flash settings on my phone's camera: Off and Brainscan. The photo doesn't do the beauty of the food justice. Maybe next time, I can bring a proper camera...
Both cuts of meat are aged 28 days before they reach your table, which is how meat should be properly done. I ordered mine medium rare, and Toni ordered medium, and we were both very pleased with what we got. I've done enough steaks on the grill to have a good idea of how to cook them to my desired temperatures, but the chefs at Weber Grill were spot on both times.
After dinner, we were nearly stuff — actually, we should have stopped, because we had enjoyed a second round of pretzel rolls before dinner arrived — we thought we could manage a S'mores Molten Chocolate Cake.
Even if we couldn't have managed it, we certainly would have tried. This is not a dessert you nibble at and push aside. It's not for the fruit nibblers or sorbet eaters. This is a decadent dessert that, had we just stopped at pretzel rolls and crab cakes, would have been the end of a wonderful evening. We managed to polish the entire thing off, even after promising ourselves more than once that "that's it, no more. Okay, just one more bite, and then I'm done."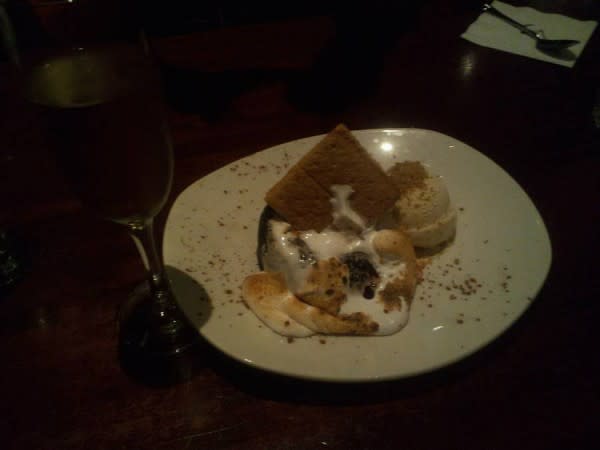 S'more Molten Chocolate Cake. Check out the toasted marshmallow.
Dinner at the Weber Grill is a rare treat for us, especially with three kids. It's ideally suited for adults, although we saw a few children that night. It's definitely not a place for kids who can't sit at the table when they're done, but Weber does like having kids there, and they have a children's menu which has many items that are cooked on the famous Weber grills.
But for us, being out on our own, spending time together as adults and enjoying a meal we don't get as often as we'd like, Weber Grill is an experience you have to have at least once in Indianapolis. If you're from here, try to eat here at least once this year. If you're from out of town, it's well worth the drive. If you're coming in on the weekend, you'll definitely want to make a reservation (you can do it online), but when you do, show up early and spend some time in their well-stocked bar with knowledgeable, expert bartenders.
All in all, the Weber Grill still remains one of my favorite restaurants in the entire city, and I hope to get back there sooner rather than later.
And next time, I'm getting the bone-in ribeye myself.
Although those ribs looked mighty tasty.