Since 1969, Fort Wayne has celebrated the source of its founding, our three rivers, with a festival that brings the community together, the Three Rivers Festival. With each passing year, the festival grows and adds more fun to their lineup. This year is no exception, and the 46th annual Three Rivers Festival is guaranteed to be a great time for the whole family.
There is so much going on during the festival, with a new event - sometimes even two - every night of the week. It can take a bit of expert planning to make sure you hit all of the must sees. Some of the locals' favorites are a great place to start!
One part of the festival you won't want to miss is Junk Food Alley. Open for the duration of the festival, the alley is a great place to go to take a break from the action and refuel. With so many vendors, there is a little something for everyone; spiral spuds for the savory lover, giant corn dogs, lemon shakeups, and all kinds of sweets for the monster sweet tooth. Every year the festival has one new or featured food item at the alley. From deep fried butter balls to deep fried Kool-aid, the featured food is usually something to try just for the fun of it!
After you've eaten your fill at Junk Food Alley, head over to the midway for great carnival games. There are rides and games for kids of all ages, and the prizes abound! It's easy to spend the afternoon hopping from ride to ride. Don't forget to take a whirl on the Ferris Wheel; wait until the sun is setting for an extra special view.
One of the more recent additions to the festival line-up is Children's Fest. Held at the Indiana University - Purdue University (IPFW) campus, this is a two day, family-focused event. There are plenty of hands-on activities, games, and educational booths to keep you busy all day. And come at noon on Saturday, July 18, to see Ronald McDonald!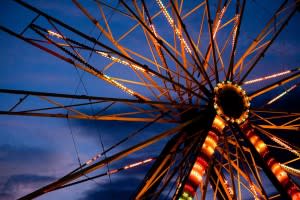 If you come the last weekend of the festival, check out the fireworks finale on Saturday, July 18 at 10 p.m. The show will cap off the event with a great time and bang!
For a full list of all  the festival activities, dates, and times, as well as other ways to spend your time in Fort Wayne, check out Visit Fort Wayne.