"Are there snakes here?" I asked Kendal as we tromped through the weeds near an abandoned house along the highway. Kendal is the executive director of Switzerland County Tourism in southeast Indiana, and a good friend. We were on the trail of Fred the white goat of Vevay (pronounced VEE-vee), so I could get some photos of the house in question.
"Oh sure," she said. "I live out in the country, and I see them all the time."
I have a deathly fear of snakes, large or small, poisonous or harmless. "If we see one, you're on your own," I said.
"Why?"
"Because I'll be running the other way."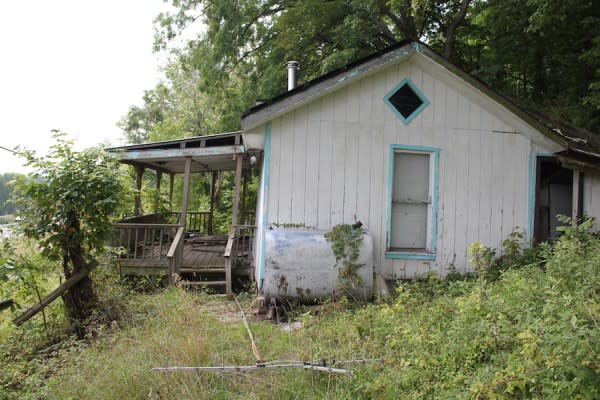 Fred's house up on SR 56. Fred would sleep here on cold winter nights.
I visited the small town of Vevay after Kendal had emailed me a story about Fred, Vevay's wild white goat who had died recently. Switzerland County is one of my favorite places to visit in Indiana, and "write a story about a feral white goat" had been on my bucket list 10 seconds after I opened her email. Snakes or not, this was something I wanted to see for myself. It wasn't until the next day that I learned southeast Indiana has its share of poisonous snakes as well. I was only glad I didn't find that out until the trip was over, or I might have let Kendal take all the photos for me while I stayed in the car.
We had just finished lunch at Mo's Steakhouse, west of town, where I had an outstanding pork tenderloin. Mo makes his tenderloins with special spices, flour, and buttermilk. He also doesn't pound the tenderloin out flat, so there's plenty of thickness and juiciness to it, but it was still big enough that I was either going to cut it in half to eat it, or ride it down the Ohio River.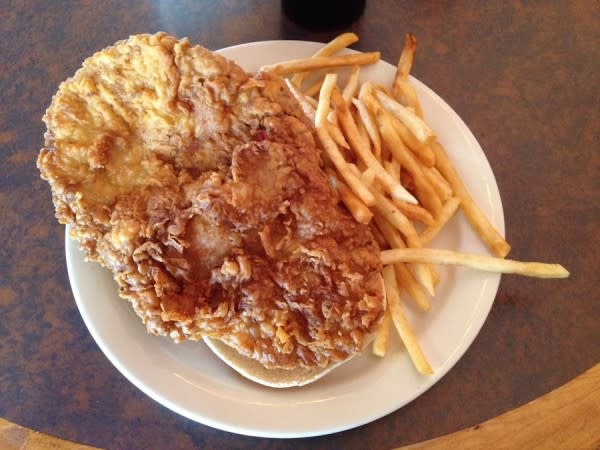 After lunch, Kendal took me up State Road 56 on the north side of town, where Fred had spent many years in the woods.
According to the local story, Fred was an escaped 4-H goat — originally named Sherman — that frequently escaped from his pen, apparently worried about the fate that awaited him. Even a spider web that said "SOME GOAT" on it wasn't enough to quiet him, so he escaped from the Switzerland County 4-H fair one last time and spent several years living in the woods right there on SR 56.
There are two roads that run east out of Vevay, SR 56 and SR 156, which runs right to the Belterra Casino, on the Ohio River. People coming into town on 56 would swing by Kendal's office with another Fred sighting. He soon became the talk of the town, and everyone considered Fred the town mascot, although he wouldn't let anyone near him. (He also has his own Facebook page.)
They figured he must have lived in the abandoned house on the hill, and ate whatever he found there in the woods, or would sometimes raid people's gardens, or eat the hay and grain local farmers were giving to their own animals. Sometimes people would see Fred standing on the hill — or on the roof and porch of the abandoned house — well out of the way of the cars, as if keeping watch. Or taunting the town. If anyone tried to approach him, Fred ran into the woods, so they left him alone. Even the hunters knew better than to go after Fred.
This past spring, people realized they hadn't seen Fred in a while. After the vicious winter we'd just come through, they worried. One of the sheriff's deputies checked out the house to see what he could find, and that's where he found Fred. He had died weeks earlier in one of the rooms.
The deputy gathered up Fred's remains and delivered him to the county coroner for an autopsy. The coroner wasn't able to do a study, not for lack of trying, but because the remains were too far gone. It could have been illness, an injury, or the cold that did him in, but there was no way of knowing. There was some talk of taking Fred to a taxidermist, but that was also ruled out because of the condition he was in.
Fred was buried alongside 56, half a mile north from his house, with a couple small rocks marking the spot. If you don't know what to look for, you won't see it. It's there along the hairpin turn on 56, two small brown stones standing on end to mark Fred's final resting place. Kendal and I parked along the turn and I got close enough to Fred's grave to take a few pictures.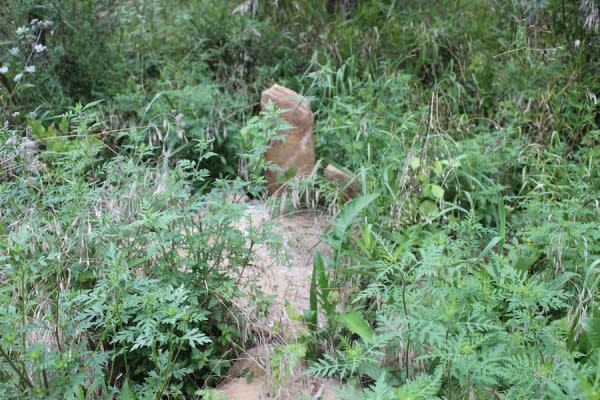 Fred's grave. You won't see it unless you know where to look.
"People have seen a white deer out here several times," Kendal told me. "They see him standing near Fred's grave or in some of his favorite spots."
"Maybe it's Fred reincarnated," I said. "And he's a little confused."
Some weeks later, folks thought they spotted Fred again along 56, standing on the hill. Except it wasn't Fred. Someone had anchored an all-white concrete statue of Fred onto a fallen tree jutting out over the hill. It was his favorite spot. Now, Fred watches over the town, day and night.
Throughout the year, that same someone has added seasonal decorations to Fred to commemorate the time of year. When I was there, Fred's benefactor had placed a Swiss flag on the log to celebrate the upcoming Swiss Wine Festival. In July, it was the U.S. flag for Independence Day. But Fred's benefactor remains a mystery. No one knows who's responsible for any of it.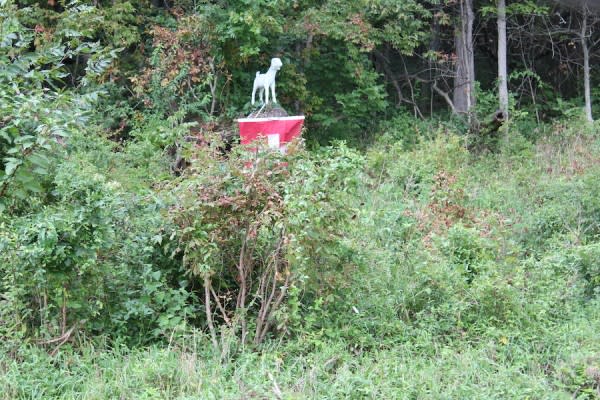 Fred on the hill in one of his favorite spots.
Well, almost no one. Anita Danner, the woman who runs the Community Arts Center says she knows who it is, but it's a secret.
"A fun secret," she says, as we follow her into the Arts Center. When you walk into the restored Grisard Building, you realize there are many talented artists in Switzerland County. Sculptures that show off Vevay's rich wine-making heritage; striking oil paintings and water colors hang on walls and displays; pieces made from found and recovered objects, like beer cases, laundry detergent caps, and bottle caps. Even Ann, the woman who works at the front desk of the Convention and Visitors Bureau, has a few paintings on display. A few watercolors catch my eye, and I stare at them for several minutes. They're beautiful.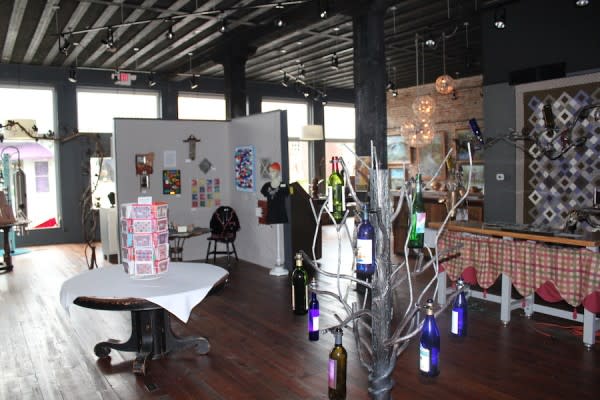 I ask Anita if she ever just locks the door and sits in the building to take it all in. She says she doesn't quite do that, but she does have a lot of time to spend looking at the different art, and says that, depending on her mood, she notices something new or gets a different feeling from a piece.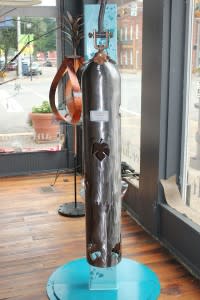 Anita picks up a rubber mallet and bangs an old helium tank that has been cleaned, ground, and polished, and turned into a bell. The bell produces different tones, depending on where you strike it. She plays a chord with three strikes of the mallet, and we listen for a moment. It's very calming.
After visiting Fred's gravesite, Kendal and I headed back down the road a few hundred yards to the statue. I wanted to get some close shots, but he was about 100 feet up a very steep embankment. I climbed up, using long grass and small trees to pull myself up. Kendal stayed below, trying to come up with a reasonable explanation for my wife in case I came tumbling back down the hill, ass over teakettle. I got lucky and found a small trail that led straight up to the statue. Anita tells me later it's actually a deer trail that Fred's friends found and use themselves. They used to traipse through the woods instead, but found the trail and decided it was much easier.
As I climbed the hill, I thought about my travel writing friend, Mark Eveleigh, and how he flies around the world, spending entire weeks in various third-world countries, taking canoe trips down a river or traipsing through a jungle with local guides, just to write a single story. But while Mark has been literally all over the world, he has never done an assignment like this. I lead Mark in stories about feral white goats, 1 – 0.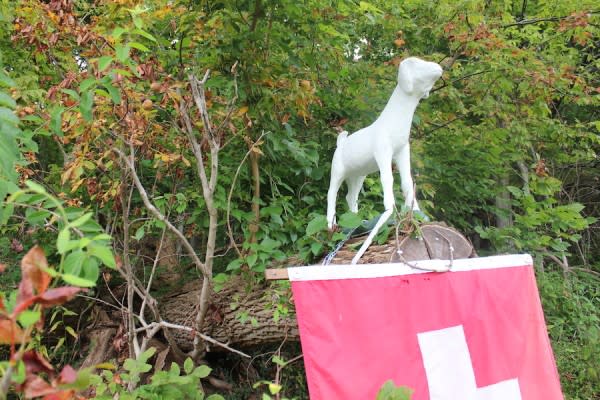 Up close with Fred
I also thought about how the wildlife and plant life on his trips are either trying to poison him or eat him. Meanwhile, my biggest concern was whether I was going to get poison ivy or snap my ankle trying to take pictures of this damn goat statue. I also kept my eyes peeled for snakes, not realizing yet that there were possibly poisonous ones nearby. I stomped occasionally, hoping the sound would frighten any snakes off, which seems to have worked. I never saw a single one.
I snapped my pictures — a couple dozen, in fact. It was difficult enough to get up there, so I wasn't going to quit after just a couple photos. After I made it safely back down, ankles intact and snake-bite free — I did get poison ivy — Kendal and I headed back to downtown Vevay.
She told me the white deer hasn't been seen in a while, and that people are worried about where it might have ended up. But a new fawn has been spotted nosing around Fred's gravesite again, and we're all still hopeful the white deer will turn up again.
After visiting some of the new businesses in town, including talking woodworking with Dick Yanikoski at Ferry Street Woodworks, looking at the crafts and artwork at This & That, and checking out K&C's Antique Mall, I head off to the Belterra Casino for the night. I slip back into town a few hours later to pick up some Snappy Pizza for dinner, and take it back to the room. It's been a long day, and I'm tired and smell a little after our day's trek in the "wilds" of Vevay, so hanging out in town is not a great idea. Plus, I want to spend some quality time with my hotel room.
I don't know about the rest of the rooms at Belterra, but this room is outstanding. Not only is there a TV and phone in the full-granite bathroom, but if there was a pizza oven in it, I would never leave. As it is, I spend the evening in my room, watching baseball — we're less than an hour from Great American Ballpark in Cincinnati, Ohio, so I get to watch my Reds — and catching up on some work.
The next morning, I cap off my visit to Switzerland County with Belterra's expansive and decadent breakfast buffet. It's not very busy on a Tuesday morning, and I don't have anywhere to be, so I take my time to eat and read a book. The staff takes great care of me, and I load up on bacon like I'm giving it up for Lent the next morning. It's a warm day, and I'm rested and ready to head home, but first there's one more stop at the Switzerland County Visitors Center.
Last month, during Vevay's First Friday art event, the theme of the month was Fred the White Goat — First Fredday — and people brought in sculptures, drawings, and paintings of the rural ruminant. There's even been talk about a Fred festival in the spring, to balance out the Swiss Wine Festival at the end of the summer, and the Sleepy Hollow festival in the fall. Everything was gone from the art show when I arrived on Monday, except for one water color painting of Fred I would have loved to hang in my office. So I stopped by the office for one last look (which is when I learned about the poisonous snakes. Always leave 'em with mortal terror in their hearts, as Stephen King used to say.)
Afterward, I headed back home, returning to Indianapolis in about two hours. Driving to Vevay takes you through some of the scenic parts of Indiana. It's all scenic when you think about it, because we're surrounded by some of the most beautiful parts of the country. But that route from Indianapolis through Greensburg and down to Vevay is one of my most favorites in the entire state, because I always feel like I'm coming home. And I'm hoping one of the next times I go will be for a new Fred Festival — a Fredstival — sometime in the spring. Maybe you can join me.