Top Fuel dragster burns out at the start line.
Did you know that Central Indiana plays host to an event considered the Super Bowl of its sport? Hendricks County's biggest visitor draw and the most prestigious weekend for the National Hot Rod Association (NHRA) season each year occurs every Labor Day Weekend in Brownsburg.
If you aren't familiar with the Chevrolet Performance U.S. Nationals, it truly is one of those bucket-list experiences even if you aren't a racing fan.
But beware, one visit may turn you into a fan.
U.S. Nationals will roar into Lucas Oil Raceway in Brownsburg. This year's event arrives Aug. 30-Sept. 4, and just by reading this blog post you can get special discounted tickets by clicking on this link and choosing the day or days you would like to attend.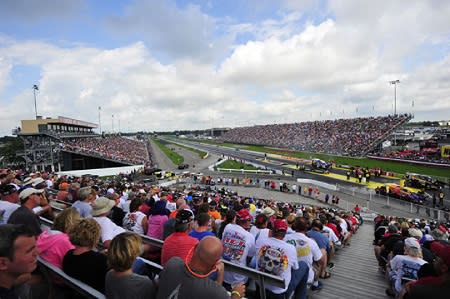 Chevrolet Performance U.S. Nationals from the start line.
With all of that said, here's my list of Top 10 insider tips for a visit to U.S. Nationals.
Ear protection — I can't stress how crucial ear protection is at this event. Whether you pack earplugs or full-on ear muffs, make sure every member of the family brings something. If you don't, I guarantee you will buy some from a souvenir vendor at the track.
Bring your family — Over the years, this event has become as family friendly as they come. Kids 12 and under get in for free with a paid adult. A ticket doubles as a pit pass at U.S. Nationals, unlike most other racing events, giving every visitor full access. If you have children, make sure to visit Nitro Alley on the east side of the drag strip in front of the professional pit area. Nitro Alley includes games, displays, race gear and other interactive experiences that every member of the family will enjoy.
What to pack — In addition to earplugs, don't forget to wear comfortable shoes and bring plenty of water, sunscreen, hats and other protection from the sun.
What about coolers? — Lucas Oil Raceway allows coolers though they can't be any larger than 14X14X14. Don't let that preclude you from trying food from vendors at the track though. Be sure to check out the 'Nitro Hog' and their special style of barbecue cooked in an old Top Fuel dragster.
What you can't bring — Glass bottles of any kind and alcohol are not permitted.
Don't forget your Sharpies — With the unequaled access to the pits, autographs from drivers and their teams remain quite common. Be sure to pick up or buy a special souvenir hat or photo and get autographs from your favorite drivers. Some people even walk away with actual tires and other gear that the race teams sometimes give away.
The Nitro Experience — Your all-access pass to the pits allows you to see the teams work on these impressive machines between their runs down the track. The pure excitement on my son's face the first time one of the race cars was towed right past him was priceless. Watch out though for what I affectionately call The Nitro Experience! If you notice team members putting on gas masks or any other signals that they may be starting up one of the Top Fuel or Funny Cars in the pits, back away or your eyes and nostrils may soon be burning from the blast of nitromethane. If this happens to you, don't worry it eventually wears off.

Flames from the exhausts begin to appear after dusk.

Best day to attend — This tip can certainly change depending on who you ask, but die-hard fans tend to like the final day on Monday when championships are decided while your more casual fans or first-time attendees might prefer Friday or Saturday when racing continues after the sun goes down. To see the nitro machines race in the dark is a sight to behold as the flames that shoot out of their exhausts become visible. Friday and Saturday nights also usually end with a jet car exhibition and fireworks. A full schedule for the weekend can be found here.
Visit local race shops — It is worth the trip to come a little early to see all the race shops located within a short drive of the track along Northfield Drive and Southpoint Circle in Brownsburg. Don Schumacher Racing usually hosts an open house that week. If you are looking for a place to eat outside the track, I also recommend the race-themed Pit Stop BBQ & Grill, 932 E. Main St. in Brownsburg.
Give it a try — As I said before, even if you don't like racing it is something you should try once. With the special deal we've worked out above, why not attend this year? I was amazed by how it tickles all the senses. You can smell the nitro fuels wafting through the air and feel the shockwave of sound and vibration as it flows over the crowd as these machines go from 0 to 300 mph in seconds!
If you need a hotel for the weekend, be sure to reserve your room as soon as possible. Click here for a list of Hendricks County hotels.
We hope to see you out at the track this Labor Day Weekend.