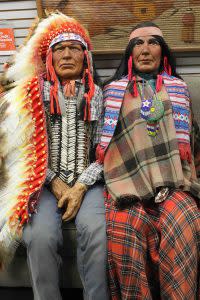 Native American figures once used as props for John Wayne movies.
If you love treasure hunting at antique shops, you'll appreciate the cool items I found at the antique and salvage shops in and around historic Franklin, IN, which is just south of Indianapolis.
Below you'll find my single favorite find in each shop. And don't worry if the items are gone when you visit - you're sure to find something equally awesome. Here are my favorites:
The lifelike native American figures at Gallery 31 in Franklin. These native American figures were used as props in John Wayne movies from the 1930s and 1940s, then were in front of Amity Trailer Sales in the 1950s. They were in a Franklin barn when Gallery 31 found them and placed them outside their store a few years ago. They're now resting inside.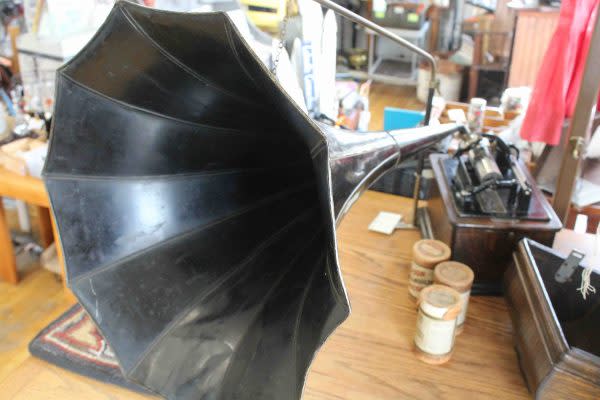 A phonograph.
The Edison Standard phonograph at Thanks for the Thyme in Franklin. This early 1900s phonograph can be purchased along with 75 wax cylinders.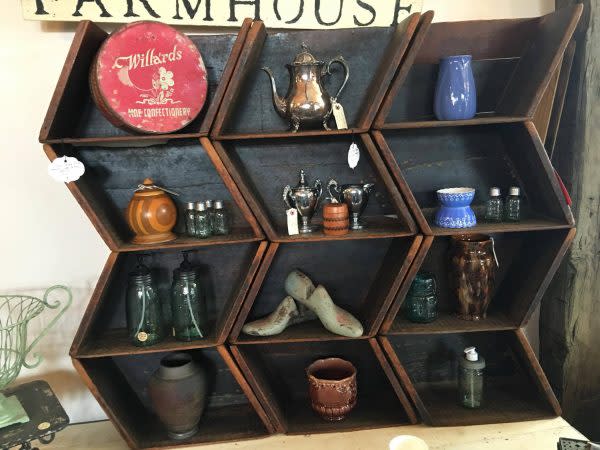 Cigar crates.
The salvaged cigar crates at Vintage Whimsy in Franklin The cigar crates, salvaged from the National Cigar Factory in Frankfort, IN, would make unique shelving for a man cave.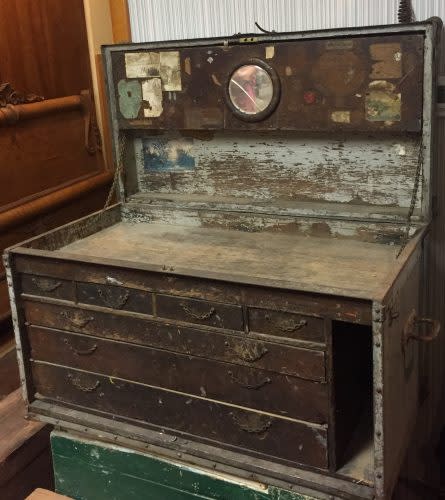 Tool box with a story.
The special old tool box with a mirror at Pump House Antiques in Bargersville. The tool box looks like a steamer trunk when it is closed. It has World War II photos, stickers, and a postcard around the mirror. The mirror was apparently used by the tool box owner to make sure he wasn't walking around with oil or grease on his face.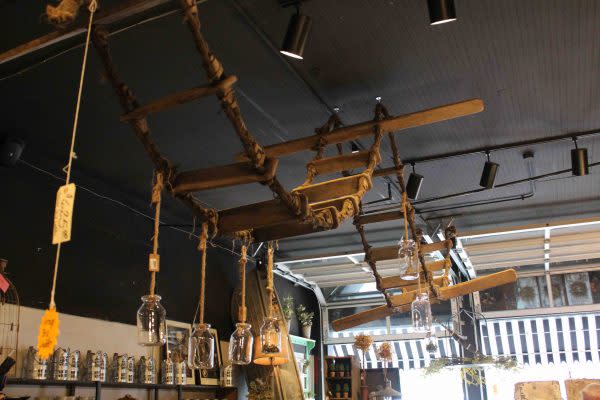 A cool old ship ladder.
The ship ladder at The Marshmallow Monkey in Franklin. This piece, which hangs from the ceiling, is most likely from a 1940s or 1950s vessel. They also have a cool iron paper cutter that is believed to be at least 50 years old.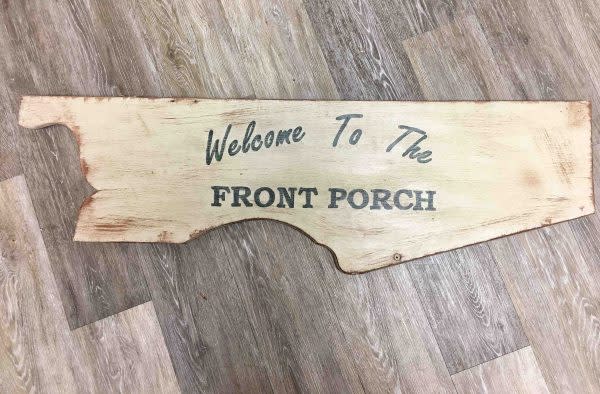 A piece of wood with a story.
A World War II era salvage piece at Trinkets 'N Threads in Franklin. The story behind this piece is that it came from a desk from the World War II era. While the owner's grandfather was serving in the war, the grandmother was trying to repair the desk (which was purchased with war stamps) with a hammer and broke a piece off the desk, leaving it virtually unusable as a desk piece. The grandchildren then came upon the piece of wood and salvaged it, choosing the front porch message since a front porch is where memories are made.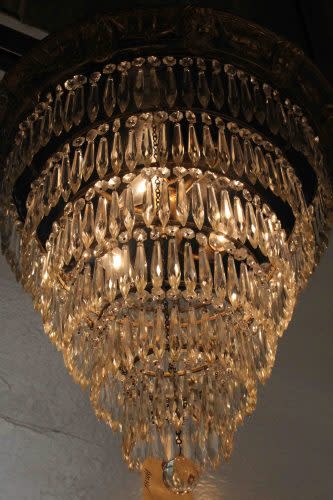 Pieces like this chandelier make a person happy that there are salvage shops.
The wedding cake chandelier at Madison Street Salvage in Franklin.  This store us full of interesting finds from historic homes, and this chandelier is a shining example.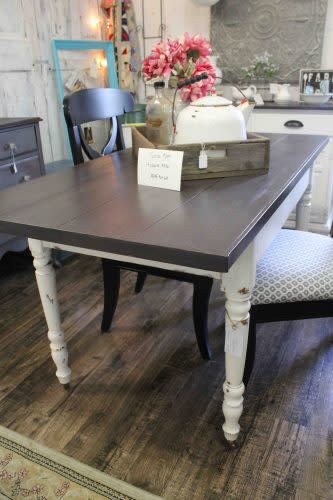 Table and chairs.
The farmhouse table and chairs at Salvage Sisters Antique Market  in Franklin. This eye-catching set would be at home in a lot of kitchens and dining rooms.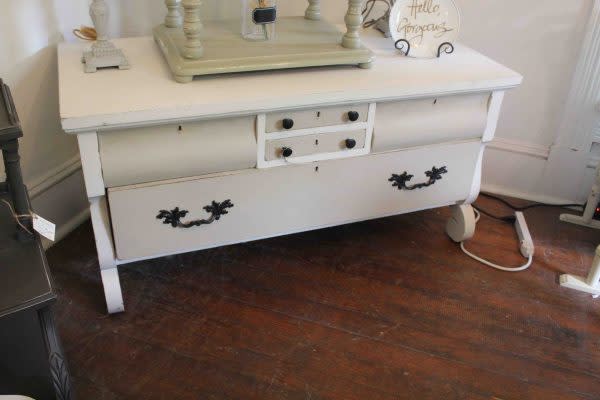 The dresser with small drawers.
The dresser with the small drawers at The Rugged Roost in Bargersville. The two small drawers in the upper middle portion of this dresser are part of what makes this an interesting item.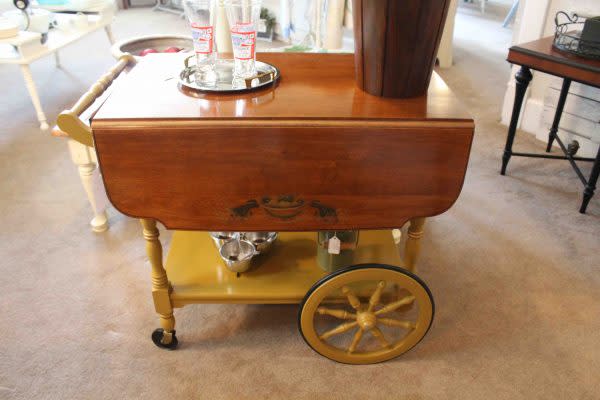 A cart from the past.
The 1830s-era cart at Blackbird Nest in Franklin. This item is as useful as it is unique.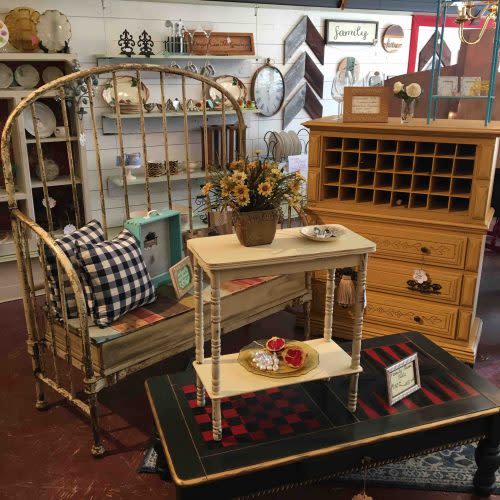 A dresser with a wine rack. Awesome!
The dresser/wine rack at Cottage on Main in Greenwood. This store took an old dresser that was missing drawers and built in some racks to hold wine bottles
The art made from "found" objects at Studio Stuff in Franklin. Something cool in this store is the art sculptures made from "found" objects like parts from an old kitchen mixer. This store features antiques, art and various found pieces that artists can use to create their own masterpiece.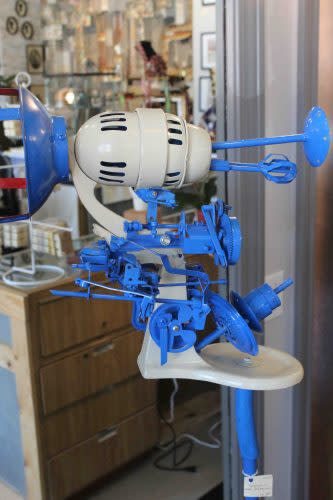 Art made with "found" things.
For more antique hunting, be sure to visit the Johnson County Antique Market, a popular show held one day each month at the Johnson County Fairgrounds.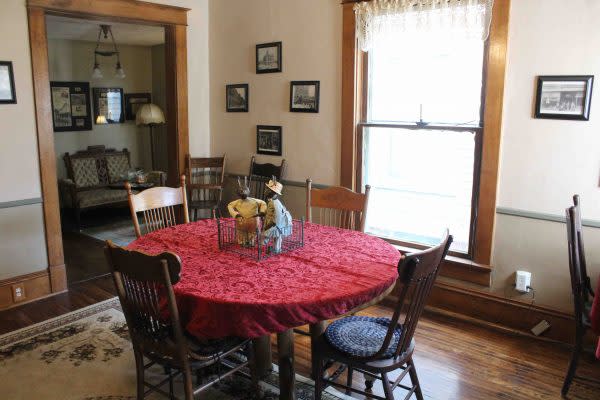 The Ashley Drake Historic Inn.
And if you're one who appreciates history and uniqueness, why not plan an antiques treasure hunt and stay overnight at one of the local B&Bs in Franklin, each of which is decorated with pieces that tell many stories. Click here for more information about The Ashley Drake Historic Inn and The Flying Frog Bed and Breakfast.
The Flying Frog Bed and Breakfast.