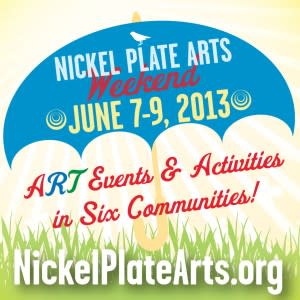 Nickel Plate Arts Weekend is THIS weekend!
This weekend artists, art lovers and just all around creative folks will "unplug & create" for Nickel Plate Arts Weekend. You can not only see art, but be a part of it too! Starting Friday, there are all sorts of events to partake in throughout the eastern part of Hamilton County from Fishers to Tipton along the old Nickel Plate rail line.
One of the kickoff festivities takes place in the beautifully restored historic homes at the Nickel Plate Arts Campus in Noblesville. "Going, Going, Gone" is a fully improv "live auction comedy" that allows the audience to get in on the fun by bidding on props. And yes, you even get to keep the items that you bid on with your play money! Along with performing arts, visual arts will be celebrated all weekend as well with the Annual Plein Air Paint-Out. This event allows artists to roam the county and paint outside and then enter their pieces into a juried show with the Hamilton County Artists Association.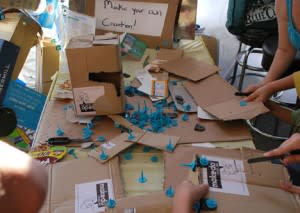 Get in on the artsy fun yourself by taking a class at the Nickel Plate Arts Campus!  They are offering classes ranging from a kid's painting class to an herbal tea tasting. The one I'm most excited about is a special activity being offered in Cicero. Kids, and kids at heart, can use special tools called Makedo to turn ordinary cardboard boxes into anything your crafty heart desires! Classes for how to make puppets using Makedo will be offered Sunday from 10 am to 4 pm.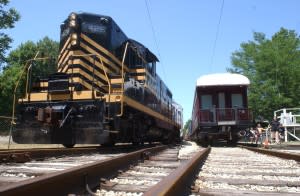 All aboard! The Art Train will be running all weekend.
The Indiana Transportation Museum is adding another fun element to the weekend festivities, too, with their Art Train! You can treat yourself to some train travel and ride the rails from town to town to see all of the artsy offerings at each stop. The train runs Saturday and Sunday beginning at 9 am. They are also offering caboose rides in Noblesville Friday afternoon into the evening.
As if all of those events are not enough, there is a full schedule with dozens more activities and events to attend! Everything from metalworking and weaving demonstrations, to the Old Mill Festival to arts and crafts sale. You can check out the entire schedule here to plan your perfect artsy visit to Nickel Plate Arts Weekend.