Have you heard of Veach's Imagination Station toy store in Richmond? If not, then I feel sorry for you.:) I was privileged to visit with my four-year-old daughter, Maggie, a few weeks ago. Oh. My. Word. We thought we would pop in, pop out. It's a toy store, right? We were there over 45 minutes and could have been there much, much longer.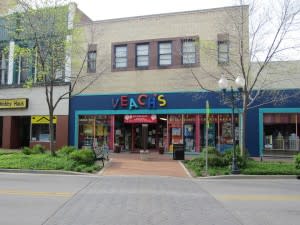 They have every toy you can possibly imagine and the beauty is all of their inventory is meant to be interactive and educational meaning you won't find many electronic games here ... or really any at all. (Note: this picture shows maybe a third of the entire store!)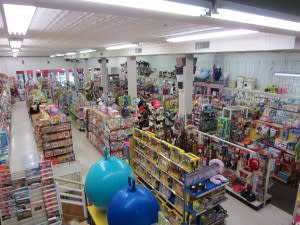 Veach's Imagination Station started out as a family operation in 1938 - that's 75 years ago! And on August 17 of this year, they will be having an all-out celebration open to everyone!! Check out this video of John Veach as he tells you even more about their cool history.
But the fun didn't end there for Maggie and me. We visited the 466 acres at Hayes Arboretum and learned about bees, trees and more! And it was FREE!!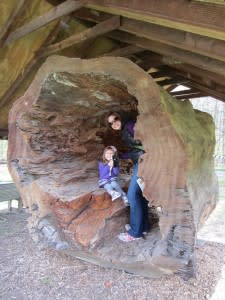 Then it was time for a history lesson. One of the most interesting visits for me was the Levi Coffin House.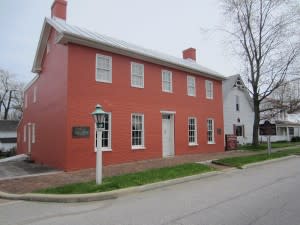 Levi Coffin had an integral part of the underground railroad in the mid 1800s. What makes this site so authentic is the journal that Levi left behind telling the stories of how he helped the 2,000 slaves get to freedom. You read that right - 2,000! His home is still standing and guided tours are available. Here Maggie is standing by what may have been a hidden space for slaves to hide.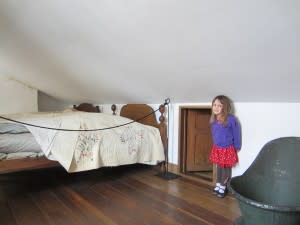 Seriously worth a stop for everyone in your group. Cost is $2/adult and $1/child (6-18).
One more FREE destination - Joseph Moore Museum on Earlham College's campus. The museum gives Earlham students the opportunity to learn about museum education through work as tour guides, curators, animal caretakers and exhibit specialists. One of my favorites was getting a chance to see what an ant hill looks like underground. I had no idea!!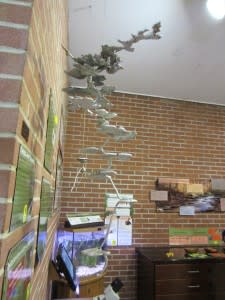 The museum has recently revamped its exhibits to be more hands-on for your kiddos - which was a huge hit!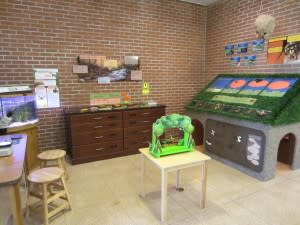 And in the basement, they have live animals: snakes, lizards, etc. If you have any interest at all (which we didn't!) you can have a staff member take them out to touch and feel them for yourself.
It was a great visit for us. Maggie was entertained the whole time and even learned quite a bit too - a huge plus! Thanks Richmond/Wayne County for a fabulous visit!
For more info on any of the above destinations, visit Richmond's website.