In the city known for St. Elmo's steak and shrimp cocktail, vegetarians often come to the city thinking they have a week of pasta in front of them. However, vegans and vegetarians will be pleasantly surprised that with just a little research they can find several amazing veggie-friendly restaurants, especially in the Broad Ripple neighborhood. These restaurants not only are vegan and vegetarian "friendly," but offer meals so delicious that those sitting with you will actually envy your plate. So, without further ado my favorite veggie'd out restaurants in Indy:
Want some "meat" in your omelet? Not only can you put tofu in your omelet at 3 Sister's Café, you can also put in a veggie patty. Want some hash browns, but you're vegan? Try its Calico Hash browns or its Powerhouse Potatoes with salsa and tofu. 3 sisters is a protein palace for vegetarians any time of the day.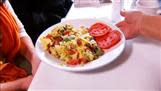 Omelette from 3 Sisters Cafe
Chicken wings, brisket, bison burgers, the BRBP has all the classic, meaty, bar food that you'd expect at any pub. Take a closer look at the menu before settling for the bar nuts, because you'll be pleasantly surprised by its vegetarian- and vegan- friendly options. Some of the menu's highlights are veggie chips, baked falafel, vegan tacos, vegan sloppy joes, basil hummus; the list goes on and on. For dishes that fit your diet, and still offer that classic comfort feeling of bar food, check out the Broad Ripple Brew Pub. You won't be disappointed.
The beer selection of 38 craft beers isn't the only reason to visit Twenty Tap.  Its vegetarian options, along with its beer-battered cheese curds and epic fries with homemade Aioli sauces are part of the reason you'll have to wait about 45 minutes to eat on most weekend nights. For a taste of Twenty Tap's  Vegan Bahn-Mi or BBQ Tempeh sandwich, stop by on a weeknight to avoid the wait as its small dining room and great reputation make this place packed. This hot spot doesn't take reservations because, well, it doesn't need to. So, grab a beer and chill out because the food is well worth the wait.
Zest prides itself on its uptown take on "down-home" comfort foods.  Zest's spirited owner's innovative creations have landed her on shows like the Food Network's "Diners, Drive-ins, and Dives." Its epic veggie burger is a favorite among meat eaters and non-meat eaters alike. Breakfast, lunch, and dinner offer vegetarian options and a wide variety of specialty cocktails to wash it down. No matter how long your stay, you don't want to leave town without trying Zest's take on this vegetarian classic pictured below.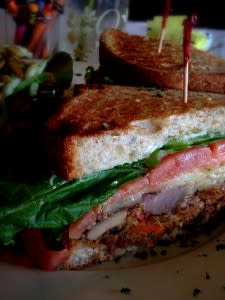 Veggie Burger from Zest! Exciting food Creations. Photo Credit: Valerie Vanderpool