Indiana turns 200 in a couple years, but do you know what turns 200 before that?
Vevay, Indiana.
They turn 200 this year, in October.
A year later, Switzerland County (of which Vevay is the county seat) turns 200 too.
Two years before Indiana does.
But just like your cheap aunt and uncle who celebrated Christmas and your birthday with a single present because the days were "only four months apart," Vevay and Switzerland County are celebrating their joint bicentennial from October 4 – 13, 2013.
Vevay is the birthplace of the first successful commercial winery in the United States, and it's also where the Mormon hay press was invented. And it's the home of the annual Swiss Wine Festival, whose celebrity grape stomp I won in 2011, keeping the crown in Indiana for one more year (take THAT, Kentucky and Ohio!).
According to a press release, Vevay-Switzerland County will host several bicentennial-themed activities, such as the YMCA Larry Tolbert 5K Run/Walk on October 5th, a Vintage Base Ball Game on October 6th between the Vevay White Stockings facing down the Rising Sun River Belles (you can tell it's vintage because they spell it "base ball."), and the Edelweiss Singers & Character Drama of County's Past at the Hoosier Theater on October 10th.
The Edelweiss Singers are a newly resurrected group from the Sesquicentennial (150 years), although I don't know if any of the Sesqui singers are joining this new group.
Several local men have also joined the "Brothers of the Brush," and women are serving as "Bicentennial Belles." They're all wearing buttons and ribbons to show that they're participating in different events. Also several of the Brothers are growing beards to commemorate the 200th anniversary. I also think that even though Vevay and Switzerland are celebrating the bicentennial together, the Bearded Ones should continue growing theirs until the actual Switzerland County bicentennial. With bonus points if they keep going until Indiana's celebration.
You can see everything that's going on, plus read about Vevay and Switzerland County's history at their new website VevayBicentennial.org. There are even several historic photos of the area.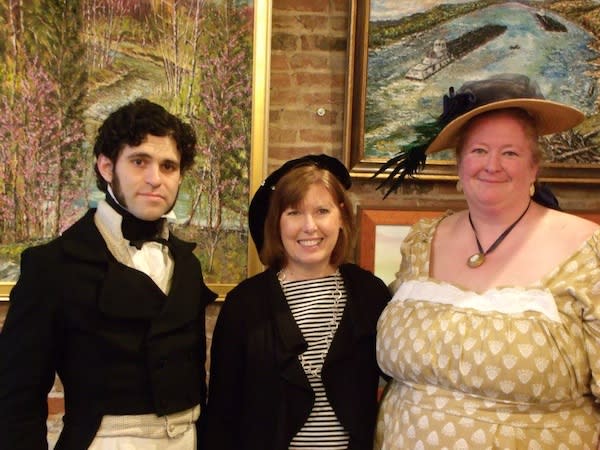 Mr. Darcy (Brian Cushing), Jeni Scudder and Andrea Kappas at Community Art Center of Switzerland County. A few other notable events include:
Vevay Main Street will host their monthly First Friday event themed "Patchwork of History" on Friday, October 4 from 6:00 p.m. to 9:00 p.m.
An encore presentation of "The Stripping Room," a play about stripping tobacco will be shown at the Historic Hoosier Theater beginning at 7:00 p.m. on Friday, October 4. Written by local playwright Libby Kinman, the performance is geared towards mature audiences. Admission is $10.
An old-fashioned tent "Chautauqua" will take place at the Switzerland County Historical Museum grounds at 208 East Market Street at 2:00 p.m. on Saturday, October 5.
William Jennings Bryan, one of Vevay's most popular Chautauqua speakers of 1917, will make a return visit this year. Period performances of music, dance and comedic relief will also take center stage. Admission is free.
Honoring Switzerland County's rural heritage, the "Rural Heritage Tour" will take place at Musee de Venoge; the Thiebaud Farmstead; and Garland Farm on Saturday, October 12 from 10 a.m. to 5:00 p.m. and Sunday, October 12 from noon until 5:00 p.m. Admission is free.
Tickets are available for $11 for an ox dinner to be served at Musee de Venoge. Dessert will follow down the river at the Thiebaud Homestead.
Other activities during the Vevay-Switzerland County Bicentennial includes a "Cast Iron Chef" contest, antique tractor show, cake decorating contest, tobacco stripping contest, Bicentennial art tour, and more.
Congratulations, Vevay and Switzerland County, and happy birthday to you both! Make Ohio County take you out for a nice dinner or something.
Photo credit: VevayBicentennial.org