As the cooler weather and changing leaves draw you outside and into Indiana's forests, don't forget that going up is an option. Yes, up — above the treetops.
So, how do you get a bird's-eye view like this?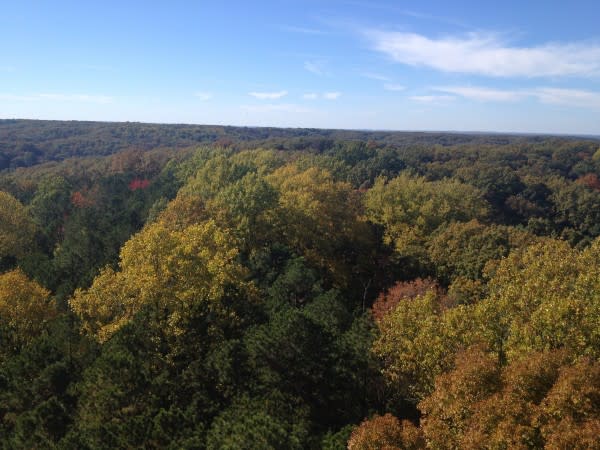 From the basket of a hot air balloon? No.
Through the window of a small plane? Nope.
Hitching a ride with a big bird? Definitely not.
It's as easy as a climb to the top of the Hickory Ridge Fire Tower in the Deam Wilderness area of the Hoosier National Forest, southeast of Bloomington.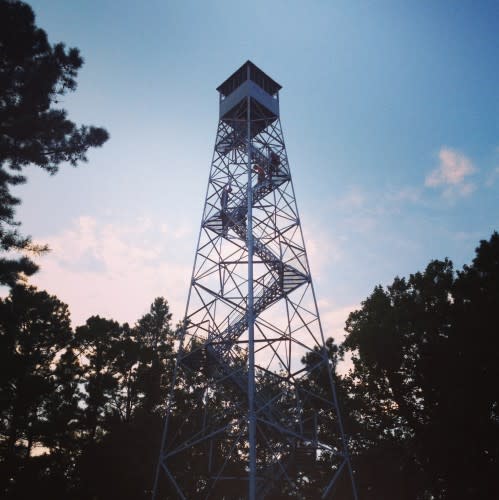 Jutting 110 feet into the air, the steel structure was originally used in the 1930's through the '70s as a fire lookout tower. Now, it's open year-round to anyone who wants to march 123 steps to the top.
At roughly 11 stories tall, the tower has a tiny, windowless room at the top that is the perfect perch for catching fall foliage.
That hasn't always been its purpose, of course. Starting in the '30s, the Civilian Conservation Corps constructed dozens of lookouts like this one across the state and stationed men and women at the top to spot fires and direct firemen to the right locations.
The view from the top of the Hickory Ridge tower in its early years would have revealed a very different topography — you would have looked down on farm land, rural homes and even an air strip among sparser patches of trees. Over the decades, the forest has filled in completely, so treetops blanket the view clear to the horizon.
At one time, nine towers stood tall in the Hoosier National Forest (and even more across the state). Eight were torn down, and the Hickory Ridge tower is the sole survivor.