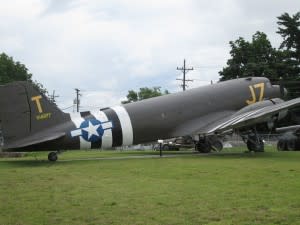 There is no doubt in my mind that Hoosiers are patriotic. One way that has been evidenced to me is by the outstanding military museums available throughout the state.
One of the best military museums is located in Vincennes, along Indiana's southwest border.
The Indiana Military Museum, Inc. has an outstanding display of historic military vehicles that are part of a static display in front of the main building. One item includes the C47 cargo plane at the top of this post. It was used in World War II to carry cargo and troops.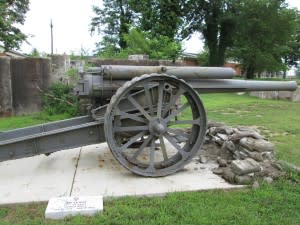 This cannon dates from WWI era. That is not all of the emphasis on WWI. In 2015 the museum hosted a 2-day weekend in March to commemorate the war, which began in 1914 and ended in 1918. There were special exhibits, encampments and re-enactor battles. The museum will continue to add to its collection of this era of military items.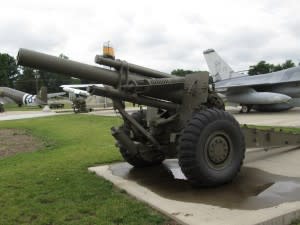 I'm more interested in World War II and gravitated to this M-115 Howitzer 8" cannon. It was used in World War II, Korea and Vietnam wars.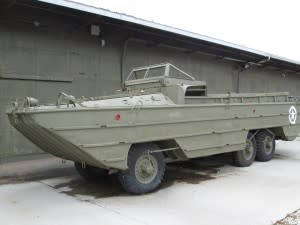 My husband and I both were intrigued by this amphibious duck, used in World War II to transport troops and goods on land and water. It was also used to take troops to the shore's edge during beach invasions.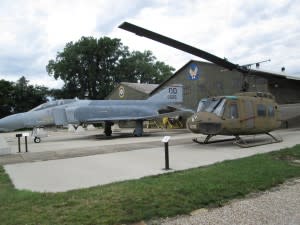 My husband is retired military and was glad to see a little more modern aircraft-- F-4 Phantom and Huey helicopter.
Finally, we were done with the exterior display and made our way indoors. There are literally thousands of items to be perused from as far back as the Civil War.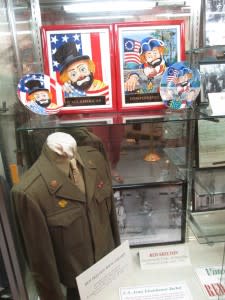 General Eisenhower's uniform is on display, as is the uniform of who may be Vincennes' most famous hometown hero– Red Skelton. The famed comedian from the early part of the 20th century served with the USO in World War II.
It makes sense that items reflecting our nation's history and interest in freedom are located in Vincennes. After all, this city celebrates its origins from 1732 and that it established the state's first city, college, church and newspaper.
There is more to share about sites in Vincennes. I'll be back tomorrow with Part 2! (Hint: Chocolate is involved!)
Indiana Military Museum, Inc.
715 South 6th St
Vincennes IN  47591
812.882.1941