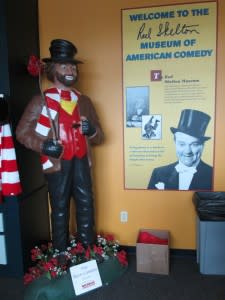 "No matter what your heartache may be, laughing helps you forget it for a few seconds." Red Skelton
Vincennes has yet another claim to fame. It is the hometown of one of Hollywood's most beloved comedians of the 20th century. Red Skelton was born here in 1913. He died in 1997. Thankfully, his family has donated many of his personal and professional items to this marvelous new museum, appropriately called the Red Skelton Museum.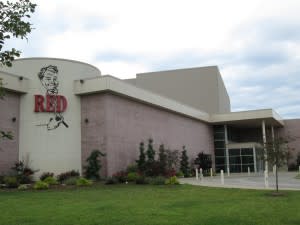 My husband and I visited The Red Skelton Museum recently. Since it opened in July 2013, more than 12,000 visitors have passed through its doors.  The exterior is huge and modern, which gave us an immediate impression of great things to come inside!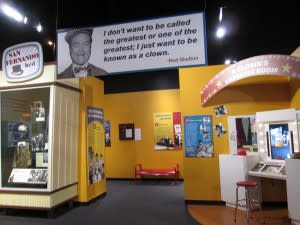 It was designed with room for large groups to wander among its exhibits, all of which focus on its namesake, Red Skelton. For those unfortunate of you who never saw Red's show are you were growing up, please know he was a born comedian who had his own TV show and could turn his face into a multitude of shapes and expressions.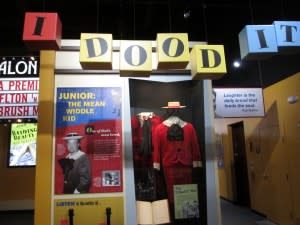 He developed a handful of quirky characters, including Junior the Mean Little Kid, Freddie the Freeloader, Clem Kadiddlehopper, George Appleby, San Fernando Red, Sheriff Deadeye, Cauliflower McPugg. Each character has his own gallery in the museum so you can see the props and costumes Red wore for it.
The best thing about the Red Skelton Museum is it is based on a comedian who lived 1913-1997 and yet it is refreshingly interactive, 21st-century style.
The green room gives visitors of all ages an opportunity to see what it is like to act in front of a plain wall painted green and have the final product look like a busy scene.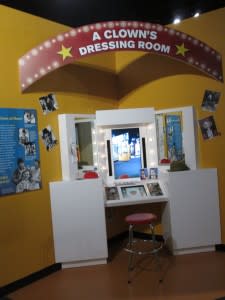 The dressing room area allows visitors to mimic a character of Red's – or create our own!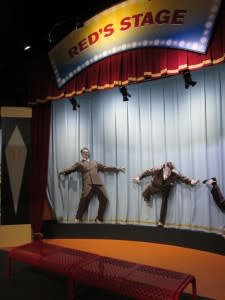 Once a visitor is all dressed up, he or she can take the stage! This would be fun for school kids, but I can see Purple Hat ladies enjoying this too!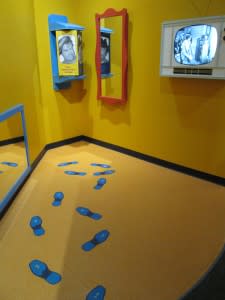 I loved these feet. Each one represents a different comical sound effect, which would have been used in Red's skits.
I appreciated that the museum mentions Red's devotion to troops during World War II. He served for several years in the USO. Many of his war items are here in display.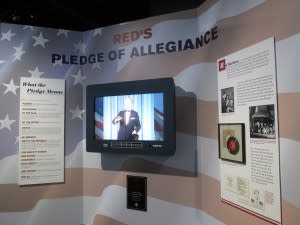 Probably my favorite part of the Red Skelton museum was the section devoted to him saying our national Pledge of Allegiance and explaining it as he did on his show.
Our visit to the Red Skelton Museum in Vincennes left us feeling impressed and happy. That's a pretty big accomplishment for this visitor – I love museums and have visited many so I know what I like in a museum. We'd love to visit again when we had more time to indulge in dressing up and laughing at the TV shows offered.
Red Skelton Museum
20 Red Skelton Blvd
Vincennes, IN  47591
812.888.2105