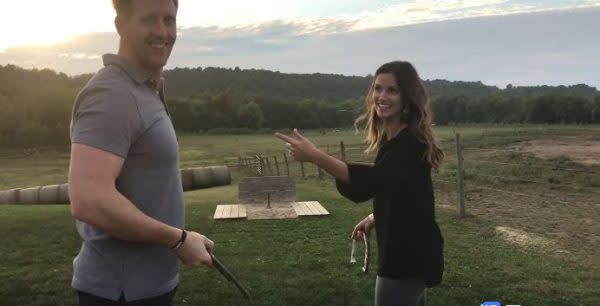 Viral stars Kristin and Danny
Famous for their hilarious videos on social media, this husband and wife have become viral stars. Their most recent adventure brought them to the Hoosier State.
French Lick Springs Hotel
Perhaps best known for their Lip Sync videos, Kristin and Danny have a social following of loyal fans that exceeds 800,000! Kristin and Danny Adams are entertainers, content creators, public speakers and viral sensations who, according to Indianapolis Monthly Magazine, are "taking your co-worker's YouTube break by storm." Passionate about God and family, K & D post new videos every Friday that are fun and encouraging for people of all ages. A recent video showed off their adventures in French Lick and Terre Haute.
In French Lick, they stayed at French Lick Springs Hotel and enjoyed all that French Lick Resort's two amazing historic hotels have to offer! They also visited 33 Brick Street, a casual sports bar that features memorabilia from Larry Bird's historic career. The "Hick from French Lick" is an Indiana icon and is French Lick's favorite son.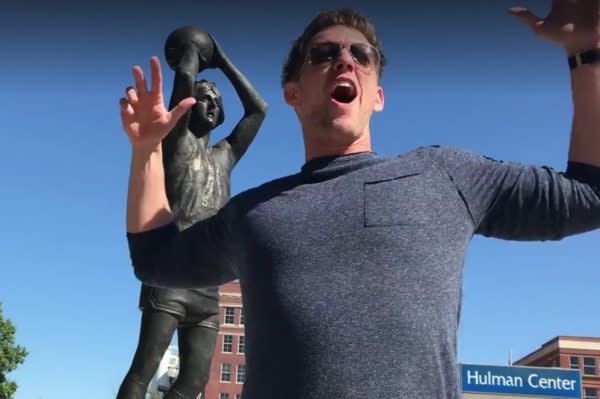 In Terre Haute, Kristin and Danny found more of Bird's legacy, as the Hulman Center at Indiana State features a larger than life statue of Bird, who led the Sycamores to the NCAA Championship game in 1979. From there, the visited Rick's Smokehouse, a barbecue joint that is a must visit for amazing flavors and an awesome atmosphere.
We know Kristin and Danny got a good taste of Honest-to-Goodness Indiana, and we hope they'll come back soon! Plan your getaway at VisitIndiana.com.