Stephen Kellogg once told me that today is a great time "…to be a fan of music."  There were no lines to read-between when he made that comment.  As it has done for publishing and cable television, the Internet has blasted wide open the once-selective world behind the microphone.  The result is a collection of musical talent more than happy to camp out on a neighborhood stage and pick an hour's worth of original tunes in front of loyal and intimate crowds.  You can still pretend it's the '80s if you want…pay the big dollars for the big names in the big amphitheaters.  They still come every summer.  But if you want to savor a small-venue musical Renaissance unlike anything this country has seen since the Jazz Age, you can experience an overdose of it this month, when the Fountain Square district of Indianapolis holds its third-annual Virginia Avenue Folk Fest.  Beginning around brunch and running well after the dinner forks are tossed into the wash, the festival offers up some of the best local, regional, and national talent crisscrossing genres from those you would expect to those which might surprise you. You can view the full schedule here.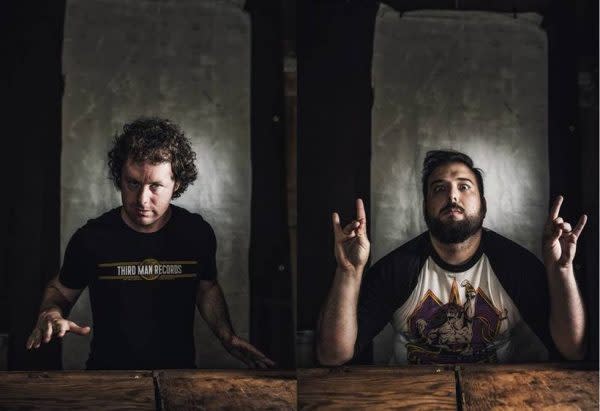 Photo courtesy of Brother O Brother.
Some tracks sound like hard-rocking throwbacks to the days we 40-somethings often long for.  Other tunes carry that Black Keys vibe which seamlessly bond us to the world our children inhabit today.  Either way, Brother O' Brother seems like an unusual fit to play an early set in a "folk festival," but the duo of front man Chris Banta and his drummer, Warner Swopes, have assembled a potent set-list, some solid talent, and the passionate energy needed to put on a great show.  Among the bands I intend to see for the first time live, this one gets the darkest layer of circles around it.
Photo by Thomas Dove
Founder and vocalist Joe Augustin has created and musical experience which defies any simple explanation.  Often crooning slow, methodical, and intelligent lyrics, this one-time college librarian has concocted a musical experience which Blues Bytes' Graham Clarke calls "a fascinating and innovative interpretation of the blues."  Also an act I've yet to see live, Tenderloin is a show I'm eagerly anticipating.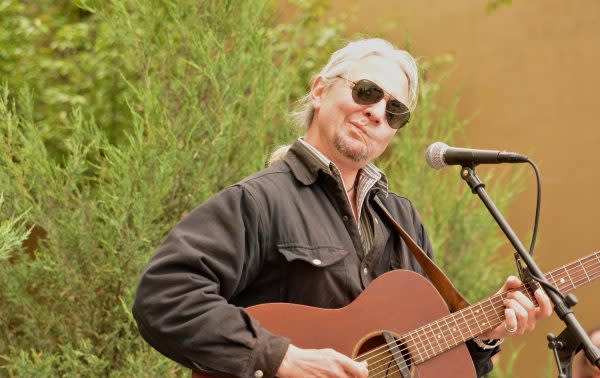 Photo by Tim McLaughlin at Hapless Guitar Photography
My favorite part of the Will Scott story is the chapter which reveals his character.  Well established in the North Brooklyn Dumbo district, Scott returned to his Indiana home to care for his father.  In the process he has quickly established his hill-country blues sound into one of the must-see acts for every music lover in central Indiana.  His sophisticated, deep vocals and strong technical control make him a worthy festival stop.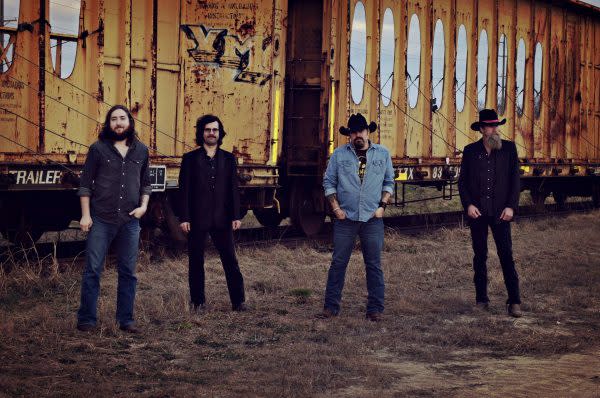 Photo Courtesy Nick Dittmeier and the Sawdusters
Southern Indiana native Dittmeier showcases the work from his latest album, Midwest Heart Southern Blues at this year's festival.  A multi-ranged vocalist most comfortable hitting upper-midrange notes, Dittmeier and the Sawdusters offer an arrangement of songs loaded with catchy melodies, fast tempos, and memorable lyrics.  His is a style which hearkens back to my boyhood days listening to snippets of the Grand Ol' Opry with my late grandmother.  Energetic and fun, the Sawdusters are worth every minute in front of the stage.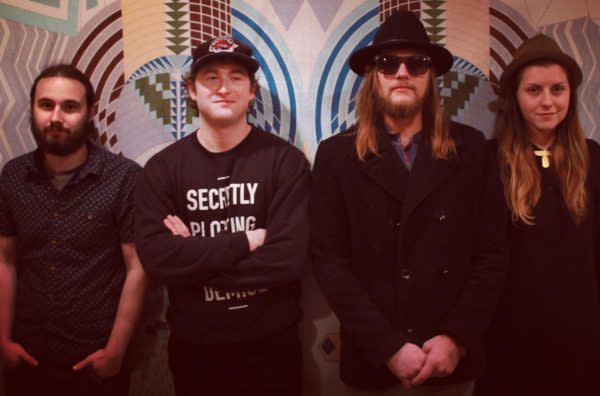 Photo courtesy Hex Mundi
Front man Justin Renner has created exactly the sort of eclectic, mystical experience any good folk festival patron would demand.  Putting out a sound which transcends from a soft jazz session one moment to a roots rock sound a few songs later to an electric bluegrass feel after that, Hex Mundi is a versatile collection of musicians grinding out a smorgasbord of style and sound.  And watching Renner work his mandolin is flat-out fun as well.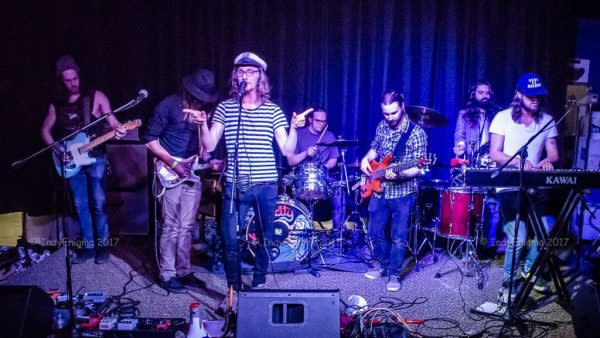 Photo by Marty Smith, courtesy Cyrus Youngman and the Kingfishers
Hex Mundi's Renner puts on another hat when he saddles up for Cyrus Youngman's exciting band.  Expect the impulsive from Youngman.  The offbeat comments…? Done.  Sprinting off stage into the crowd…? Most likely.  A wild swagger on stage bordering on an out-of-body gyration…?  Count on it.  An intelligent, enthusiastic, wildly optimistic fellow, Youngman's charisma is inescapable when you step in front of him and watch him lead the Kingfishers.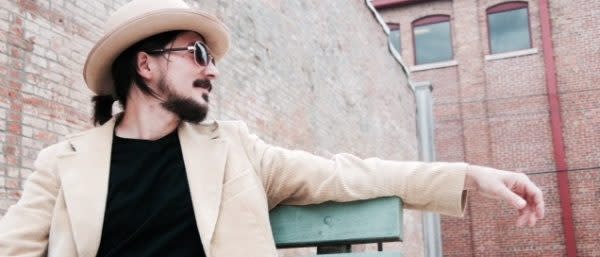 Photo by Cheney Hagerup.
Melodic crooner Anthony Mullis fronts Gus Moon with one of the strongest male vocal ranges among all the local and regional talent I've watched.  An intelligent songwriter, with a knack for mixing strong melody with his smart narrative voice, Gus Moon gives listeners an opportunity to unwind and contemplate simultaneously.  His is the perfect gig for a few endearing moments in the company of loved ones and good friends.  Worth every minute.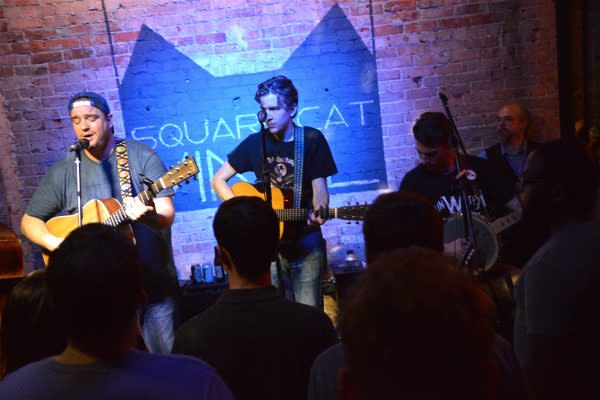 Photo by Tim McLaughlin at Hapless Guitar Photography
If you get the sense that the boys who comprise Bigfoot Yancey are just as willing to party as they are to play, that's not a slight on them.  Yes, they're ridiculously talented.  Mike Angel anchors the quartet with strong vocals, supported by Kevin Grove's stand-up bass, Jerin Kelly's harmonica, and Loran Bohall's banjo-saw combination create a sound I have listened to more times than I can count.  But they're also hard-workers, who have built up their brand, released a great new record, and go out of their way to build bonds with anyone willing to give their session some of their time.  This is not only a spectacular band.  These are great, sporting fellows.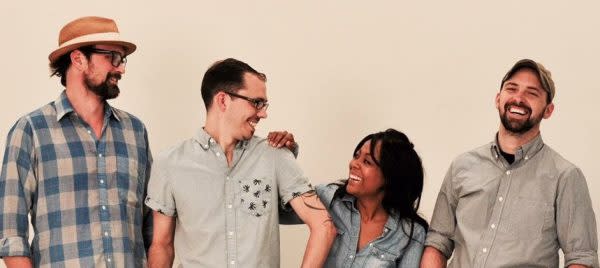 Photo by Drew Cooper
Showcasing Tosh Everson's distinctive, high-ringing vocals—the widest and strongest of any singer of any gender I have heard—War Radio bounces back and forth from Tosh's crystalline sound to her husband Joel's earthy, husky, yet inviting alternative.  Offering tracks which carry subtle nods to their Bruce Springsteen inspiration, War Radio both celebrates the journey of music in the heartland and sings emphatically of the challenges with accompany it.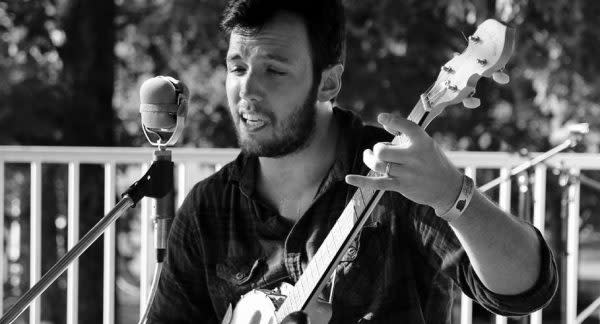 Photo by Jules Dunlap Photography
This Bloomington-based bluegrass maestro, balances his rapid-fire technical mastery of the banjo with his high-octave nod to the life of the newly traveling man.  All the things we love about our friends from Bloomington, the appreciation for the rural and the natural uniquely mixed with that sense of the urban become apparent in Dollar's music.  He's a man making bluegrass appealing to those who have always loved it and fascinating to those who've only vaguely heard it before.  Among all the new names to appear in the Midwestern music scene, Dollar has "going places" written all over him.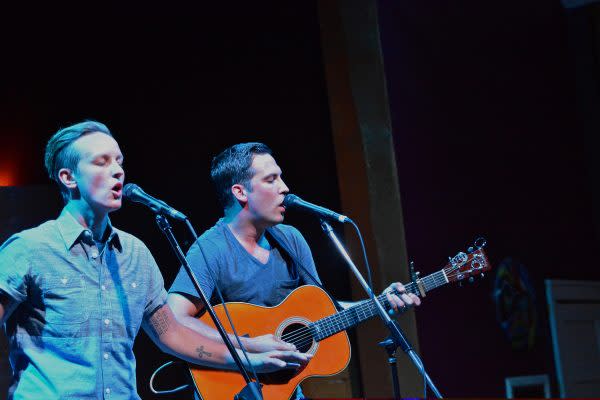 Photo by Tim McLaughlin at Hapless Guitar Photography.
After their first song, you'll be thinking about this duo for days.  After their second song, you'll be a serious fan.  On CD or Spotify, Keller & Cole is catchy, engaging, and fun.  But see them live and you're bound to them.  Working professionals who stumbled upon each other and slowly worked out their act, Landon Keller's baseline vocals and rhythmic tempos frame Kara Cole's powerful harmonies.  But it's that intangible quality, that thing that happens when they make eye-contact and then turn to those of us watching them.  It's the kind of feeling that's more than a vibe or a groove.  It's a sensation reaching that communal experience most musicians dream of achieving.
Music's Salvation Lies in Local Talent
These are but a sampling of the wide range of talent lighting up the Fountain Square District in the early half of May.  Whoever you catch at whatever stage draws your feet, be sure to support the local and regional musicians who provide something the big names under the bright lights mostly pretend to give us: their hearts, their friendship, and their absolute best.
Find more Indiana Music Festivals here. Plan your getaway to Indianapolis here.