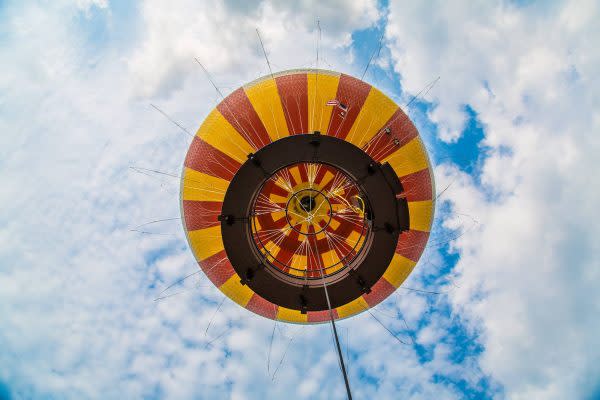 Day three of the Road Rally took the crews to Hamilton County. The first stop was Koteewi Park in Strawtown. At Koteewi Archery Range, Midwest Living editor, Trevor Meers competed with Indiana Olympian, Stephanie (White) Amick. 
Amick was born in Muncie, spent her teenage years growing up in Fishers before she went off to college at Taylor University.  She grew up around the sport of archery, due to her parents owning an archery shop and pro range, but it wasn't until after she graduated from Taylor in 2000 that she picked back up the bow and arrows to start practicing and competing again, with her dad as her coach. 
She finished 2nd at the 2004 Olympic Trials claiming her spot on the Women's Olympic Archery Team and later that summer competing in the Games in Athens, Greece.  She was a member of the 2005 USA National Archery Team, 2004 Portland, Indiana Citizen of the Year and Indiana Sagamore of the Wabash recipient. 
Next door to the archery range, the crew visited K-Trails. The Equestrian adventure parked opened earlier this year. The Road Rally team met a horse named Rodney and took a short ride on one of the trails.
Rosie's Place was the next stop. The cafe is a local favorite for breakfast and lunch and featured seasonal dishes. The crew was surprised with a visit from Noblesville Mayor John Ditslear. The owners said Mayor Ditslear and his wife are regulars at the restaurant. Next, Meers and company walked around the square and then over to the Nickel Plate Arts. Several musicians and artists held a special community open house to share their work with Midwest Living.
Carmel was the next stop on the Road Rally. The Visit Hamilton County team took the crew on Zagster bike tour around the vibrant downtown, along the Monon Trail, and finished the ride at thePalladium.  The group was given a private tour of the Center for the Performing Arts, learning about the building's architecture and the "Great American Songbook". The last stop in Carmel was toDivvy, a locally-owned restaurant, for a tasting of small plates and signature drinks.
The final stop of the day was in Fishers. Guest were taken Conner Prairie, where they were escorted inside for appetizers, champagne, and a balloon ride. The guest then toured the William Conner House and Animal Encounters. Afterward, they were treated to a special dinner called Prairie Plates. In a beautiful barn, under twinkling lights, guests were treated a locally-sourced meal, by the chef from The Local Eatery & Pub. The meal concluded with a presentation called "What is a Hoosier?" It was off to the Pint Cycle for after dinner drinks. The guests made two stops on their cycling trip, the first was at Vardagen T-shirt shop and the second was at Four Day Ray for a sampling of desserts. The crew settled in for the night at the Prairie Guest House.
See the photo highlights below: