Written with contributions by Partners in Preservation, saving history.
One of the most fascinating destinations in Crown Point, Indiana, is the Lake County Sheriff's House and Jail.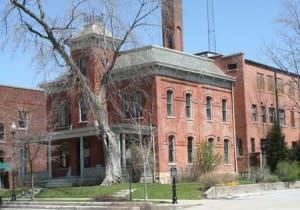 Visitors are charmed by the Second Empire style architecture and "get the chills" when they see the cell from which John Dillinger, one of the F.B.I.'s "most wanted" gangsters escaped in 1934.
ARCHITECTURE
Built in 1882, the house and jail were the county's first permanent buildings for this purpose. By 1910, the jail facility was inadequate and the first of a series of additions was built. A new jail was built in 1974 and in 1989, the old sheriff's house and jail was placed in the National Register of Historic Places.
At about the time of the Civil War, a new architectural style enjoyed a rather brief and intense popularity.  This was the Second Empire or French Mansard style based on contemporary French architecture. During the years when Louis-Napolean reigned over France's Second Empire (1851-1870), French architects revived the mansard roof, a seventeenth century design associated with the work of architect Francois Mansart. In France the Second Empire was a period of highly-charged nationalism and to the French people the mansard roof was a distinctly French innovation whose nineteenth century revival evoked the glories of their country's late Renaissance era. To Americans, increasingly looking to Paris  for the latest in fashion, the Second Empire style was a strikingly modern and sumptuous form of architecture.
The mansard roof, the major defining element of the Second Empire style, is a dual pitched hipped roof, the lower slope being quite steep with a concave, convex or straight surface, and the upper slope being of a low pitch so that it is often concealed. In addition to the mansard roof, the Second Empire style is characterized by lavish ornamentation and boldness of form. Second Empire homes and public buildings were generally imposing structures, often with towers. The roof ridges were decorated with cast iron cresting; quoins and decorative eaves brackets with round heads and highly embellished surrounds. The style was well suited to the flamboyant post-Civil War and post-railroad era when ostentation was not discouraged.
DILLINGER'S ESCAPE
With the exception of Franklin D. Roosevelt and the Dionne quintuplets, no celebrity received more attention locally during the early 1930s than bank robber John Herbert Dillinger. He carried out a series of daring heists in New Castle, Daleville, Montpelier, Blufton and Indianapolis, Indiana.
Dillinger robbed the First National Bank of East Chicago Indiana. During the getaway he fatally shot his first man, Patrolman William Patrick O'Malley. Three weeks later, Dillinger was captured in Arizona.
When Lake County, Indiana, officials heard of Dillinger's capture, they made plans to arraign him for the murder of Officer O'Malley. In charge of the extradition arrangements was county prosecutor Robert Estill, a politically-ambitious New Deal Democrat, who discovered that he was competing with several other jurisdictions for the captive.
Successful in winning custody of Dillinger,  Estill escorted him to his new place of confinement, the supposedly "escape proof" Crown Point, Indiana, jail.
Local politicians considered it a feather in their caps to have gained custody of Dillinger and posed amicably with him in a crowded room of the Criminal Courts building. The most widely publicized shot showed Dillinger and Estill with their arms around each other.
Shortly after 9 a.m. on March 3, 1934, John Dillinger and his black cellmate, Garyite Herbert Youngblood, escaped from the Crown Point jail.
In July, 1934, an East Chicago policeman named Martin Zarkovich informed Chicago FBI Chief Melvin Purvis that he would deliver Dillinger into a trap in return for reward money and amnesty for "finger woman" Anna Sage, a 52-year-old Romanian immigrant who had run afoul of the immigration authorities.
On Saturday, July 21, Mrs. Sage told the FBI that Dillinger was planning to take her and girlfriend Polly Hamilton to a movie the following evening.
On Sunday evening, Purvis, Zarkovich and a large contingent of lawmen waited for Dillinger and the "Lady in Red" to emerge from the Biograph Theater in Chicago, where they were watching "Manhattan Melodrama" a gangster movie starring Clark Gable.
Dillinger was killed as he fled toward an alley amid a hail of bullets with a Colt automatic in his hand. The site was just a few blocks from the scene of the St. Valentine's Day massacre.
Tour the Sheriff's House and Jail, call 219 663-3765 or write to Sheriff's House and Jail, 226 South Main Street, Crown Point, Indiana 46307.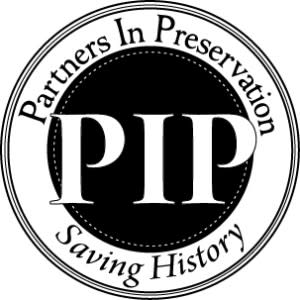 The Sheriff's House and Jail in Crown Point is on the national registry of historic places. Placed on the National Register of Historic Places by the United States Department of Interior, 1989.