My son and I had just spent a very busy day in Evansville in early August, eating some great German food at the Germania Volksfest; visiting the LST (landing ship tank), a WWII boat (okay, okay, ship!) that played an important part in the war; the Angel Mounds, just east of the city; ate some of the best pizza I've found in that part of the state; and, watched an Evansville Otters baseball game, following a 90 minute rain delay.
Most people would take four or five days to do all that, my son and I did it in less than 12 hours. After driving the 3.5 hours from Indianapolis just to get there.
We woke up the next morning in the Hilton Garden Inn (because we had a room there, not because we snuck in or ended up there after wandering aimlessly), after a comfortable night in bed. We had gotten in late, cooled off in the AC, and slept deeply. After a long day yesterday, we needed it.
The HGI is on the east side of Evansville, just a bit north of Angel Mounds. If you get back on I-169, you can follow that south and the road will head into downtown along the river, and roll right past the Convention and Visitors Bureau, the LST, and the Tropicana Evansville Casino.
My friend Laura Libs of the Evansville Convention & Visitors Bureau (CVB) showed us around town, and was going to show us a few more great places to visit. Ben and I were there as part of an interrupted trip along the Indiana Baseball Heritage Trail, and we came back to the area to finish it.
Penny Lane Coffeehouse
We headed to the Penny Lane Coffee Shop, which is just a couple blocks north of the CVB and the Evansville Museum, for a morning pick-me-up. I always love visiting independent coffee shops, and I'd heard Penny Lane was a great one. We weren't disappointed. It had that creative boho atmosphere I love in coffee shops, and we spent the morning talking about the previous day and discussing what we had on for that day.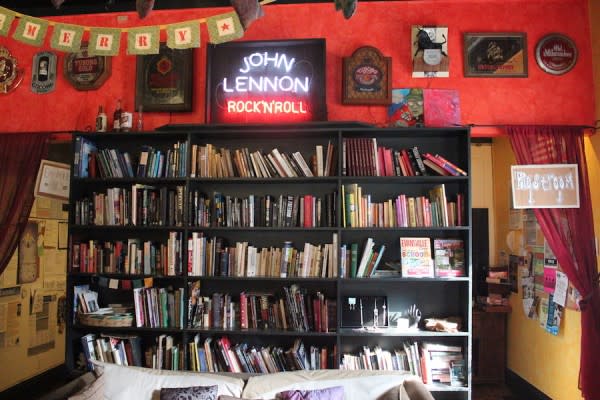 Inside Penny Lane Coffeehouse
We were first heading over to the Tropicana casino, and then the Evansville museum. I had a meeting that afternoon with a friend of mine, and then we were heading home.
The Tropicana Casino
I've stayed at the Tropicana Casino hotel before (Tropicana Evansville), once when I was giving a speech that next morning. It's right on the river, and you can walk through a skyway to get to the riverboat casino itself without ever stepping outside. It's great for winter visitors, or when it's dreadfully hot. There's also the Le Merigot, the upscale fancy hotel. (I haven't stayed there yet, but would dearly love to. Hint, hint, Tropicana.)
The casino is going for the total experience — conference rooms, plenty of hotel rooms, and even restaurants and bars — so you could spend an entire weekend in "The District" without needing to leave the property for anything. While there's plenty of gaming and gambling, the Tropicana wants you to have the "Vegas experience" without having to buy a plane ticket.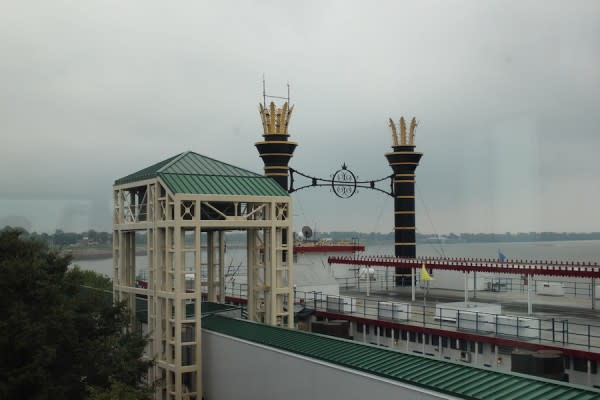 The riverboat itself from the walkway that stretches from dry land to the boat.
The riverboat itself is still operational, and still floats, but thanks to changes in Indiana's gambling laws, it no longer needs to undock itself or ride up and down the river for you to gamble. The boat actually rises and dips with the levels of the river, so when you cross from land to the boat, you may step off on the first, second, or third floors. Then just take an elevator to your chosen floor, and you're all set.
There are nine restaurants, including a Max & Erma's, and my favorite, Ri Ra's Irish pub (I eat there almost every time I go to Evansville). There's even a coffee shop if you need a jolt after a long night or early morning.
Some of the restaurants also double as clubs, making six clubs total, including a piano bar and Hoosiers lounge, which features a number of musical acts (Tuesdays is karaoke night). And if disco isn't dead for you yet, check out Boogie Nights for dancing and disco every night.
The casino itself has any number of slot machines, table games like roulette and craps, and even a poker room, with several notable poker tournaments. There's the Trop Advantage Players Club for you regulars who want to enjoy the perks of being a regular visitor. And for those Trop Advantage members over 55, check out the Club 55.
The only problem is, children under 18 are not allowed in the casino, so Ben sat with Laura in the Tropicana Evansville hotel lobby, while he read. After we were finished there, we headed off to. . .
Lunch at Zuki Restaurant
I love good sushi, and when Laura said she knew of a great sushi restaurant in Evansville, I was in. Ben is not an adventurous eater, but he'll try just about anything once, and he actually likes sushi. Turns out he even likes octopus a little bit, because I got him to eat some. I think he liked it more than I did.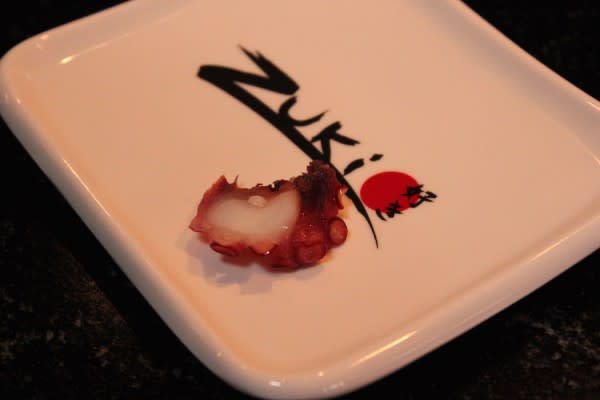 Octopus at Zuki Restaurant
We tried the bento boxes with a few different rolls, and swapped out some of the food. All in all, I enjoyed the experience, and the sushi was good. It was also a first time for me to try octopus, and a few other dishes, so it was a learning experience.
I loved the decor of the place, and it was very elegant and beautiful inside. It seemed like more of a place you go for a fancy dinner, but the place had filled up over the lunch period, and the prices were more than reasonable.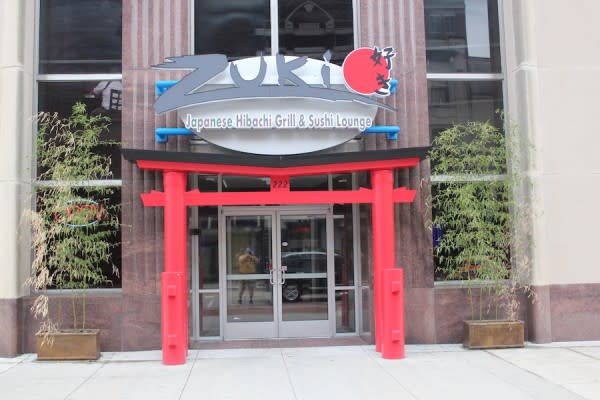 Outside the Zuki Restaurant in downtown Evansville.
Once we had filled up on fresh, raw fish, we headed over to the Evansville Museum to browse some art, the perfect post-lunch activity.
The Evansville Museum
This is one of my favorite museums in the entire state. It's a general interest museum with information about the city, as well as art, science, and history. Whenever you go, there's something new and interesting on display.
While we were there, we saw their permanent exhibit about life on a river town in the late 1800s and early 1900s, saw some reproductions of period homes, stores, a doctor's office, and various goods and artifacts from that time. There were also galleries dedicated to early Evansville history, Abraham Lincoln's time in southwest Indiana, and local efforts during World War II. We even saw some information on the LST, which we had seen the day before.
Next, we were upstairs for their Painting Indiana: Heritage of Place, a juried exhibition of 100 paintings by 45 Hoosier artists. They were showcasing notable Indiana landmarks throughout the entire state. Ben and I wandered around, and I pointed out many of the different buildings and historic homes I had visited over the years.
We spent nearly an hour wandering through the permanent exhibits and the Heritage of Place exhibit before heading town to the Koch Immersive Theater. This is a 40-foot dome with planetarium seating (i.e. seating that leans you back, is relaxing, and causes you to fall asleep and snore slightly, despite the fact that you're sitting next to the Curator of Education) and a 10,000-watt digital surround sound system.
This was a far cry from the planetarium shows my dad took me to when I was a kid. We also saw a preview to the show, Sea Monsters: A Prehistoric Adventure, and I said a bad word when one of the prehistoric sea creatures whooshed in front of the camera and ate another, fairly large creature (you can see it in the video clip below, at about the :45 mark).
We finally spent some time in the Evansville Museum Transportation Center, (EMTRAC) exploring the trains, reading about the
We left just in time to scoot the two blocks back north to Penny Lane where I met my friend, Sean, for an afternoon meeting. Then, Ben and I drove the 3.5 hours back north to Indianapolis, trying to figure out a way to bring the rest of the family back down for a longer, but equally-fun visit. And to hopefully see another baseball game without a rain interruption.
Photo credit: Erik Deckers