When I chose Butler University, I was eager to find local spots to visit that are both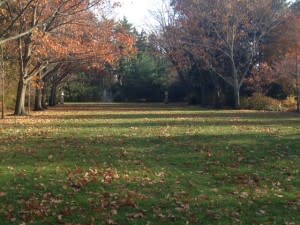 affordable and close to campus. So, it's no surprise that I always plan on visiting the grounds and gardens of the Indianapolis Museum of Art at least once a season. Within walking distance of Butler University, the grounds are extremely accessible and a great place to unwind after a stressful day. Now, in the midst of college finals and the winding down of the semester, it is the perfect place to relax. I stopped by last week, as most of the autumn leaves fell, and it is still one of the most beautiful and calming locations in Indianapolis. Starting with the "LOVE" statue in front of the museum, the grounds are filled with beautiful statues, amazing landscapes and little nooks that scream "secret garden."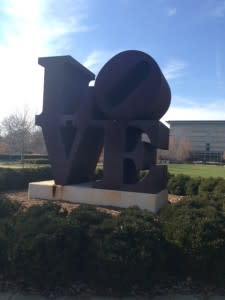 While visiting, I noticed landscapers finishing their annual decoration of the Lilly house with festive lighting, Christmas trees and seasonal spotlights. I'm excited to visit again and tour the "Christmas at Lilly House" exhibition, which is open until January 6. The halls are decked with festive decorations that are said to span decorative periods from colonial times to the present. It is a great place to celebrate the season with family, friends or even on your own if you are feeling that Christmas cheer.
Across the path from the house there is an open field surrounded by arches of trees, a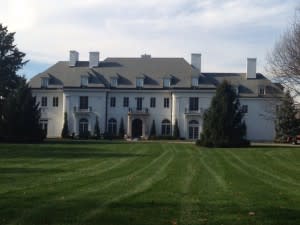 location that seems perfect for a large gathering, wedding or special occasion. If you need that perfect spot to relax, celebrate or be mesmerized by idyllic scenery, then you will surely not be disappointed when you stop by the grounds of the IMA.