Perhaps you're plotting roadside stops along your holiday vacation route to Grandma's. Or maybe you're looking for a great place to take your girlfriends for Christmas shopping. I've got your solution for both: Warm Glow Candle Outlet off of Exit 145 on I-70 near Richmond.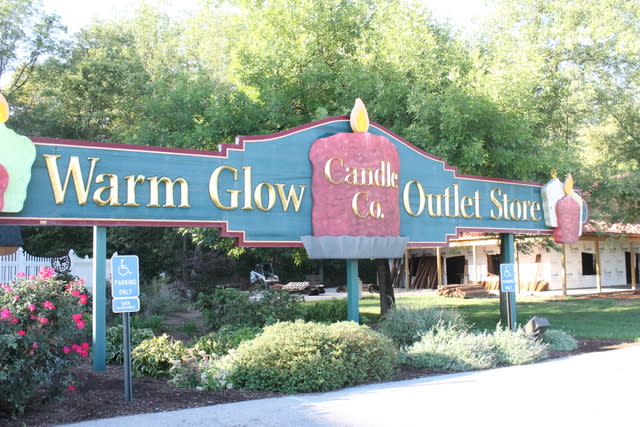 This is not the type of shop I'd ordinarily stop into, especially when traveling. Seemed a little kitschy for me, given the gigantic candle at the entrance. But once I stepped inside, I was so happy that Nancy from Richmond's tourism bureau insisted I go when I was in the area for a girl's getaway. This shop totally fits the cliche of "something for everyone." And that included me.
For foodies, you've got not only the cafe (which smelled heavenly of freshly baked treats while I was there), but also a wide selection of interesting food products, like dips, jams, baking mixes and marinades.
There was also an amazing array of home decor. Everything from Christmas decorations to unique signs I've never seen anywhere else. If you've got someone tricky to buy for on your Christmas list, I promise you'll find something they'd love here. (Want to save? Don't miss the clearance section in the back right corner of the store. We scored some great deals there.)
Stuck in the car with kids? Then stop in here for a fun toy. They had a great selection of activity books, stuffed animals and games. Not the stuff you'll find at a mass retailer. Plus they'll enjoy the fish pond outside at the entrance.
And obviously, there were candles galore. You could easily get overwhelmed by the variety of styles, sizes and scents (75+!). The best thing about candles is that they're such a crowd pleaser. I picked up several teacher and hostess gifts. Plus, these candles fit well with my desire to buy locally produced presents this year since all of Warm Glow Candles are made in the area. For myself, I picked up a Nutmeg & Cream glass jar candle. And I have burned it daily for the last few weeks. I call it Thanksgiving in a Jar.
So if you find yourself along 70, or want to get a jumpstart on Christmas shopping, be sure to make a stop at Warm Glow Candle Outlet. Just look for that gigantic candle.