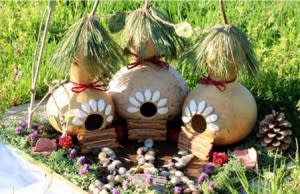 WANTED: A little girl who believes in make-believe fairies and likes to dress up with wings and build a fairy house and is not afraid to talk to fairies.
I'm not making this up. The 4th Annual Welcome to Fairyville event at the Nickel Plate Arts campus on April 20-23 in Noblesville sounds like so much fun! I want to go, but need a 6-year-old friend who won't laugh if I put on wings and a silly costume. Of course, she will have the opportunity to do that too as we stroll through the four days of events.
The event begins on Wednesday as we can participate in the Fairy Home Show. That sounds so Tinkerbell-ish!
At the Nickel Plate Arts campus we will see fairy houses built by people in the community. The miniature abodes might be constructed of twigs, stones, bark, and other natural resources. If we see one we really like, we can vote for it as our favorite fairy house in our Fairy Home Show contest.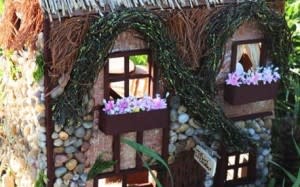 My little fairy child can even make her own house in the afternoon. We could make a special memory at the Fairy Tea Parties held Wed- Friday at 1:30 pm and 3:30 pm.
My little Fairy could drink from her own tea cup while posing important questions among the winged VIPs in attendance like 'Where do fairies sleep?', 'What do you do for birthdays' and my favorite – 'Who takes care of you when you get sick?'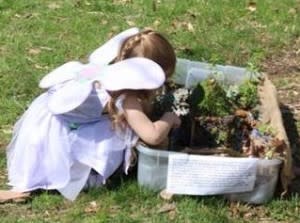 Tea parties cost $5 for Nickel Plate Arts members and $10 for non-members. Spaces are limited (20 per tea party). Reservations are required.
Hint: This Nickel Plate Arts place has a plethora of activities year-round so you may want to check into purchasing a membership.
Parents must purchase a ticket and accompany children age 5 & under.
On Friday and Saturday, April 22-23, our land of make-believe continues with Fairy Friday. This party includes storytelling and a tour of a Fairy Home Show along the outdoor Fairyville Trail made by kids and adults. This is all free!
On Saturday the festival gets bigger and better!
To keep with the alliteration we're calling it 'Sprite Saturday'. Is a sprite the same thing as a fairy? Close enough in my book.
On Saturday, April 23, from 10 am-5 pm there are even more fairy crafts, tea parties and a Fairyville Trail.
Saturday's one-hour Fairy Tea Parties start at 10 am, 12 pm, 2 pm and 4 pm. Reservations are required.
The Fairyville Trail and Fairy Home Show are self-guided walking tours from Nickel Plate Arts. As we trek through downtown Noblesville, over the White River pedestrian bridge and along the Forest Park trail, we would be alert for tiny places built by area residents, organizations and businesses.
This is the 4th Annual Welcome to Fairyville event at the Nickel Plate Arts campus, 107 S. 8th Street, Noblesville, IN 46060. The parties seem to get bigger each year!
For more details about these events, go to the website or call 317.452.3690.