Everything. For example, I purchased their popcorn on Wednesday. By Friday night, this is what I had.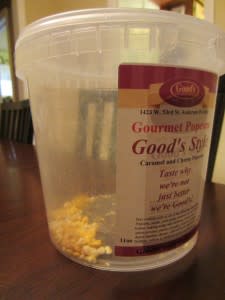 Yep. Totally gone. But, you may be asking yourself "What is Good's Candy Shop?" or "Where is Good's?" Let me enlighten you. The Good family has been making chocolate in their family since the 1940s. In 1992 Randy Good took over the family business and hasn't stopped growing it since. He opened a new Anderson building in 2003 and if you can ... please stop by.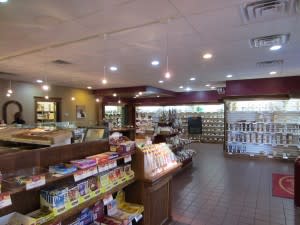 I was impressed by their store, the selection, the ability to tour the kitchen and of course the ice cream. I immediately tried to find my weakness (mint milk chocolate) and savored the moment it hit my mouth. I held back from purchasing a whole pound of it. But when I saw the popcorn I couldn't resist and purchased the caramel/cheddar combo. And as you can see, it didn't last long at our house.
They also had a variety of seasonal offerings as well as some specialty chocolate specifically designed for older women to help manage their hormone levels ... I had no idea this existed!
But what drew my attention was the ice cream. They offer over 30 varieties of ice cream and WEEKLY they introduce a new flavor. You can't beat that. Well, maybe you can with this divine sprinkle contraption that my 4-year-old fell in love with!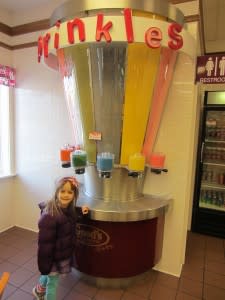 I indulged in the chocolate malt which was fantastic and had got an added bonus of finishing off my daughter's strawberry. Yum.
And if that is not enough, in the summers Good's hosts weekend events with free music and activities for kids and families. Not to mention ice cream for sale! I'm going to have to make it back for one of those dates!
But if you can't make it in person, or if your sweet tooth is just too strong to wait, be sure and check out their website where you can order a variety of their chocolates. And have no fear if you watch your sugar. Good's offers a large variety of no sugar added/sugar free options. Really ... you have no excuse. Go.
Here's a little inside look at Randy and Good's Candy Shop: