I think it has been over 15 years since I canoed, but when my daughter mentioned going last week I thought it sounded like a blast. I knew there was a place close to Indy and found White River Canoe Company in Noblesville (northside). I'm glad I looked earlier in the week. You can reserve your canoe, route, time, everything online and when you show up all you have to do is pay. This turned out to be good since they were quite busy while we were there. Once we showed up, we waited by their fire pit for our transportation.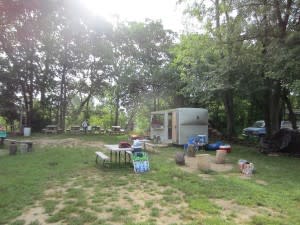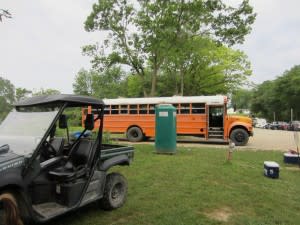 We chose the shortest of the canoe trips - a 6 mile ride which takes about 2-3 hours. Once delivered at our drop in point we received directions and off we went.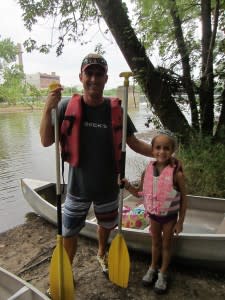 We chose a good day. A little overcast, warm and just a slight breeze. I would recommend that for your trip too!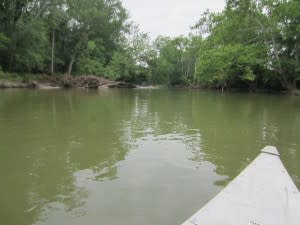 About half way through our route there was a covered bridge which signifies Potter's Park. Here there is a playground, indoor bathroom facilities and picnic tables. It made the perfect stop.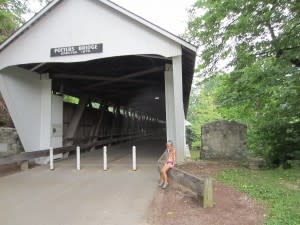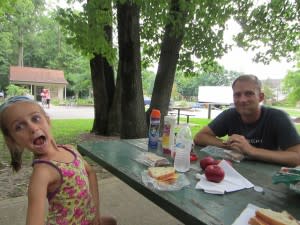 Then, back we went again for more fun!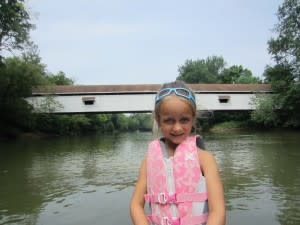 Towards the end, my daughter was brave enough to get in (especially when she realized she could touch!). Even tried to skip some rocks.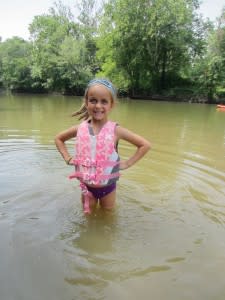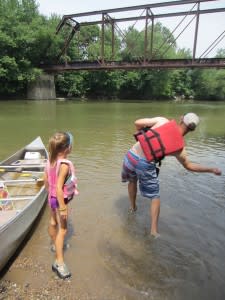 Now, here are my tips:
Reserve ahead of time online.
Have a party? Try the tube rentals. You can hook tubes together and float down river all at once. We saw several groups doing this and it looked like a blast (they even let you rent a tube for your cooler!).
Earlier in the day is less crowded. We had about 12-15 people on our bus, but when we got back to the campsite there were over 40 people waiting for the next ship out.
Check out all the great options in the area (food around the Noblesville Square is unique and wonderful!). Click here for Visit Hamilton County information on events, accommodations and other attractions.
I think this may have to be an annual event for our family. Maybe for yours too!