If you are like me, when school is out you want to take advantage of all there is to do around your city. I just heard about a perfect opportunity for Martin Luther King Jr. Day - FREE admission to the White River State Park attractions with a canned good donation (one can per person, per attraction). This has been around for 15 years and I'm just now hearing about it??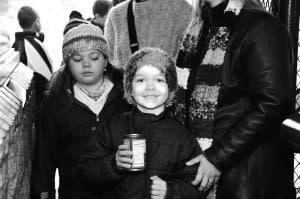 Special activities will take place throughout the day and all for FREE: •       Indianapolis Zoo: Visitors can walk the grounds and see animals, especially the ones that love the cooler temperatures.
•       IMAX Theater: Experience the IMAX film "Island of Lemurs." Shown for free as space permits at 11:25am, 12:50 p.m., 2:15 p.m., 3:40 p.m. & 5 p.m. Get your tickets early as they typically are all gone by noon.
•       NCAA Hall of Champions:  Get your workout in at the NCAA Hall of Champions where current and former student athletes lead classes.
•       Indiana State Museum: Films, activities and performance art fill the museum as the life and times of the great Dr. Martin Luther King, Jr. are celebrated. Visitors can see first-hand two of the documents that laid the foundation for equality: the Emancipation Proclamation and 13th Amendment.
•       Eiteljorg Museum: Immerse yourself in Native American and Western cultures with the museum's exhibits. It's also your last chance to visit Jingle Rails: The Great Western Adventure, a one-of-a-kind locomotive wonderland where eight model trains travel on 1,200 feet of track to wind past treasures of Indianapolis and the American West, including the Soldiers' and Sailors' Monument, Lucas Oil Stadium, the Indiana State Fair, a working replica of Old Faithful, Golden Gate Bridge, the Grand Canyon and more.
Not only that, but you get FREE parking (on a first come, first served basis!). You can't beat it folks. And I love things that have good causes ... over the years this annual event has resulted in more than 85 tons of non-perishable, canned food donations to Gleaners Food Bank. That's just awesome.
For more information on this FREE event next Monday, January 19, be sure and visit White River State Park.