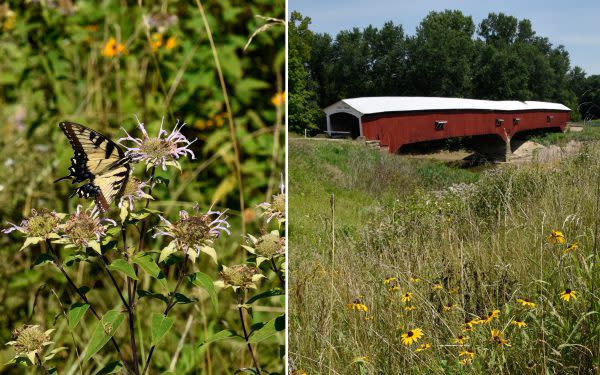 Summer is the perfect time to visit an Indiana prairie, as they are lush with wildflowers, grasses and butterflies, and Vermillion County in western Indiana has a beautiful remnant of bygone days!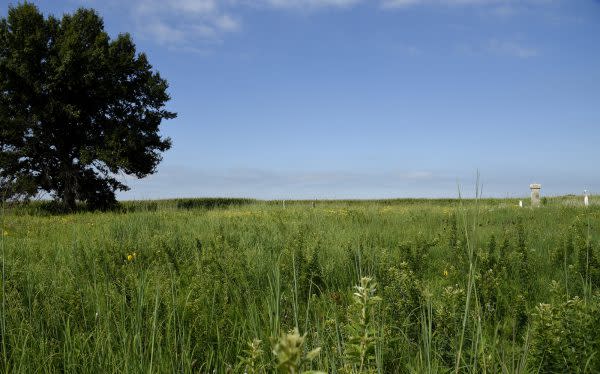 The Smith Cemetery Prairie is lush with prairie plants in summer months.
One-acre Smith Cemetery Prairie, two miles southwest of Perrysville, is easy to miss, but once you know it's there, the beauty is not easily forgotten. A visit in the early 1980s left me wanting to return, so off I went across the Wabash River with my friend Joanna, our cameras and time for adventures.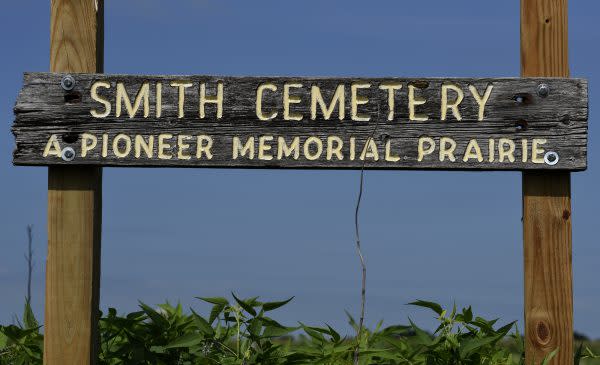 Smith Cemetery is located on the west side SR 63 in Vermillion County.
Remnant prairie plants were spotted in the fencerows of the Smith Cemetery by botanists from DNR's Division of Nature Preserves in the 1970s. By 1981, mowing had stopped and the property began to be managed as a prairie. Controlled fires now keep the prairie in its natural condition. Dedicated as a state nature preserve in 1997, over 30 species of prairie plants grow on the property.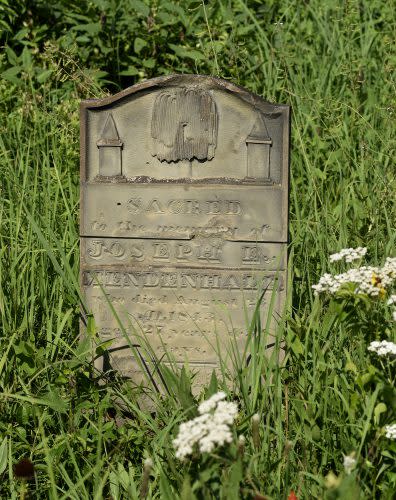 Gravestones dating back to the early 1820's rest among remnant prairie plants such as wild quinine, yellow coneflower, royal catchfly and big and little bluestem.
Summer heat means color on the prairie, and this day was no exception. Bright red Royal catchfly, yellow coneflower, purple wild bergamot, stiff white wild quinine and glowing-green giant prairie dock leaves along with prairie grasses give us a great show of what wild Indiana was once like. Other DNR prairie nature preserves in Indiana can be found here.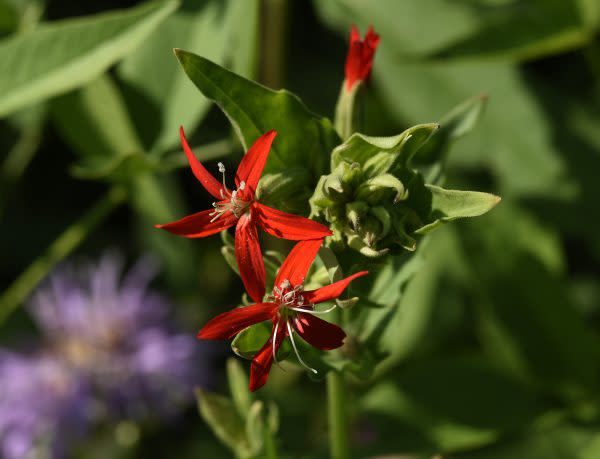 Royal Catchfly (Silene regia)
Leaving the prairie, we wandered along the river. We see a "garage sale" sign in Lodi and meet Vicky and Sam Dilby. After a few great antique purchases, we ask Vicky and Sam for a lunch suggestion. Covered Bridge Restaurant in Eugene they say, so back across the river we go. We shouldn't have been surprised to see a covered bridge when we pulled into the restaurant parking lot! The restaurant is open 8-8, seven days a week. After a break and delicious home cooking, we head to the bridge. Built in 1873, the Eugene Covered Bridge sits in a serene area along the Vermillion River on the north edge of Eugene.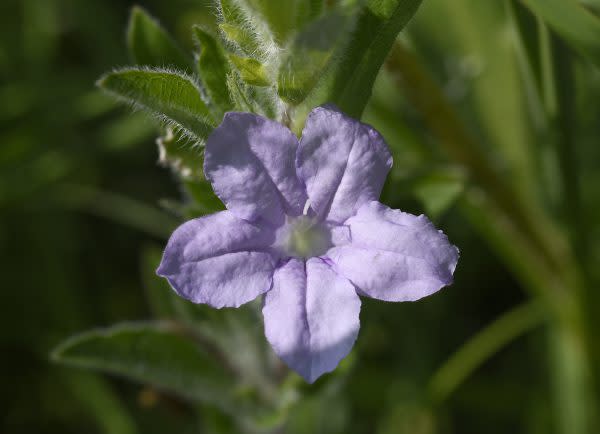 Wild petunia (Ruellia humilis)
Yellow coneflower (Ratibida pinnata) and Prairie dock (Silphium terebinthinaceum)
Vicky and Sam had told us about a melon farm south of Lodi, so back across the Wabash we go. We visit with the owner, a few other customers and load up watermelons and cantaloupes for our trip back to Putnam County. But a few more covered bridges await!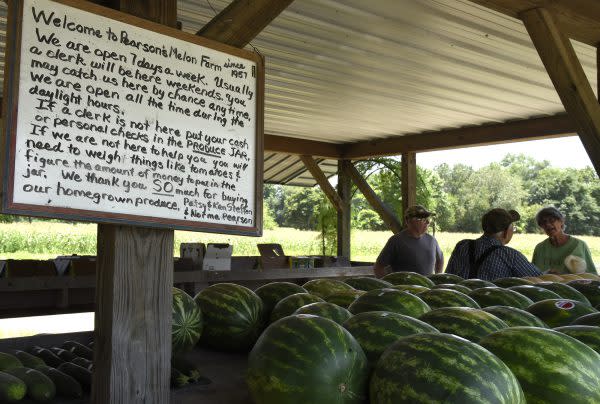 Pearson's Melon Farm in Kingman sells a variety of GMO Free seasonal produce.
Heading south, we crossed the top of a hill and spread out across the river below is the beautiful, long West Union Covered Bridge. A few fishermen are packing up as we saunter through the two-span 1876 West Union Covered Bridge over Sugar Creek – the longest remaining covered bridge in Parke County.
The 180-foot Eugene Covered Bridge spans the Vermillion River, and is a J. J. Daniels Burr truss design bridge.
The next stop as the day's adventure continues to unfold: State Sanatorium Covered Bridge, a Burr arch, single-span Joseph A. Britton bridge across Little Raccoon Creek. The sanatorium opened in 1910 as a tuberculosis hospital. In later years the facility provided general medical care for local residents, closing its doors in 2012. The 1918 bridge is the only bridge in Indiana with lightning rods.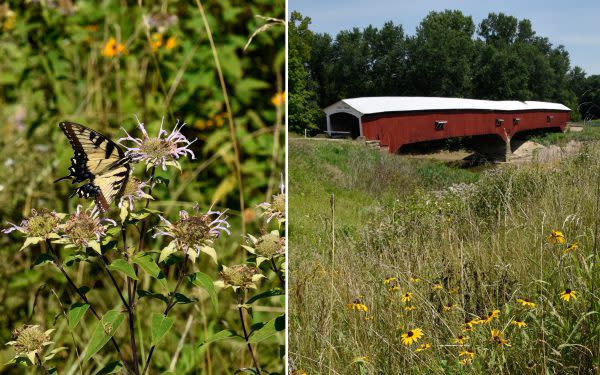 A tiger swallowtail butterfly on wild bergamot near West Union Covered Bridge in Parke County.
After a day of laughter and adventure, we stop to wade in Raccoon Creek before heading to dinner. New places, new people sharing history and stories and places to eat. Left or right, it doesn't matter! Another great no-plan adventure living into Indiana history found us around every turn and over every hill!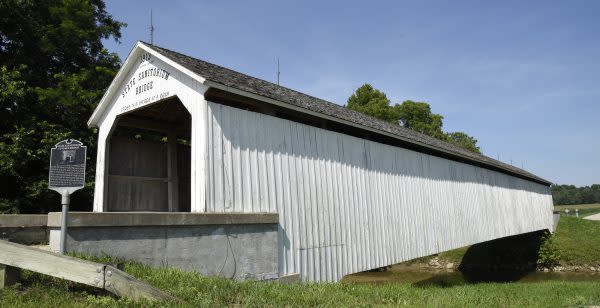 State Sanatorium Covered Bridge was originally built to take coal to the State Sanatorium, which opened in 1910.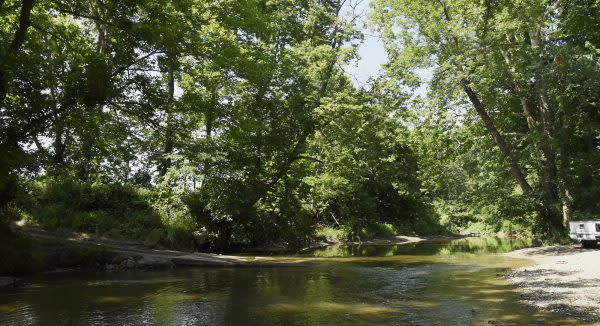 Slab Road crosses Little Raccoon Creek northwest of Rockville.